Thousands gathered at NCIC compound in Chaguanas, Central Trinidad, on Thursday morning to mourn, celebrate, and bid farewell to iconic local singer Anil "The Vocalist" Bheem who passed away in the wee hours of last Saturday morning at his home in Curepe. It was a great tribute by colleagues, family members, a neighbor, friends, the Opposition Leader Kamla Persad Bissessar, his boss at 103 FM where he was a host and disc jockey for a program, and more. It was one the largest funerals in recent times in Trinidad and more particularly that of a departed artiste. The tributes went an hour longer than planned. The cremation has to be delayed to accommodate the huge throng of mourners.
Thousands more around the diaspora tune in to Facebook and Youtube to watch the tribute and eulogy that was beamed live. Fans from as far away as India, North America, Europe and around the Caribbean watched the tribute. Artiste after artiste and a pandit paid glowing tributes. Bhajans, Anil's favorite hits, and Bollywood songs were belted out as a music band provided music. Dubbed the national anthem, "Suhaani Raat", was sung in a group rendition by the several artistes who earlier paid tributes to him. It ws one of his favorite hits.
Anil Bheem was a very popular and likeable musician and singer of varied genres (focused mostly on Indian entertainment). He was a great singer and entertainer. As an artiste, he has left an indelible mark on Caribean Indian culture in the field of entertainment. So many listened to his singing for over three decades. His voice transcended borders. He entertained large crowds at chatney shows, concerts, clubs, and receptions not only in Trinidad but wherever there are Indo-Caribbeans – New York, Florida, Toronto, etc. His voice and music have connected Indians in the Caribbean diaspora. he impacted so many with his singing. Anyone who listens or follows chatney and or soca knows the name Anil Bheem. He has several recordings that are enjoyed region wide and in the diaspora. His boss, the CEO of FM 103, at the tribute at NCIC said last Saturday the station featured 10 hours of uninterrupted Anil Bheem songs that included some that have not been released as yet. All of the artistes who performed at the funeral tribute expressed what an honor it was to be part of the grand tribute of Anil-ji.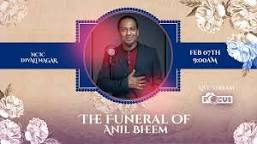 The Indo-Caribbean community in Trinidad and elsewhere has been in mourning ever since his death was announced. Their hearts have been full of sorrow. Wake was not only held at his home in Curepe but also in New York and Florida. Anil Bheem was a national treasure and international artiste whose songs, music and voice lit up Indian lives in Trinidad, Tobago, Guyana, Surinam, and the Indian Caribbean diaspora. He was one of the biggest music icons of T&T among Indians. He has ruled the Indian entertainment industry almost like a king over the last couple decades.
And besides being an outstanding entertainer, he was a humanitarian and kind person. He was a soft-spoken simple person. He carried himself with grace and humility. He treated people with respect.
In New York, almost everyone expressed sadness over his passing. He held a special place in their heart for his wonderful singing. Since Saturday, fans took to social media and mainstream papers in Trinidad express grief and sadness over the death of the popular singer. Tributes poured in from Trinidad and internationally by fans, religious figures, community leaders, fellow artistes, and politicians. They expressed how sad they have been over his death. Can't believe he has left earth. How can one forget such an entertainer!
I want to thank Anil Bheem for his more than three decades of entertainment and for him family for sharing him with the Indo-Caribbean diaspora.
God took away his life to entertain souls in heaven. May the lord give solace, strength, and comfort to his family to overcome their grief. Sympathy to parents Preematie and Krishna Bheem, wife Cheryl and children and the extended family on the loss of a great artiste.
The remains of the great singer we're consigned to flames at the banks of the Caroni River. Thousands also showed up for the rituals and final goodbye.
Anil will be missed but his voice shall live forever in his music and singing. The government should consider honoring the outstanding singer with a national award for his musical influence in T&T and the diaspora.