High Commission of India
Georgetown
The High Commission of India in Georgetown, Guyana announced the return of four Guyanese who went on the 64th edition of KIP or Know India Program that was based in Madya Pradesh. They experienced the 17th edition of PBD that was held in Indore where President Irfaan Ali was the Chief Guest and Suriname President Santokie the Guest of Honor. KIP is a flagship program of Government of India for diaspora youths. The program was started after intense lobbying by Guyanese and Trinidadian residing in American, including this writer, and by other diasporans.
The HC of India issued the below release on the the group of four who went on the recent KIP program.
"That selected four (4) young Guyanese Nationals as the participants of the 64th edition of the Know India Programme (KIP) which was conducted over the course of three (3) weeks from 3rd to 24th January, 2023 in Madhya Pradesh, India.
Selected were: Ms. Sumintra Ram, a Collateral Analyst from East Coast Demerara; Ms. Devika Gurucharran, a Community Development Officer from East Coast Demerara; Ms. Maria Fraser, a Marine Scientist from Berbice and Mr. Lakhram Mahadeo, an Administrative Officer of East Coast Demerara.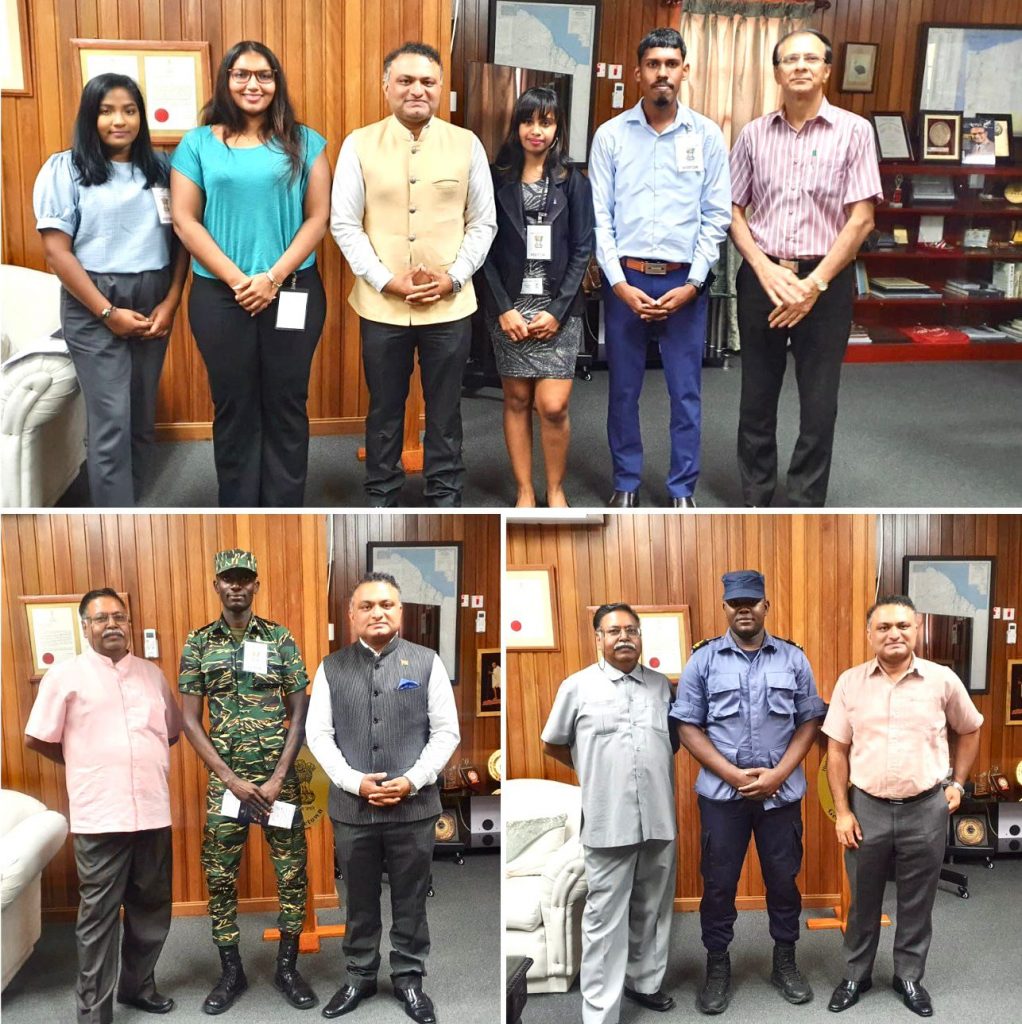 On Friday, 30th December, 2022, the participants met and interacted with the Indian High Commissioner to Guyana, H.E. Dr. KJ Srinivasa. They were encouraged to make full use of the initiative to connect with their roots in India- the land of their ancestors.
Madhya Pradesh also hosted this year's Pravasi Bhartiya Diwas (PBD) convention from 8-10 January, 2023. The President of the Cooperative Republic of Guyana , H.E. Dr. Mohamed Irfaan Ali along with his team of Delegation was in attendance and received the Pravasi Bharatiya Samman Award 2023. The KIP participants were also present in the three day extravaganza.
Know India Programme is a flagship programme of the Ministry of External Affairs for engagement with Indian origin youth (between 18-30 years) to enhance their awareness about India, its cultural heritage and art. Participants are provided local hospitality like boarding and internal transportation in India, and return air tickets from their country of residence to India. Minimum qualification required for participating in KIP is graduation from a recognized University /Institute or enrolled for graduation and ability to speak in English. The applicant should not have visited India through any previous Programme of Government of India. Those who have not visited India before will be given preference.
Two officers of the Guyana Defence Force also met and interacted with the High Commissioner of India in December, 2022.
Corporal Terrence Collins was selected to study the Junior Leader Course in India at the Junior Leader Academy in Bareilly, Western Uttar Pradesh. Corporal Collins from Corentyne, Berbice departed Guyana in December 2022 and will remain in India for 50 days till 9th February, 2023.
Sergeant Arthur Scipio of East Bank Demerara was also selected and departed to India in January, 2023 to commence his month and a half training in Platoon Commander Course at the Junior Leader Academy in Karnataka, Bengaluru.
The Government of India will continue to strengthen its bond with Guyana and promote India-Guyana defence collaboration, by offering scholarships in military, technical and leadership areas."