Dear Editor,
A year ago, I had the distinct pleasure of accompanying a Guyanese from the Diaspora, Ramona Baer Karim, and Mohan, a domiciled Guyanese who is also an ex-deputy headmaster from Zeeburg Secondary High School to pay an unannounced and impromptu visit to one of Guyana's leading historian, sociologist, philosopher, political analyst, critique, lecturer, academia, researcher, educationist, writer, columnist, reporter and an achiever in a host of other accomplishments, Freddie Kissoon. Being a poet, play and drama fan, cinema goer, music fanatic, sports enthusiast, an ardent reader, animal lover, gardener and a family oriented person, his love for his humanitarian efforts increases daily as he extends a helping hand as often as possible and a sympathetic ear as frequently as it demands, while personally making official visitations to places seeking remedial assistance on behalf of the weak, meek or those who seek his input. As he treads on this pathway to complete his journey in life, he cannot avoid deliberately and accidentally stepping on many toes, losing friends on the way and also winning foes to encounter wraths of variable dimension. Freddie, as he is popularly referred to, is synonymous with the flag of Guyana, easily recognizable, quick to be identified and unhesitatingly pointed out either when strolling on the beach, walking in the garden and park, shopping or attending any function.
Freddie stands out as an iconic pillar post for Guyanese who have "been there and done that," rising from a humble background with parents who had to struggle to make ends meet while maintaining a big family and then, attending universities at home and abroad and becoming qualified with a doctorate under his belt.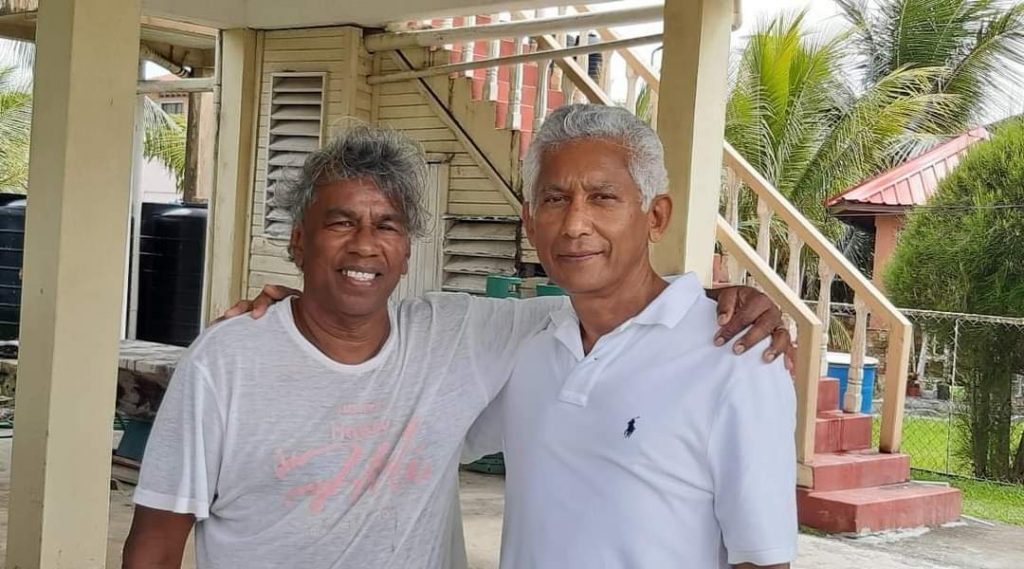 Returning home from Canada, he lectured at the University Of Guyana, wrote for many papers, indulged in political party and refuted, rebuked and refused permanent membership after discovering that, "all that glitters is not gold." His reign incorporated physical abuses and threats to his life, seizing opportunities to broadcast the right to voice his opinion and offend many with his indomitable dominance with truth over falsehood, exposing lies and shutting down so many tongue twisters. His track record is well documented, sometimes unruly challenged but ultimately acknowledged with the acceptance of satisfaction. Never one to back down, he is always up to any provocation with his sleeves rolled up and wits on the alert to splash with joy, lash with the whip, bash with his tongue, mash with his pen and wash with diplomacy, but, never to cash for the gains or dash with cold feet between his legs. Standing tall in simplicity, humility and objectivity, such diversity brings much adversity and controversy. His ease and composure accentuates his friendly smile and his personality radiates a pleasantness characterizing a man of integrity, honor and credibility but not pursuing name or fame from any gain, consciously or unconsciously. Without pomp but with grace, whole heartedly without reservation, suspicion or connection, Freddie, with conviction and cooperation, beckoned us to enter his unlocked gate and meet him without an invitation, consternation or reservation. It was a momentous occasion, meeting a stalwart who chooses the company of the man in the street and avoiding the coziness and rosiness of the higher echelon, preferring to discuss state of affairs rather than affairs of estate. Freddie does not succumb to the reign of influential lassos and the comfort of the rich, rather, he articulates himself with the reality of average sustenance. While imbibing in many mutual likes, favorite dislikes and tasteful flavors, one of his many principles envelopes in particular, sucking up to no one and has no interest or ambition to be attached to any greasy palm. Undaunted by the countless negative portraits painted by so many pirates on the high seas plundering for rich booty, he smirks and laughs at the barrage of attacks, knowing that William Camden's "the proof is in the pudding," sells trouble but spells how so many easily fumble. This feeble reflection attempts in no way to defend any affliction nor attempts to report or promote any status quo of this store house of knowledge. It simply, honestly and benignly personifies the decency of a friendly figure who showcases the hospitality of Guyanese cordial indulgence, something that is sadly missing from many sensitive quarters and leaves room for improvement and correction. Freddy wears many caps and on that sunny, bright and warm day, he wore the ambience of compassion, composition and complacency, sharing his time and views overtly and not covertly. His warmth encompassed the affection, dedication and felicitation of nature's fragrance and the fruition from that meeting encourages blossoming another season with detached reason. Thank you Sir for your generosity and indulgence. It was a pleasure exchanging news and views without the scent of an interview. Ramona is a Guyanese living in Switzerland, returning home after some 40 years and spending the festive season with the touch of Guyanese merriment. She was all excited to meet Guyanese version of Hercules, a human being who only wants to set the records straight by refuting and disputing all the false shenanigans polluting Guyana's atmosphere, environment and soil from all sources. Mohan was ecstatic to meet his home grown hero, a columnist he looks forward eagerly to read on a daily basis who sets the records straight. Myself, I thoroughly enjoyed the ease, the comfort and relaxed comradery of a man society needs for his existential efficiency, effectiveness and effervescence. We all wish Freddie and his family the very best for 2022. Guyana remains a better place with such loyal, trust worthy and hard-working Guyanese who remains committed to a genuine cause of breathing decency with the fresh and cool Atlantic Ocean breeze, flowing freely and not obligingly throughout the length and breadth of this nation of many races but embodied as one people, forging a common destiny. May that Unseen one bless this beautiful country we all share and call home.
Respectfully,