Friends and former members of the Hindu Jawaan Sangh and Hindu Seva Sangh joined with the family and relatives of Hariji to celebrate his 78th birth anniversary on Sunday August 06 at his residence in Rodney Road, Endeavour, Chaguanas. Among the distinguished guests were Deo Seerattansingh, Ms Jinsey Sampath, Pandit Krishendath Ramdhanie Sharma, Parbatie Ramlakhan-Babwah, Patrick Edwards, and Madan and Family of Morang, St Augustine who provided live music.
Ms Jinsey Sampath, a founder member of the Hindu Jawaan Sangh, described Hariji as "an academician, a visionary and a saintly person who did not discriminate against anyone or any sect." She recalled that "as president of the organization Hariji would introduce new ideas and discuss it with us."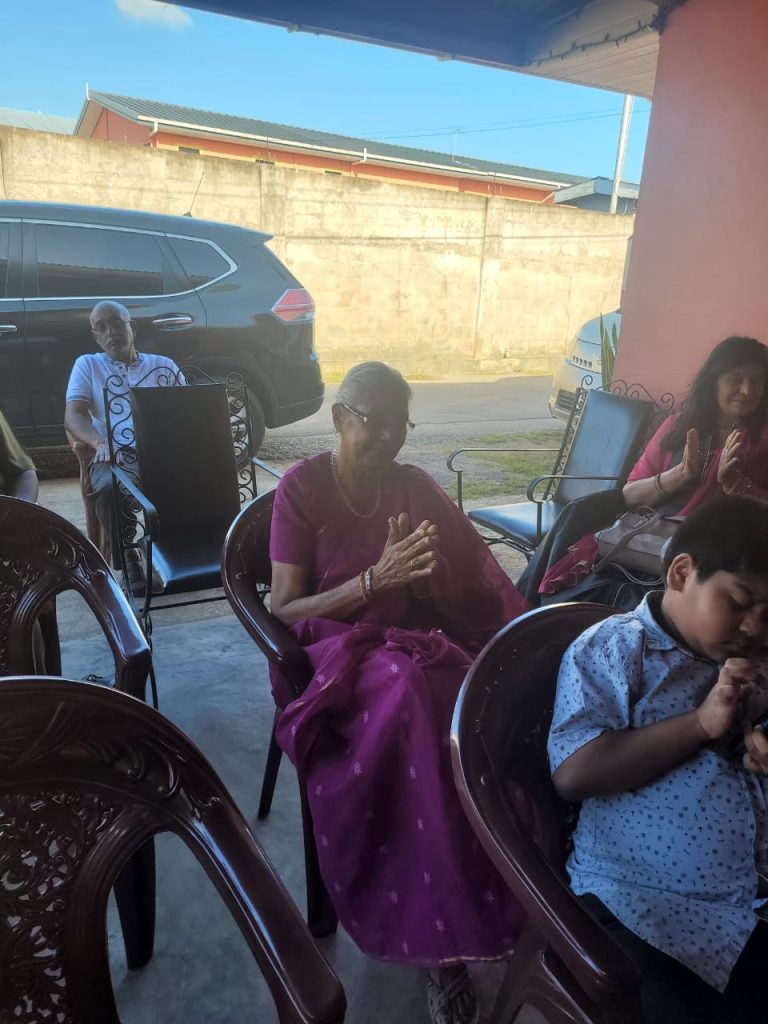 Ms Jinsey Sampath and her husband Jankie were cultural activists of the Penal Roack Road Hindu Youth Organization. Through the Rock Road Hindu Youth Organization, the Jawaan Sangh revived Phagwa and Chowtaal in south Trinidad and later in central and north Trinidad. Rock Road, inspired by the commitment of Hariji, went on to host the largest Divali celebration for more than twenty-five years. Deo Seerattansingh shared with me that President and Lady Hassanali came to spend only two hours at one Divali and requested that their stay be extended which the organizers were only too happy to oblige.
Also paying tribute to Hariji was Pandit Vigyan Dharamdass of the Yoga Vidya Peetam Ashram of Garth Road, Williamsville. He recalled the many chowpais and dohas that Hariji thought at the weekly Satsangh held at his village and went on to sing two of them. Pandit Vigyan underlined that selfless individuals like Hariji only come about because of dharmic parents.
Madan and Family brought joy to the hearts of all present with their rendition of film classics. No stranger to Harji, Madan was much aware of the work of the north zone of the Hindu Seva Sangh and its many activities including satanghs, youth development camps and sports meetings. Not too long Madan and Family provided music at a memorial service held at the Bamboo No 1 Mandir for the late Ramdath Jagessar, founder and first general secretary of the Hindu Seva Sangh who pioneered the celebration of Indian Arrival Day.
A sumptuous meal was served along with fruit cocktail and dessert. A much-cherished part of the celebration was the singing of the popular birthday song and the cutting of the cake. The program was well received by all.