Karishma Boodram, the recently crowned International Ambassador of Divali 2022, is not just beauty but also brain. The holder of a First Class Honors Degree in Biochemistry and Biology from the University of the West Indies, Karishma represented T&T at this international pageantry in Guadeloupe on October 22, 2022
The ten contestants that competed for the prestigious post of Ambassador of Divali 2022 were from Guyana, Myanmar, Mauritius, South Africa, United Kingdom, France, Guadeloupe, Martinique, and other countries. The event was sponsored by GOPIO (Global Organization of People of Indian Origin) and GIO-Global Indian Organization in partnership with the Department Council of Guadeloupe. Karishma is already booked to attend upcoming events in Martinique and Paris early next year.
Residing in Gasparillo, Karishma boasts of enjoying a long career in sports, excelling in archery and badminton including winning competitions. A Kathak dancer, Karishma was trained by the Prema Shakti Dance Company of Balmain Village under the tutorship of Neil Ramoutar. When Surujdeo Mangaroo, the PRO of Divali Nagar, was asked to send a contestant to represent Trinidad and Tobago, his first recommendation was the Prema Shakti Dance Company which has been performing annually at Divali Nagar to appreciative audiences for several years.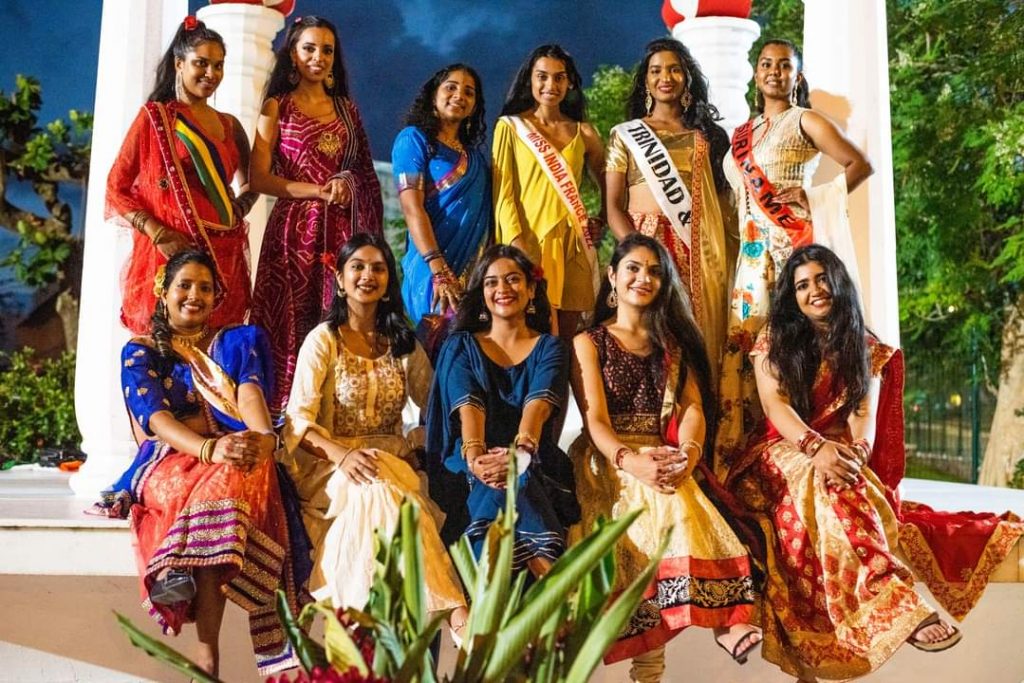 At the competition all contestants had to perform a dance in Bharatnatyam style. Though not trained in Bharatnatyam, Karishma spent many hours developing her talent in this dance style. When she executed her dance performance, her talent impressed the judges and contributed significantly to her winning the prestigious award.
Keen on developing her professional career, Karishma plans to pursue stem cell research to find a cure for Alzheimer because she had lived with a grandfather who was a victim of this dreaded disease. She is also keen on advancing her participation in extra-curriculum activities with equal passion.
"The competition was not judged on beauty alone but also intelligence, talent and personality," said Karishma. High in praise of her fellow contestants, Karishma acknowledged their talents in dance and their winning personalities.
Karishma plans on entering the Miss World and Miss Universe pageantries. Her friends recognize her abilities and are encouraging her along that line. He parents have shown exceptional interest in helping her to pursue her talent as a dancer and her interest in sports, not forgetting her academic pursuits.
Lalchan Boodram, Karishma's father, hails from Rochard Douglas Road in Barrackpore. 'As a young person growing up, I always wanted to become more involved in the culture but there was limited avenue to develop my talent." He and his wife are proud of their daughter's achievements and "we have committed ourselves to support her dreams and aspirations."
In a world where culture is always sacrificed in the interest of education, Karishma is a breath of fresh air. Her winning of Ambassador of Divali 2022 and her academic excellence underlines that our youths can pursue their academics while finding time for extra-curriculum activities.