Dear Editor,
For quite sometime, I did not get involved into political discourse or make public my views on current, topical, or controversial issues. However, I feel compelled to air my views on this Vice News report where certain allegations are made concerning Vice President Dr. Bharrat Jagdeo.
Let me state from the outset that it's very easy to sling mud on a successful political leader in the stature of Dr Jagdeo. Guyana has a lot of con men, who would get things done for people and then demand a reward for the favoursreceived. As a former Public Servant, I can enumerate several instances. Therefore, Mr. Su comments can be seen in that light, if he persists or is accurately reported, particularly since the VP has vehemently denied accepting any monies from him for any expedition of services to him or his friends or associates. The Vice President denial of ever accepting consideration for facilitating any project should be given due credence.
I served as the Permanent Secretary in the office of the President under the Jagdeo Presidency for in excess of five years, being Head of the Public Service and also sitting on every Sub Committee of Cabinet, the Central Intelligence Committee, the Defence Board and Cabinet.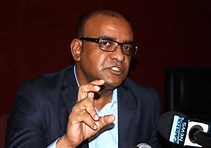 Along with Dr. Luncheon we were closely associated with the inner workings and functions of the President. I can attest nothing but hard work, integrity and impatience for procrastination on work to be undertaken in Government, on the part of Dr. Jagdeo. At the spur of the moment, he would intervene to bring an issue to head or finality, once it was brought to his attention that there were delays especially when the issue was of importance to national development. There were many such issues and he intervened and promptly resolved them.
Therefore, he was honest when he said that he would have facilitated many investors that come here and have their projects languishing at some point in the Government system. Let me give you one example. Mr. Robin Walter Persaud bought eight acres of Land that was tendered out by Guysuco at Farm, East Bank Demerara, for the purpose of building a Hotel and other housing development. He was experiencing some delays at the Privatization Unit and became frustrated, booked his flight and was on his way to the Airport when I learnt of this development. The President had just finished a meeting and I was still in his office. I told him that the developer was frustrated and was leaving and may not carry through with the project. He asked me to call Mr. Persaud which I did and passed the phone over to him. He found out what the problem was and asked Robin to return to George Town and he gave the assurance that the matter was going to be resolved the very next day. The matter was indeed resolved the next day and so Park View Hotel became a reality and the flooded abandoned cane fields were also developed and became prime lands for Executive houses. When the President acted then he hardly knew who Mr. Robin Persaud was.
There were many instances where the late Pandit Prakash Gossai, Khemat Budhu or myself, all of us working at OP during that period, would receive complaints over delays in Government leaving persons frustrated and when those were brought to the attention of President Jagdeo, he dealt with them, giving satisfaction to those aggrieved.
That was his trait then and I am aware that he continues in that vein up to today.
He is in a hurry to see Guyana develop and flourish. It is for these reasons that we refer to him as the architect of modern-day Guyana.
With respect to his integrity returns I can also vouch with a few of his secretariat staff then over his yearly compliance. We knew of his salary and other emoluments, his savings account, his assets, and even some of his daily financial arrangements. The late Vic Persaud even had control of his Cheque book. He insisted on many occasions when his house was being built and we ordered materials when he was overseas that those should be paid for from his cheques and would demand to see the receipts. There was an occasion when he misplaced his transport and wanted the details to ensure the accuracy of his returns and he ensured we secured a copy from the Deed's registry. His life as President was like an open book to us. We were like his close family to him.
His answer therefore that he facilitated persons projects is indeed a testimony of who Bharrat Jagdeo really is. His accountability to the integrity commission over these years reflects the true state of his financial standings. Those of us who were his close staff can attest to that. Some of us aided in the preparation of his returns and our handwritings would be there on some of those documents. The current Vice President needs no distraction at this time but should be allowed to use his gifted energies and knowledge towards the development and prosperity of our country. With President Irfaan Ali, the Prime Minister and the Vice President, along with their team, Guyana will prosper and soared to greater heights.
Nanda K. Gopaul