Guyana Chess Federation (GCF) paid a courtesy call on the High Commissioner Dr. K.J. Srinivasa at the High Commission of India on Monday, 11 July 2022. The delegation was led by GCS President Frankie Farley and members of the Olympiad team representing Guyana at the 44th FIDE Chess Olympiad in Mahabalipuram, India later this month.
The team comprises of five female and five males players: Ms. Sasha Shariff, Ms. Pooja Lam, Ms. Jessica Callender, Ms. Anaya Lall, Ms. Nellisha Johnson, Mr. Taffin Khan, Mr. Anthony Drayton, Mr. Loris Nathoo, Mr. Roberto Newto and Mr. Etham Lee.
The accompanying delegation also included Company Secretary Marcia Lee, Executive Director Irshad Mohamed, Team Captain and Executive Director Davion Mars, and President of the Guyana Deaf Association Sabine Macintosh.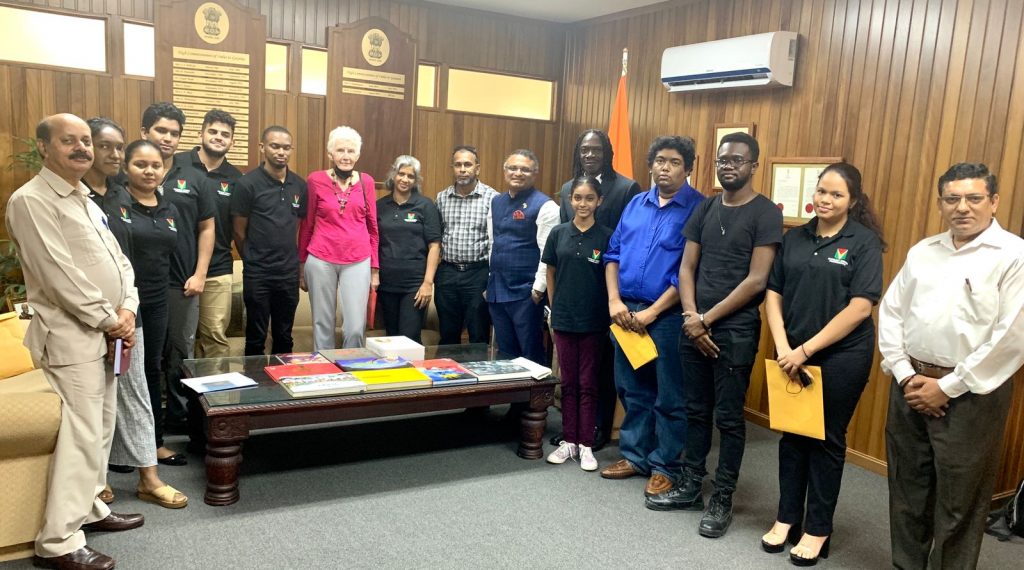 High Commissioner Dr. Srinivasa conveyed his appreciation and best wishes to the team participating in the prestigious global tournament in India and commended the dedication of the players, their parents/guardians and GCF for promoting chess in Guyana. High Commissioner Dr. Srinivasa also commended Ms. Anaya Lall, a 12 year old player with hearing disability who is representing Guyana, after having represented the country at the On-line World Chess Tournament for People with Disabilities. The High Commissioner briefed the team on India, the history of chess in India and hoped that the team would be able to improve its performance and rankings compared to the previous competition.
The 44th edition of FIDE Olympiad will be held between July 28-August 10, 2022, in the historic city of Mahabalipuram, in the southern state of Tamil Nadu, India. It may be recalled that the Indian Prime Minister Hon'ble Narendra Modi flagged off the first ever Torch Relay for the Chess Olympiad on 20th June 2022 in which the FIDE President Arkady Dvorkovich handed over the torch to Prime Minister Modi, who then gave it to the legendary Chess champion Viswanathan Anand. The torch is currently on its journey to 75 cities in a span of 40 days before arriving at the venue. At every location, Grand masters will receive the torch.