Tribute by Dr Tim Gopeesingh
"There is something in the human spirit that will survive and prevail, there is a tiny and brilliant light burning in the heart of man that will not go out no matter how dark the world becomes. "Leo Tolstoy
This quote, to me, has always epitomized Basdeo Panday, my political guru, longtime dear friend and mentor, and especially on his milestone 90th birthday.
His life itself is a story of incredible greatness and inspirational heroism—a poor, rural, Indo-Trinidadian boy, consigned to social and economic marginalization, defying and overcoming every single obstacle, to study law in the UK and then become one of T&T's greatest trade unionists, politicians, Prime Ministers, and perhaps the greatest patriot in our nation's history.
We first met back in the 1970s, at a function at my late brother's (Justice Lloyd Gopeesingh) home. Mr Panday and Lloyd were legal colleagues then. In 1993, as a then member of the NAR, Mr Panday invited me to work alongside him and the UNC, to help him achieve his lifelong dream of national unity.
From 1994-95, I assisted him in forming the National Unity Platform, which saw the UNC winning 17 seats (from its previous 13) in the 1995 General Elections, and Mr Panday's historic achievement of becoming the first Indo-Trinidadian Prime Minister.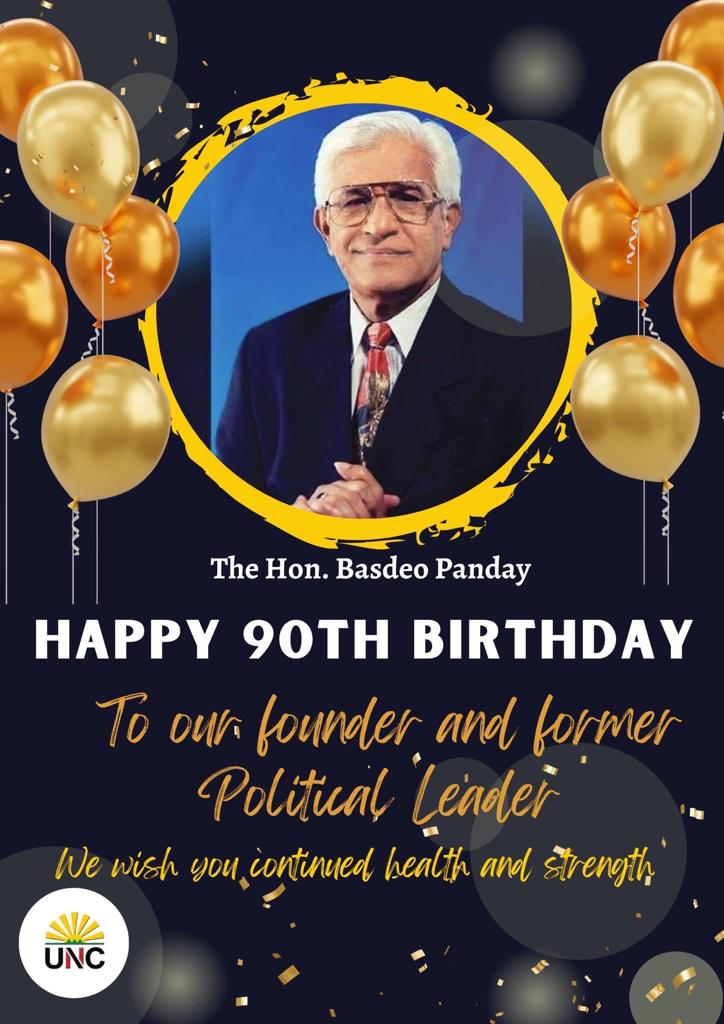 Thereafter, from 1997-2001, I had the immense honour and privilege of serving under his pioneering UNC Government in various portfolios in education and health, memorably as Chairman of two RHAs, Senator and Acting Minister of Integrated Planning and Development. From 2002-2007, in Opposition, I served as a Senator and then Caroni East MP from 2007-2010, at Mr Panday's behest.
As Prime Minister of T&T, Basdeo Panday ran one of the best Governments in this country's and region's history. His pioneering policies and initiatives ensured one of the best economic and social periods that T&T has ever lived through.
Basdeo Panday is my political guru. I have called him "Chief" all my political life, in acknowledgement of the fact that all that I have learnt in my 30 years of politics is due to his inspirational living example, his lessons, teachings, wisdom, actions, his great vision for a truly united, country of equality and justice, and his undeniable ability to beat all odds, to overcome all struggles and simply shine on.
He always taught us, his mentees and most devoted supporters, the most important credentials of life in politics, which he easily summed up in three rules: "Don't ever tell a lie, because it comes back to haunt you; Do what your conscience and heart tells you; and Always do what is right."
Even today, when I called him to wish him the happiest of birthdays, always the wise teacher, Mr Panday gave me his unending advice and wisdom—telling me to not let regrets of the past haunt me, and to move on in peace.
On his milestone 90th birthday, I wish the great Basdeo Panday many more years of good health, happiness, success, and peace for him and his beautiful family. Thank you, Chief, for all you have done for me in this life, and may you always know in this lifetime and beyond, what a true blessing you are to our citizens and country. May God bless you, always. https://m.facebook.com/story.php?