Richmond Hill, Queens, NY – September 9th, 4pm – In a momentous occasion, Councilwoman Lynn Schulman, along with Romeo Hitlall and the dedicated members of the Tulsi Mandir, will commemorate the rich cultural heritage of the Hindu community through the co-naming of a historical street. This event will take place on September 9th at 4pm, marking a significant milestone for the Shri Tulsi Mandir in Richmond Hill, Queens, NY.
The Tulsi Mandir, a revered institution, has been steadfast in its mission to restore the essence of Hindu culture by reviving traditional practices, worship, and way of life. Recognizing the historical significance of this ancient culture, which is widely acknowledged as the world's oldest among the 48 cultures, the Tulsi Mandir has become a beacon of knowledge, spirituality, and unity within the community.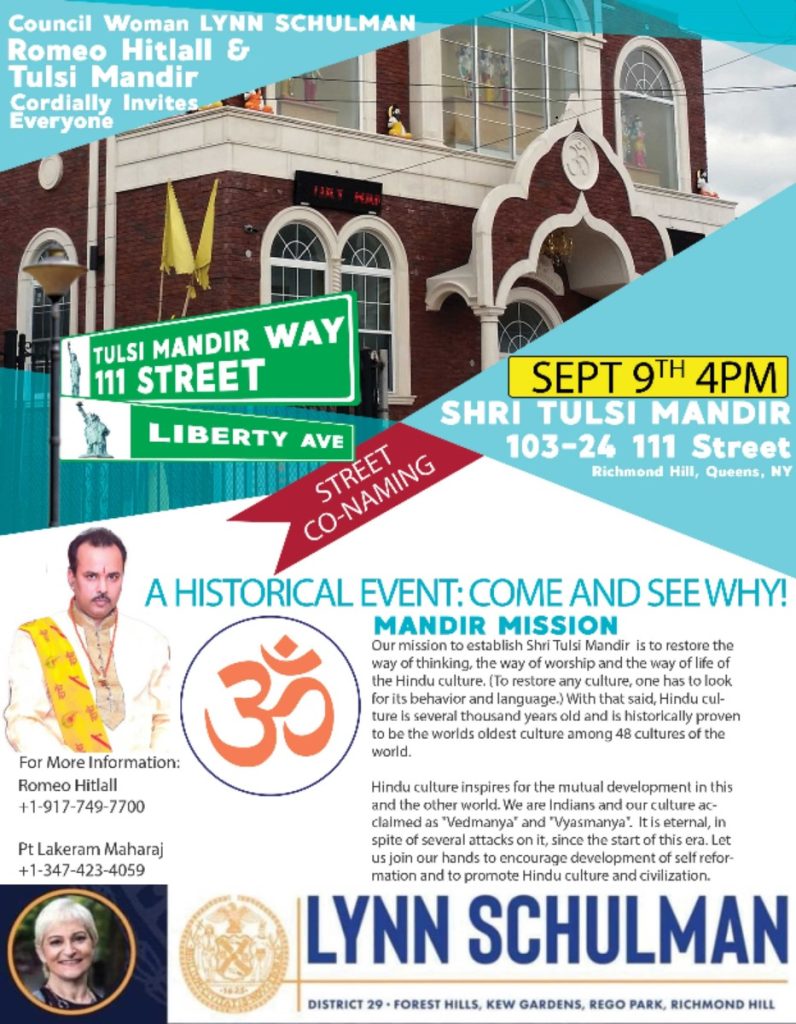 The street co-naming ceremony will serve as a tribute to the invaluable contributions of the Tulsi Mandir in preserving and promoting Hindu culture. It will be an opportunity to honor the temple's commitment to inspiring a deeper understanding and appreciation of the Hindu way of thinking and worship.
Councilwoman Lynn Schulman, whose unwavering support has been instrumental in making this event possible, expressed her enthusiasm, saying, "I am thrilled to be a part of this historic occasion. The co-naming of this street is a testament to the rich cultural tapestry that exists within our diverse community. It is an honor to recognize the Tulsi Mandir's efforts in restoring and nurturing the Hindu traditions that have influenced countless lives."
Romeo Hitlall, a key figure in organizing this event, shared his excitement, stating, "We are grateful for the opportunity to celebrate the Tulsi Mandir's profound impact on our community. This co-naming serves as a symbol of unity, reminding us of the importance of preserving and cherishing our cultural heritage. We invite everyone to join us on this momentous occasion."
For further information and inquiries about the historical street co-naming event, please contact:
Romeo Hitlall