The Bamboo No 1 Mandir in Valsayn celebrated Holika Dahan with tassa, skit, chowtaal singing and bhojan. It was an evening of celebration as families from near and far joined with the devotees of Bamboo No 1 Mandir to burn Holika, a symbol of evil.
Held on Monday March 6th, the event was covered by Bhakti TV and at hand was Pandit Satyanand Maharaj, Managing Director of Bhakti TV to put the celebration in perspective. Pandit Satyanand said that Holika Dahan is a celebration of the POWER OF ONE. He said while elders and leaders succumbed to the might of the State, the little boy Prahalad decided to resist and was triumphant in the end.
Also speaking on the event was well-known cultural activist Bindool of Barataria. He was high in praise of the stalwarts of yesteryear such as Ramrick Sadhu,Ramdeo Chaitoo, Doon Doon and others who laid the foundation for Phagwa in the 1960s. "I was the errand boy, the youngest in the group," said Bindool who recalled the singing of chowttaal and Phagwa songs from door to door with the villagers welcoming the singers with food and drinks. Bindool shared with the listeners his fortune to be part of a chowtaal group of 24 members that toured Suriname.
Also, at hand to render chowtaal were members of the Radha Krishna Kirtan Mandali led by the indomitable Ramjit Samaroo. Located in Hasarath Road, Cunupia the Radha Krishna Kirtan Mandali is now an institution in central Trinidad for the celebration and preservation of Indian culture in its rich and diverse forms including an annual Ramayana Yagya and the annual treating of the kids of the Children's Home in Longdenville, Chaguanas.
Pandit Bhuddharath Yankatesu was at hand guiding the event with the chanting of appropriate mantras and offering explanation to put in perspective the significance of this event.  A skit was enacted with Ajai Yakatesu playing the role of Hirankashipu, the evil king that was harassing and threatening Prahalad to denounce his dharma and accept him as the only Truth.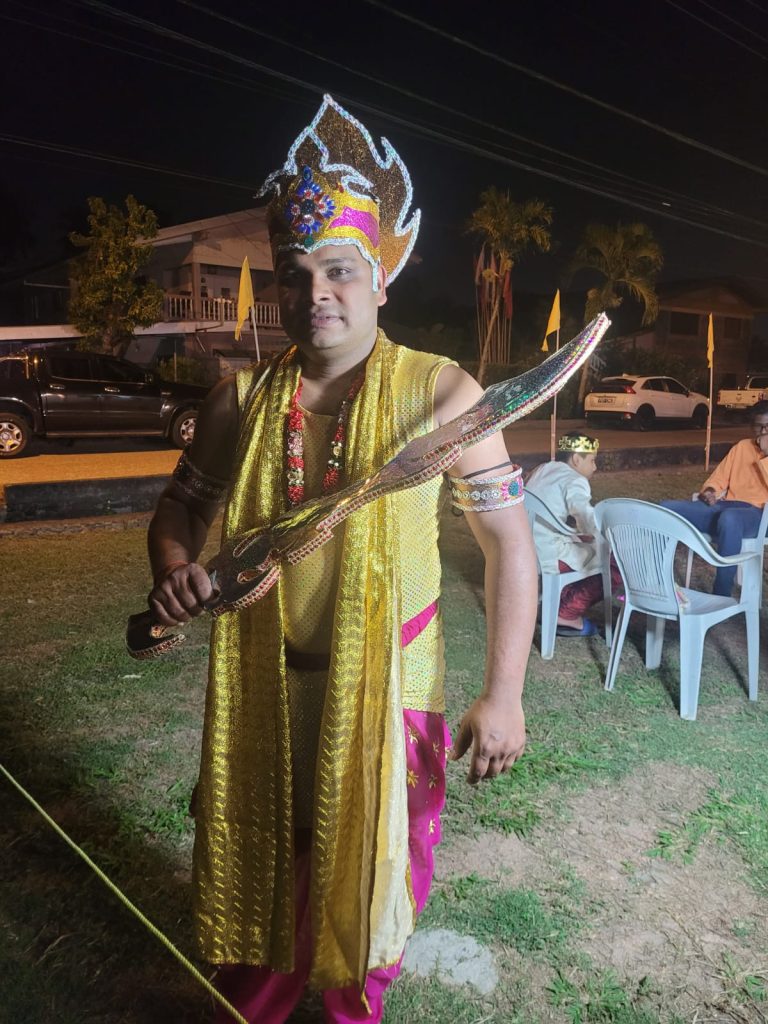 An effigy of Holika was constructed and scraps of discarded wood and branches representing the negative qualities were made into a bonfire to set ablaze. The explanation of Pandit Yankatesu, the playing of the tassa and the portrayal of destruction of Holilka and the evil Hirankashipu at the hands of Bhagwan Vishnu is testimony that God is always ready to protect his devotees and destroy all threats to their existence.
Gulal was smeared on the faces of celebrants to mark the victory of Lord Narsingh, the half lion-half man reincarnation of Lord Vishnu. The event culminated with the distribution of parsad and traditional meals on suharee leaves.