Jai Siyaram.
Brothers and Sisters, In paying tribute to Shri Satnarayan Maharaj, a doha comes to mind, "Mangal bhawan Amangal Hari
Drabahu su Dashrath ajir bihari.
The great god that we search for is a child playing in the back yard of king Dasarath…..
A man who stood guard over every Hindu born in Trinidad in the last 50 years sat in a tiny office in Tunapuna when I last met him.
For those of you who didn't know Sat Maharaj, let me introduce you to the man who was in fact, a movement. His weapons were his ultra sharp mind and a fearlessness that evoked fear into the hearts of many.
He made you proud to be Hindu in an era when Hindus were mocked and considered
inferior. When our parents were attempting to build temples in our backyard, Sat told them to build on the hill top.
"Let the jhandis boldly fly," he said.
As Secretary General of the Sanatan Dharma Maha Sabha, Sat was a passionate Hindu.
"Let Dharma be taught to all," he propagated.
He stood up when others cowered to demand that the national award should be changed from the Trinity Cross to the Order of Trinidad and Tobago making in worthy for Hindus to accept it.
He fitted into the shoes of SDMS first leader Bhadase Sagan Maharaj smoothly sailing on with 40 primary schools. He renovated, rebuilt and added 10 more. The Maha Sabha's 150 mandirs, like the schools all have the same name Sanatan Dharma Maha Sabha with only a number to differentiate them.
Sat overcame the hurdles making the impossible possible by setting up a radio and television station to give voice to Hindu Trinidad.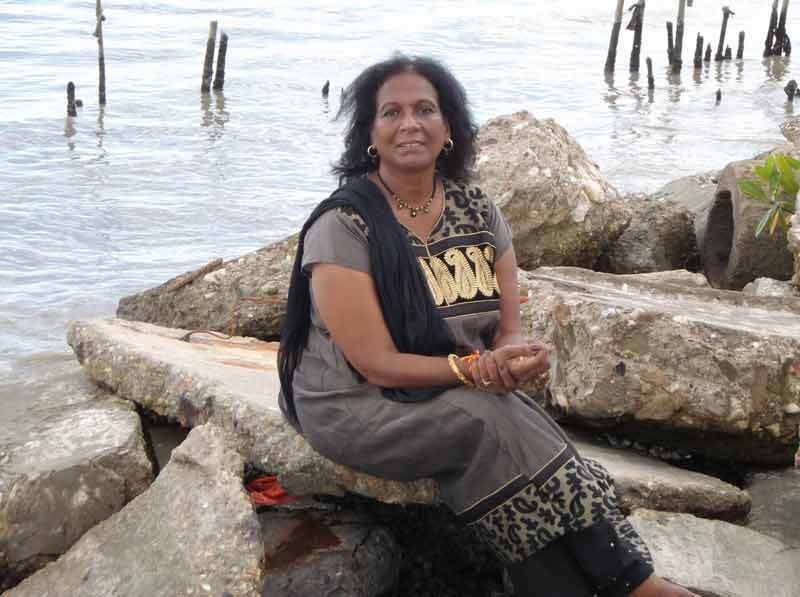 A leader to most, a hero to many Sat Maharaj was surrounded by the most pious men. He also didn't have to call on anyone to serve the cause of the Maha Sabha. He sheltered us and encouraged us to dream big and we did not let him down. We returned to offer theirs services, hoping to lighten his burdens.
The greatest of men have been the simplest of men. The Maha Sabha Secretary General was the kindest of men and also the funniest man in the room. He never forgot a face, loved the company of children especially those under 10 years of age was warm and loving.
I shudder to think of what Hindu Trinidad might be today without the contribution of this great soul who is now traveling the great beyond.
He made us see that our forefathers were torn away from the breast of Mother India and worked day and night to help build this country for their children sake. For us to be scorned and marginalized was unacceptable.
He encouraged us to work hard and follow the path of Sanatan Dharma, we must therefore not allow his message to die. Let the jhandis fly. Let Dharma be taught to all, stand up and fight for what is right and above all be fearless in the face of adversity.
Jai Siyaram.