India, January 2023, people of Indo-Caribbean descent were honoured for their noble service towards their countries and communities including Dr. Vishnu Bisram whose long list of achievements includes being a scholar, psephologist (pollster), teacher, reporter, columnist, activist and philanthropist. His accolades consists of multiple doctorates in History, Political Science, Economics, Sociology, Educational Administration and Biochemistry.
He was conferred with two prestigious awards by both nations of India and Guyana. In India he was bestowed the Bharatvaashi Gaurav Samman Award in New Delhi which is the highest award by an NGO (Antar Rashtriya Sahayog Parishad/ Indian Council for International Cooperation) given to PIOs (Persons of Indian Origin) or NRIs (Non-Resident Indians) alike for their outstanding service towards India, the Indian diaspora and other countries. The award included a trophy with citation and a generous sum of Rs. 100 000 which he graciously returned to the organization to continue their public service work. Shri Murlidaran, India's Minister of State for External Affairs commented in New Delhi that he hoped the honours would serve as encouragement to others. On January 26, President Dr. Irfaan Ali of Guyana presented Dr. Bisram at the Indian High Commission in Guyana during its Republic Day celebrations with an award for contributions to media, culture and academia.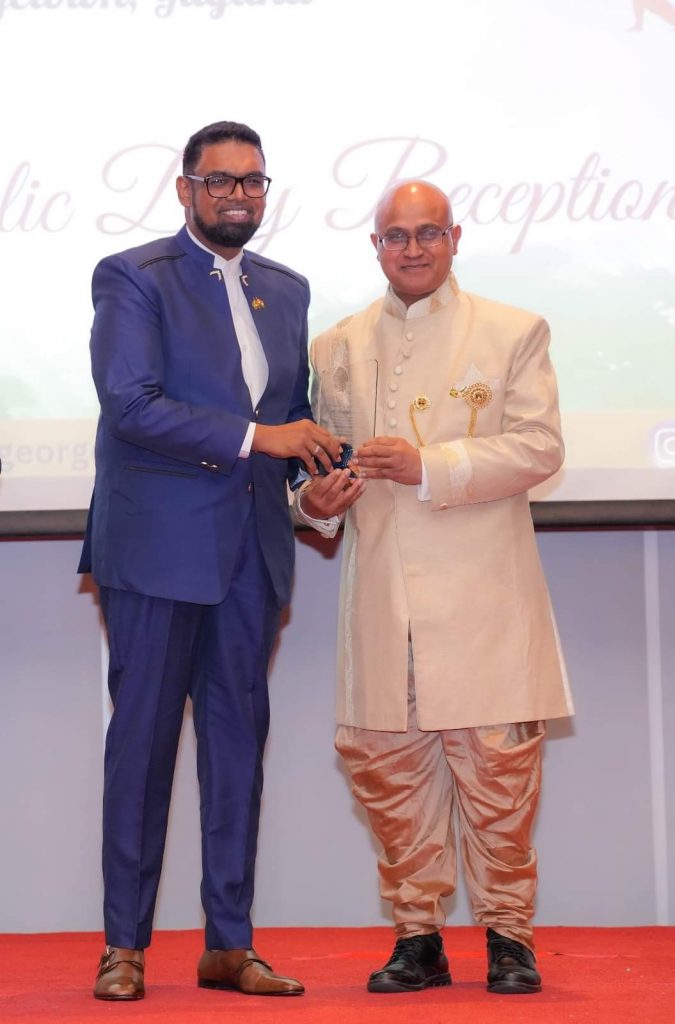 Dr. Bisram is of Guyanese origin but has spread his chivalrous efforts over the last few decades comprising charitable work across the diaspora including much of the Caribbean community such as Trinidad and Tobago, Guyana, Jamaica, Suriname, India and the USA. He is well known among his colleagues and fellow academics for his commitment to raising awareness of social issues, promoting culture and conducting research within India and her diaspora and is considered a champion of promoting democracy in Guyana.
He has founded an array of organisations and various publications such as the Indian Community Media in America, Guyana Abroad, Caribbean Update, the Student Newspaper at City College, The Paper and The Source. He has written voluminous articles for News India Times, India Abroad, Asian Monitor etc. and delivered a multitude of research papers. Dr. Bisram has organized numerous conferences over the years including the Fourth Conference of Indians at Columbia University and the First Global Convention of People of Indian Origin which aided in the launch of GOPIO. He continues to traverse the globe presenting his scholarship at various seminars and conferences as far flung as Fiji and Mauritius. He has given a gallant 55 years of service to uplifting the Indian diaspora, media-related undertakings and instructing on various subjects. Dr. Vishnu Bisram is certainly an inspiration of the highest caliber for future generations across the Caribbean and especially within the Indian diaspora.
Nisha Ramracha
Classical Archaeologist.