Dear Editor,
When Dr. Jagan was alive and President, he showed great interest in promoting Indian forms of Culture in Guyana. Personally, he was very much interested in my music and would always encourage my siblings. He even asked me to record my songs and give him. His wife was in charge of Cultural activities in GT at that time and one of the events she organised was to showcase classical music. Most of the music was western Classical music that was showcased and I was the only Indian singer to perform…my Guru Ji's husband Pt Puran Maharaj had his students do a tabla recital. I distinctly remember while singing, Mrs Jagan did not listen, she was chatting to Hamilton Green the entire time, while he was trying to enjoy the music. Dr Jagan, sitting next to her, listened to the entire Tarana and I could have seen him tapping his hand to the complicated teen taal. His wife listened intently to all the Western based performance but ignored the Indian ones!!
Two artists of Indian descent asked me to join them in an exhibition of Indian artists in Guyana. We had it at the Indian Cultural Center. The High Commissioner at the time, gave me his full corporation. At the inauguration, Mrs Jagan came. She just looked at the exhibits but did not offer any encouragements. I can remember the shock of many who came…. to see that Indians in Guyana did art….am not sure why this was so as they are many many established Indian artists. The reporter from Stabroek News actually told me that she had never been to any Indian artists' exhibition in GY and that she was blown away by what she saw.
I write about these two incidents to highlight that Indians are never or rarely encouraged to venture into the fields or get recognised in the domains that are strongholds of the Africans and Amerindians in Guyana. We are only accepted as Chatney singers and that too is associated with rum imbibing so in my mind it is as if they are telling us that is all we are good for.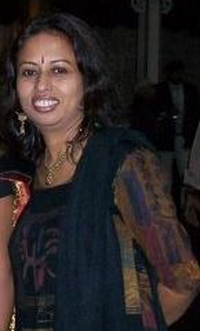 Very few outside of Indian descent show interest in Indian music, dance and art….gathered from my years of studying and performing with the Indian Cultural Center, Guyana Hindu Dharmic Sabha and personally. Whenever a few non Indians do participate…they are given prominence and are showcased by the institutions in Guyana…same is rarely shown to the Guyanese of Indian descent unkess of course you are very close to the Government of the day.
With the Guyana Folk festival…..they only choose a few Indo Guyanese as a token from time to time….someone from their group approached me and discussed my participation but then disappeared. I gather that as long as you sing the rum drinking/copying Trinis chutney or even Bollywood then you can perform but when you do the original root of Chutney…Bhojpuri folk/classical music…none are interested. And furthermore, when you show how strongly knowledgeable and trained you are in Indian music…you are shut out totally. The feeling I get is that we are not supposed to know about our Culture and heritage and be trained in it.
I can write pages and pages about my own bad experiences in Guyana where people with little or no ideas and lesser talent stole my very own ideas and ran with it. It happened at Cricket World Cup in Guyana and at Carifesta, just to name a few.
Some rare Guyanese in Guyana are keen on learning their heritage but they are not encouraged. I once gently ask the winner of the Chutney competition as to why he does not go to ICC and learn music as it will benefit him greatly. He had a really good sounding voice. He was offended and never spoke to me again. I have noticed that the kids in NYC are showing more interest in Bhaitak/Taan singing but they need guidance in the really way to sing. Most just imitate others and there is little discipline on the presentation and more of making noise. Baitak/Taan singing is a real art form and there is discipline in its presentation as you know but few are training too here. A large number of kids are also going for training in Hindusthani Classical Music and this is heartening for me. How far they continue is another thing because until one die, then one stops learning/training. My late Guru Jis Pandit Haricharran Verma and Dr. Sunil Kumar Sathpathy both passed away during the Covid outbreak and I was in training with them until the last months of their lives and every single conversation would begin with…how was your practise today?
This is long, please forgive my outpourings but this is a topic that is very dear to my heart! I pray that someone in authority hear and respond to your plea and there may be renewed interest in promoting Indian/Hindu culture in Guyana and among Guyanese.
Best Regards,
Ms. Nanda Sahadeo