India's Minister of External Affairs Dr S Jaishankar has been in Guyana from April 20 engaging Caricom's Foreign Ministers, President Irfaan Ali, Vice President Jagdeo, and a host of other officials. He also addressed the Indian diaspora. The following release was issued by the High Commission on the MEA visit:
Day 2 & 3 – Visit of Hon'ble External Affairs Minister of India Dr S Jaishankar to Guyana 21-23 April 2023
On 22 April 2023, the second day of his ongoing visit to Guyana, Dr. S. Jaishankar, External Affairs Minister of India called on Dr Mohamed Irfaan Ali President of the Cooperative Republic of Guyana in his Office. Both sides held comprehensive discussions covering the entire range of aspects of cooperative relationship between Guyana and India. President Dr. Ali was accompanied by Vice President, Dr Bharrat Jagdeo; Senior Minister within the Office of the President with responsibility for Finance Dr Ashni Singh; Minister of Foreign Affairs and International Cooperation Hugh Todd; Minister of Public Works Juan Edghill; Minister of Natural Resources Vickram Bharrat; Minister of Public Service Sonia Parag; Minister within the Ministry of Public Works Deodat Indar and the Foreign Secretary Mr Robert Persaud.
2.​ This was followed by the 5th Session of the India-Guyana Joint Commission co-chaired by Dr. Jaishankar and Foreign Minister Todd during which the two sides took stock of the progress being made in the identified areas of cooperation between the two countries. Eight Joint Working Groups which were constituted by Prime Minister Modi and President Dr. Ali after their meeting in India in January 2023 to strengthen cooperation in Agriculture, Ayurveda, Education, Energy, Health, Human Resources, Infrastrucutre and Technology & Innovation had held their meetings in virtual mode earlier and informed the India-Guyana Joint Commission to concretize cooperation between the two countries. The participants in the JCM included senior officials of the concerned Ministries and agencies both from India and Guyana.
3.​ Dr. Jaishankar and Minister Todd also witnessed the signing of the Air Services Agreement and Declaration of Intent to sign the Mobility Partnership Agreement between India and Guyana. Air Services Agreement was signed by Minister of Public Works of Guyana Bishop Juan Edghill and Dr. K.J Srinivasa, High Commissioner of India to Guyana. The Agreement provides a legal framework that opens market access for airlines of both countries to operate and enhance competitive air transport services, trade, and economic growth between the countries. The Declaration of Intent to sign Migration and Mobility Partnership Agreement was signed by Indian High Commissioner Dr. Srinivasa and Mrs. Elizabeth A. Harper, Permanent Secretary in the Ministry of Foreign Affairs & International Cooperation
4.​In the afternoon, Dr. Jaishankar chaired the first ever India-Guyana Business Round Table along witih Foreign Minister Hugh Todd, Minister in the President's Office with the Responsbility of Finance Dr. Ashni Singh and Minister within the Ministry of Public Works Mr. Deodat Indar. A high-level delegation from the Confederation of Indian Industry, which is accompanying Dr. Jaishankar on his visit to Guyana, also participated in the Business Round Table. The Business Roundtable saw a largescale and enthusiastic partcipation from the Government agencies and Private sector companies in Guyana representing cross section of economic activities.
5.​Five agreements were signed between (i) United Phasphorus Limited and Ministry of Agriculture, Government of Guyana for promotion of Millets; (ii) CII and Private Sector Commission for promoting collaboration between the two umbrella business associations; (iii) upgradation of Joint Business Council between FICCI and PSC; (iv) collaboration MoU between CII and Guyana Oil and Gas Energy Chamber; and (v) Guyana Office for Investments and Decipher Health Records from India for establishing a BPO in Georgetown.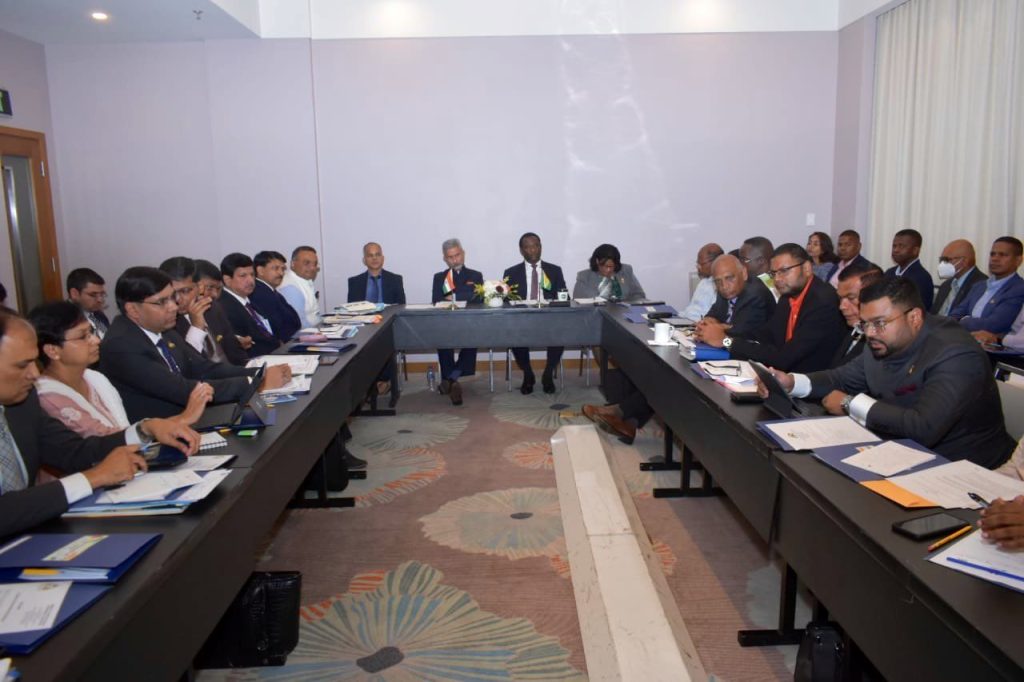 6.​The highlight of the Business Event was the launch of first-ever India-Guyana Chamber of Commerce headed by former cricketer Ramnaresh Sarwan and including private sector companies from both the sides.
7.​Dr. Jaishankar in his remarks emphasized that as agreed to by Prime Minister Modi and President Dr. Ali, India-Guyana cooperation in energy, health and pharma, development partnership & capacity building, agriculture, innovation, technology and defence and infrastructure will be the drivers of our ties. He underlined that his presence in Guyana is intended to take forward the momentum created and new energies infused by the recent visits of President Ali and Vice President Jagdeo as strong economics will complement shared values in taking our partnership to a new level.
8.​Dr. Jaishankar met with the Speaker of the National Assembly Manzoor Nadir in Guyana and shared views on close historical and cultural relations between the two cooperative and multicultural democracies.
9.​He called on Prime Minister Brig (Retd) Mark Phillips in his Office and discussed strengthening of cooperation between the two countries in energy, disaster resilience & preparedness and defense cooperation.
10.​Dr. Jaishankar visited the East Bank-East Coast linkage road construction project being executed by Indian company M/s Ashoka Buildcon with a US$ 50 million Line of Credit from the Governmente of India. RITES, a public sector Undertaking from India is the Project Management Consultant in this project.
11.​President Dr Ali hosted a dinner in honour of Dr. Jaishankar at the State House in the evening. Both President Dr. Ali and Dr. Jaishankar in their brief remarks agreed to further strengthen the cooperative relations between India and Guyana including G2G and B2B.
12.​On 23 April, Dr. Jaishankar visited one of the prominent mandirs in Guyana, Shri Rama Krishna Mandir in Georgetown and offered his prayers. He also had interaction with devotees present at the Mandir including a large number of diaspora community.
13.​Dr. Jaishankar paid a floral tribute to Mahatma Gandhi's statue at Promenade Garden in Georgetown. The statute of Mahatma Gandhi at Promenade Gardens was unveiled in October 1969 to commemorate Gandhiji's 100th birth anniversary. Dr. Jaishankar also laid a wreath at Independence Arch, which was established in May 1966 dedicated to Guyana's independence
14.​ Dr. Jaishankar visited Indian Arrival Monument at Palmyra in Berbice and met with the Indian Diaspora from Region 5 & 6 in Guyana.
15.​Dr. Jaishankar along with President Dr. Ali inauguratef the Ocean-Going Ferry MV Ma Lisha, built with Grant and Line of Credit for US$ 12.73 million from the Government of India. The Ferry is designed and built by a premier Indian Public Sector Undertaking, Garden Reach Shipbuilders and Engineers and would be the largest and fastest passenger and cargo ferry in Guyana. It can carry 294 passengers (including a 14-member crew), 14 cars, two trucks, 14 containers and other assorted cargo.
16.​Dr. Jaishankar also interacted with the Indian Community and Diaspora in Guyana in the evening at a Diaspora Event in Hotel Marriott, Georgetown hosted by High Commissioner of India Dr. K.J. Srinivasa and his spouse Mrs Ashwini G S.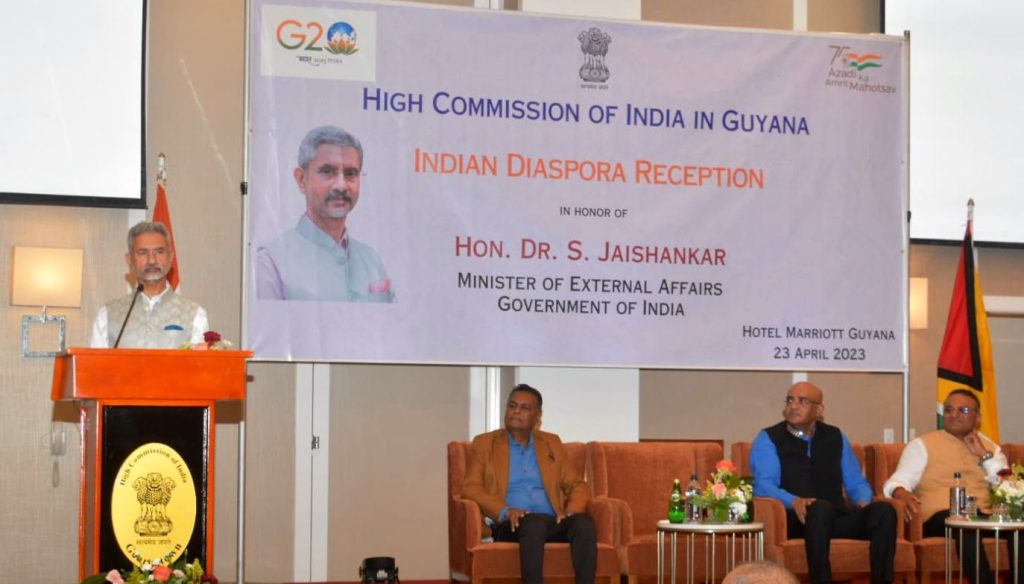 Georgetown, 23.04.2023