Indo Caribbean senior journalist Dr Vishnu Bisram engaged India's Minister of State for External Affairs Hon Menakshi Lekhi on the sidelines of the International Millets Conference held in Delhi on March 18 & 19. They talked about diaspora matters. They previously met at Indore at PBD and in New York on diaspora engagements.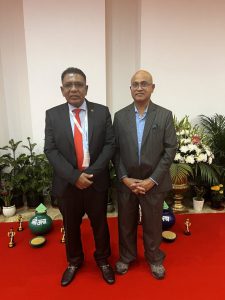 Dr Bisram has been involved in reporting on community events and journalism since 1976. He penned countless articles on diasporas.
Dr Bisram has been in India tracing roots, reporting on Holi, and covering the millets conference among other activities. At the conference, he met Guyana Agriculture Minister Zulfikar Mustapha.