The large Indian-Caribbean American community in New York City observed Phagwah (also called Holi) last Sunday afternoon in Richmond Hill on Liberty Avenue and the Smokey Oval (Phil Rizzuto Park) on 125 Street and 95th Ave, in a mile long parade. The parade returns after a hiatus of four years (since 2019). There were a couple dozens of floats making their way through the Avenue. Marchers danced to the beat of fast temp dholak and tassa drums and cymbals, while New York City Police Department officers facilitated traffic. It was a warm sunny afternoon for a parade.
The parade commenced at 2:00 PM on Liberty Avenue culminating at the park with a cultural variety concert. This was the 35th annual Phagwah parade. The parade was cancelled in 2020 and 2021 because of Covid. A restricted celebration in the form of a concert on Liberty Avenue was allowed in 2022 on the Avenue itself near Lefferts Blvd. At last Sunday's celebration, New York's Mayor, Eric Adams, was the Grand Marshall. He was joined by a number of other prominent politicians including Senator Chuck Schumer, Lt. Governor Antonio Delgado, NY Commissioner of Immigrant Affairs Manuel Castro Queens Borough President Donovan Richards, Assemblywoman Jenifer Rajkumar, and District Leader Albert Baldeo, among other elected officials and community leaders. They were all doused with colorful powder.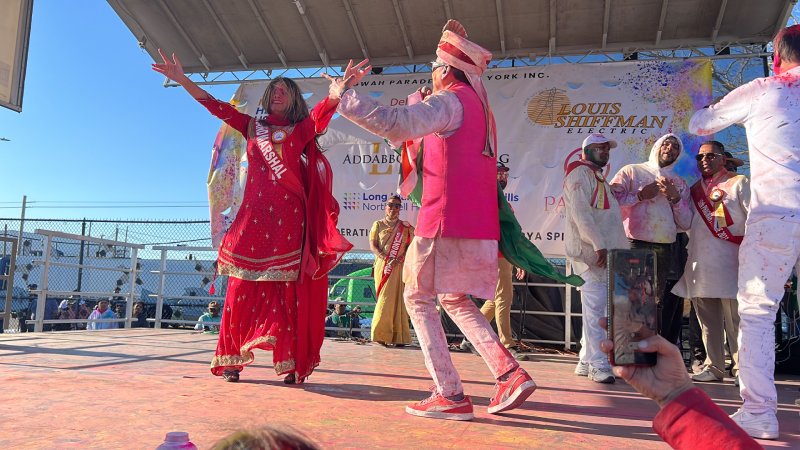 The Mayor greeted the crowd and delivered greetings as well as praised the organizers and recognized the diversity of the crowd. Holi brings people together for a joyous celebration.
Holi involved vivacious traditions bringing color into each other's lives from one person to the next. It is a communal celebration. People come together from all walks of lives, cultures, and backgrounds. It is the only celebration in the city that brings people together irrespective of faith and nationality. There is traditional Holi songs from Hindi films and folk songs, and dancing. People gathered and sprinkled powder on each other. It normally also involved dousing of abeer (colorful liquid) but it was disallowed. The avenue as well as the park itself became a kaleidoscope of colours as revelers of various nationalities and ethnicities "played Phagwah" or Holi with one another with powders of all colors imaginable. It was a rainbow of colors. Colorful mists of powder rose above the crowd as they sprinkled powder in unison to popular Bollywood Holi songs. Many celebrants were unrecognisable with their faces daubed with a variety of colours.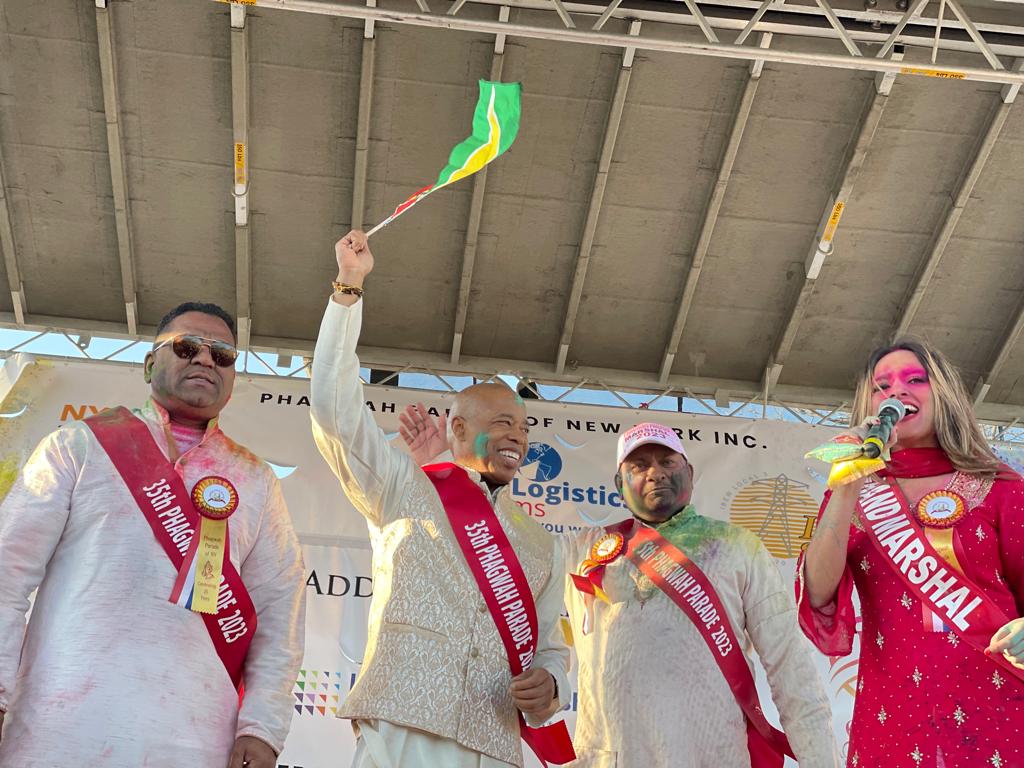 The celebration was sponsored by the Hindu Federation of America and the Arya Spiritual Center. The program was organised by Romeo Hitlall, Herman Singh, Vedo Basdeo, Dhanpaul Narine, Naidoo Veerapen, Balram Rambrich, among others.
Phagwah was officially observed on March 8, a weekday. Mandirs observed the festival that day and the previous evening with the burning of Holika. A permit for a parade and public celebration was granted for an event only on March 26. Phagwah is a national holiday in Guyana, India, and several other countries. Phagwah is a spiritual and most beloved festival of Hindus and one in which other nationalities join in celebration. It celebrates good over evil. It is called the festival of colors and mark the arrival of Spring. People immersed each other in vibrant Abeer (colored powder) to welcome the spring season on the Hindu calendar.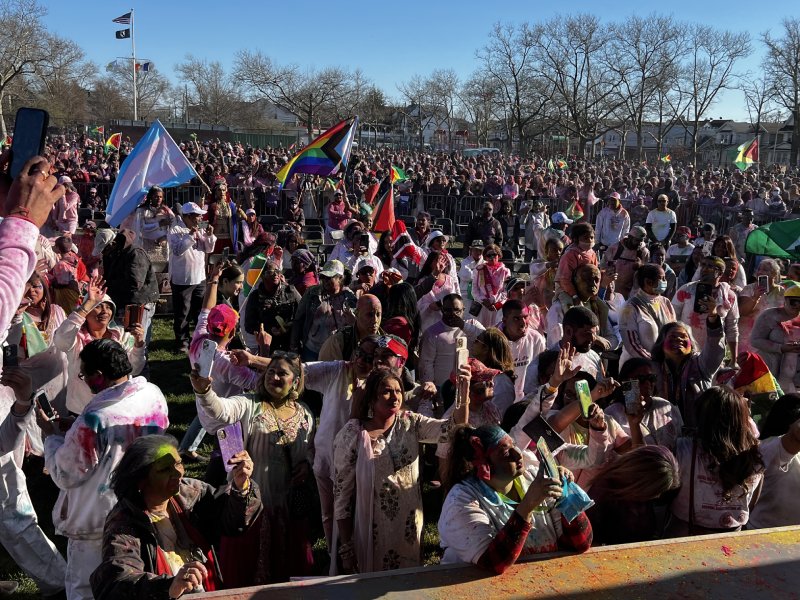 Holi was brought to New York and made prominent by Indo-Guyanese and Indo-Trinis going back to the 1960s. It was spread to neighbouring states like New Jersey and Florida by Indo-Caribbeans. Holi was originally brought to Guyana and the Caribbean by Indian indentured labourers going back to 1839 when the first Holi was quietly and secretly observed in the plantations. The Europeans did not accord any recognition to Indian cultural festivals. In the early years in Guyana and in America, the festival was observed very modestly because of the many constraints that the Hindus had to deal with. But today it is widely recognised in New York and other parts of America by local and state governments and by participation of politicians. Since the late 1980s, it has been celebrated in a grand style at rented halls, mandirs, and in private homes. Since 1990, there has been a parade on the Sunday after the official day of observance with a parade and a concert. Just as in Guyana, it is usually celebrated with colourful powder, abeer and talc powder in addition to songs, music, dance and special foods.
The parade and concert featured tassa (tarapiti) drumming, Chowtaal singing, classical dances, vocalists Terry Gajraj, Raymond Ramnarine, and other artistes who entertained the large crowd of thousands with their melodious fast tempo chutney-type Phagwah songs. People rejoiced with the chowtaal and Phagwah-related renditions.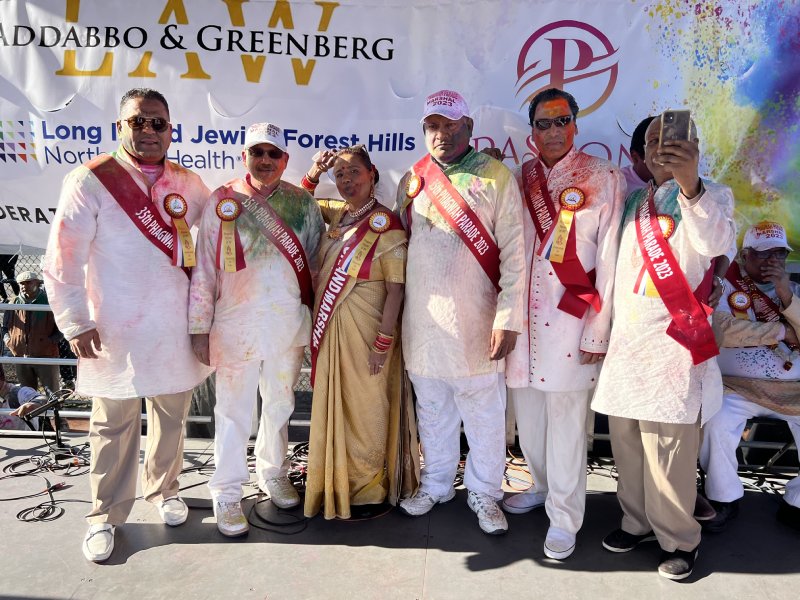 Assemblywoman Jenifer Rajkumar, a Hindu, explained the significance of Phagwah and how it is celebrated promoting peace, togetherness, and harmony. She noted that hundreds of thousands of New Yorkers celebrate Holi, and they bring such life and beauty to our city". She added: "This community believes not just in tolerance, but one step more than tolerance, it's a very inclusive community that embraces everything". Lt. Governor Antonio Delgado underscored the sense of unity the march embodies about each year, and stated that New Yorkers should celebrate their diversity together. Delgado told a reporter: "It's really amazing to look out and see all of the colors and to appreciate what all these different colors represent. In so many ways, when you think about all the diversity that's here and how we all represent so much in our spirit, in our presence it's always important that we come together as a community, sharing and celebrating our cultures or ethnicities."
Senator Schumer praised the organizers and saluted the community. He said "We have to have many more people from India and from the Caribbean Indian community here in New York, and here in Queens. I am fighting for immigration laws to make that happen. So, our great assembly member Jenifer Rajkumar is the first Hindu in the assembly. She will not be the last".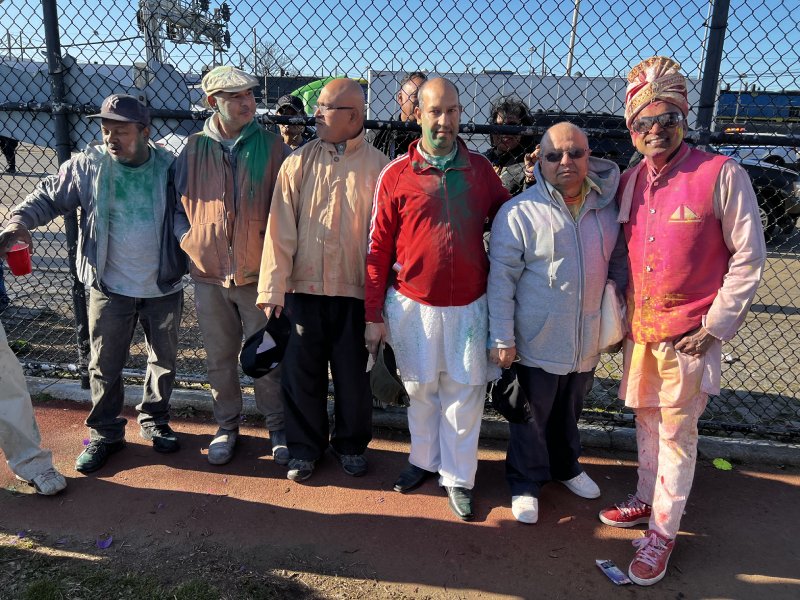 Queens Borough President Donovan Richards said: "This is what we look like when we talk about diversity — 190 countries represented right here in Queens County, 360 languages and dialects spoken right here — and this is what the Hindu-Caribbean community looks like in Queens,"
The large crowd at the park was entertained by artistes from various countries and local performers.