Mookhesswur Choonee of Mauritius was on Friday evening conferred with the prestigious Bharatvaashi Gaurav Award for the year 2023. The award is given annually by Antar Rashtriya Sahayog Parisad ( indian Council for International Co-operation) to a few Indians in the diaspora who distinguished themselves in selfless service to their nation or India. Mookhesswur served his community in Mauritius and India for some 50 years including promoting culture and helping to lift people out of poverty.
The Honor includes a trophy with a citation and a hefty cheque of some Rs. 100 000. Mr. Choonee returned the funds to the ARSP Organisation to continue its public service work and research on the Indian diaspora.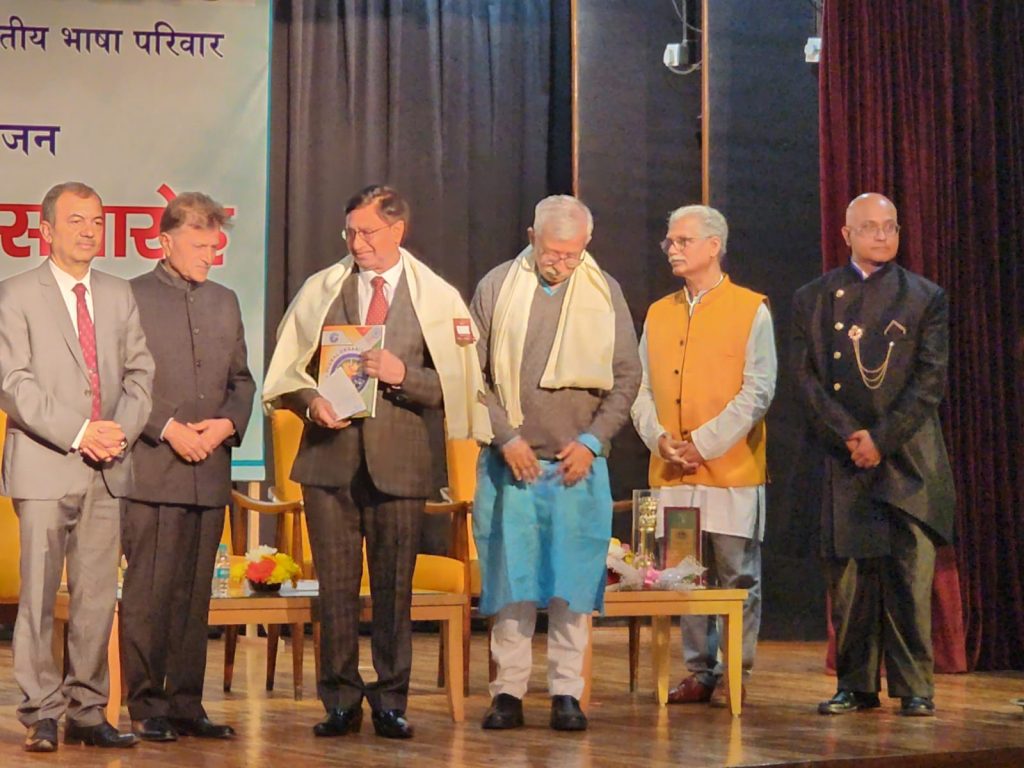 The award ceremony was held at a valedictory session following a forum on the use of Indian languages abroad and project Indian's soft power. It was held in the auditorium of ICCR at Azad Bhawanidin in the heart of New Delhi, the Capital of India. Dr. Vishnu Bisram of Guyana was also honored with the same award for his enormous service to the diaspora in Guyana. Both gentlemen are well known and held in high esteem by the political decision makers in India, both at the centre and in UP and Bihar. They are organizers of Indian diaspora conferences.
The Bharatvaashi Gaurav Saman is the highest indian award given by a NGO to PIOs and NRIs ( OCI ) or an organization or institution, established and run by ARSP which was founded in 1967. It is given out for outstanding achievements and or service to India and or other countries and or the indian diaspora.
Mr. Choonee is the 9th recipient of the award. Late Sir Anerood Jugnauth, the former President and Prime Minister is the only other Mauritian to have been conferred this award. Mr. Choonee was honored for his selfless and altruistic service to the Indian diaspora in several countries not the least being in Mauritius, and both the French and English diaspora as well as for his charitable activities. He was recognized for his commitment to community welfare diaspora, promoting culture, and advancing causes of the diaspora and India.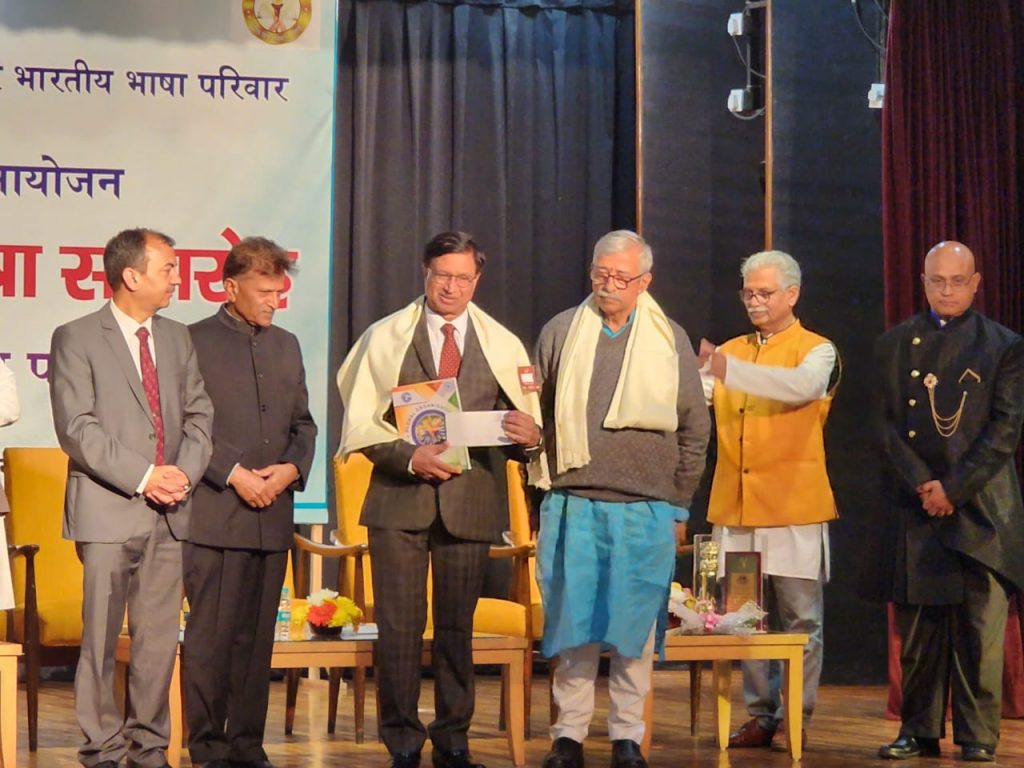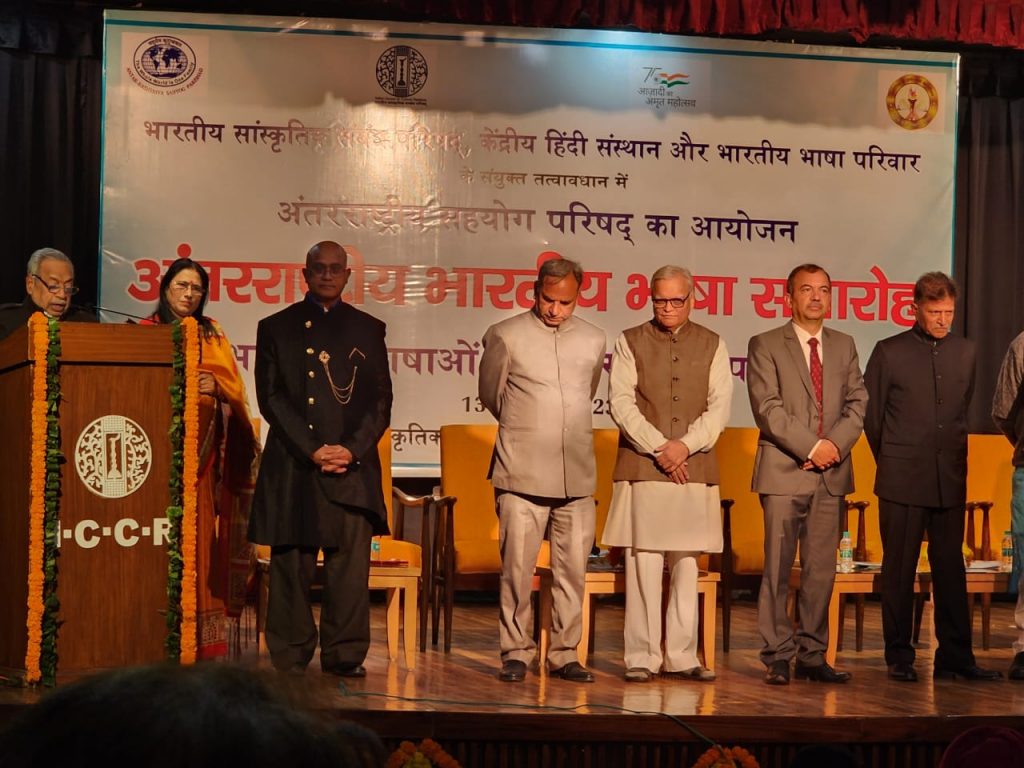 Mr Choonee's profile, which was read, was cited as another reason for his recognition and honor. Qualified from the prestigious Post Graduate Institute of Medical Education and Research- Chandigarh and the Mauritius institute of Education, he served as educator, elected member of parliament, Minister for 3 mandates and Ambassador. He is widely recognized as an international relations expert and has written extensively on the diaspora.
Mr. Choonee and Dr. Bisram were invited as special guests for the Friday afternoon's program. India's Minister of State for External Affairs, Shri Murlidaran, commended both the awardees for their service to the diaspora expressing the hope that  the honors will serve as an encouragement to others to pursue voluntary service to their communities.
At the end of the Choonee ji speech emotional moment came when Choonee sung a line of famous Girmitia song "Kalcutta se chutal jahaj" everyone stand in the hall and clap on this emotional lines.

By Pawan Upadhyay