The contribution of Dr. Deokienanan Sharma as President of the National Council of Indian Culture (NCIC) was hailed by Winston Dookeran, former government minister and governor of the Central Bank of Trinidad and Tobago.
Winston Dookeran said that Dr. Sharma's contribution is "noteworthy in that he piloted the NCIC to greater heights in Indian culture, giving new space and greater respectability and meaning in our society".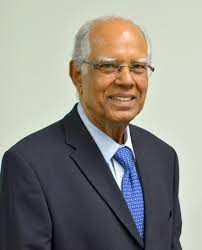 Dookeran traced the growth of the NCIC from humble beginnings at Mid-Centre Mall in the 1980s to its present location where a new awareness was created and enhanced, and today the Divali Nagar has become a major cultural project not only in Trinidad and Tobago but in several parts of the Western Hemisphere.
"Dr. Sharma is a leader of great strength, wisdom, and fortitude," Dookeran concluded.
President of the NCIC, Senator Deoroop Teemal quoted from the Bhagavad Gita to identify the sterling qualities of Dr Sharma, whom he claimed gave the NCIC and its stellar program, Divali Nagar, the present high status it enjoys not just in Trinidad but throughout the diaspora.
Former Government Minister Dr. Suruj Rambachan spoke at length on Dr. Sharma's life and work as a Hindu leader whose work remained unmatched and worthy to be exemplified.
In his reply, Dr. Sharma gave a detailed history of his upbringing, and his studies in India and the United States.
Dr. Sharma remains exemplary to society and particularly the youths of the nation.
"Through his life's work, he has demonstrated strong patriotic tendencies while pursuing a love of culture and community. In recognition of his sterling contribution Dr. Sharma was awarded the Doctor of Laws (L.L.D) by the University of the West Indies in October 2012. Earlier, in 1995, he was awarded the Humming Bird Gold by the Government of Trinidad and Tobago. He is also the recipient of several local awards including the Hindi Seva Samman Award for the promotion of the Hindi language by the Indian High Commission. Dr. Sharma also received the Pavasi Samman Award from the Government of India as a notable person in the
Indian diaspora worldwide.
Dr. Sharma has received scores of accolades for his spiritual, religious, and cultural engagements for the greater good of the wider society.
An engineer by profession, Dr. Sharma served in pivotal roles in several institutions.