A new non-governmental organization was launched by Mr Deodat Persaud last week in Guyana. The below press release was received:
On Saturday, May 13, 2023, Guyana Center for Civic Engagement (GyCCE) was launched at the Reliance VEDA Center, Reliance Settlement, East Canje Berbice. Guyana Center for Civic Engagement is a Non– Governmental, Not-for Profit, apolitical organization registered in April 2023. It will serve as a hub to host youth-led civic engagement programs in areas of leadership, advocacy, voting education, volunteering and activism by empowering youths in Guyana with the necessary skills needed for individual and community growth under the broad thematic areas of transparency, accountability, and conflict resolution.
The organization was launched as part of its founder, Deodat Persaud 'Community Action Plan' initiative. Mr. Persaud participated in the Community Solutions Program during August – 1, 2022—December 2, 2022, and upon his return he is expected to implement a project.
The Community Solutions Program is a professional leadership development program for the 'best and brightest' community leaders worldwide. For the practicum component, he was assigned to Georgia Center for Civic Engagement (GCCE). Many aspects of GCCE works will be replicated in GyCCE. At GCCE, Persaud witnessed firsthand the integration of civic engagement in the Georgia's middle and high schools' curriculum. During his stint, he participated in a constitutional workshop, trainers' workshop, mock legislation, mock UN Assembly, and mock election, among other activities.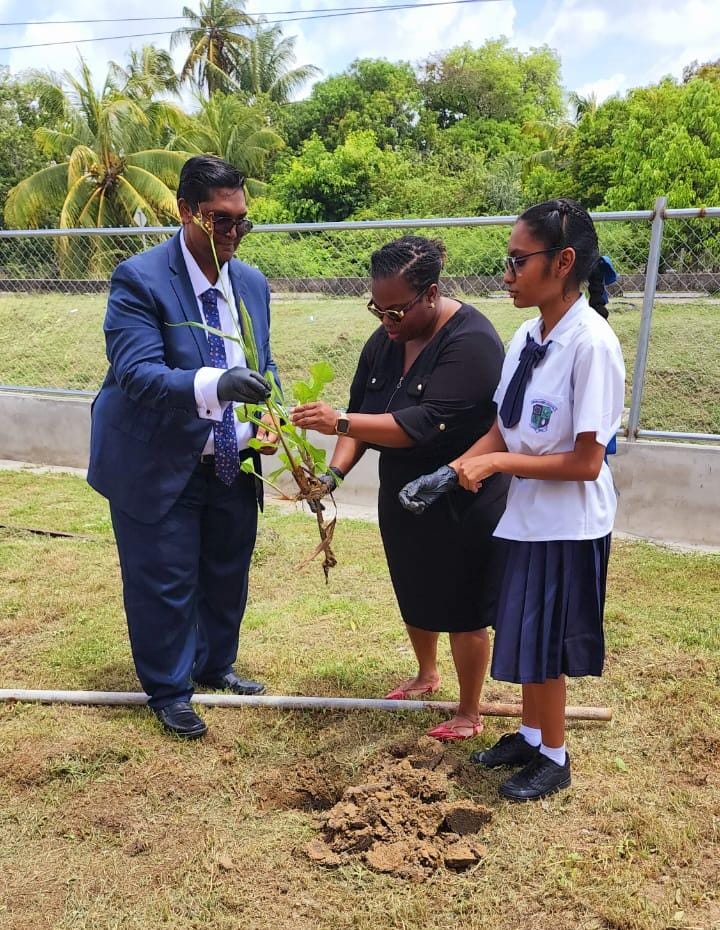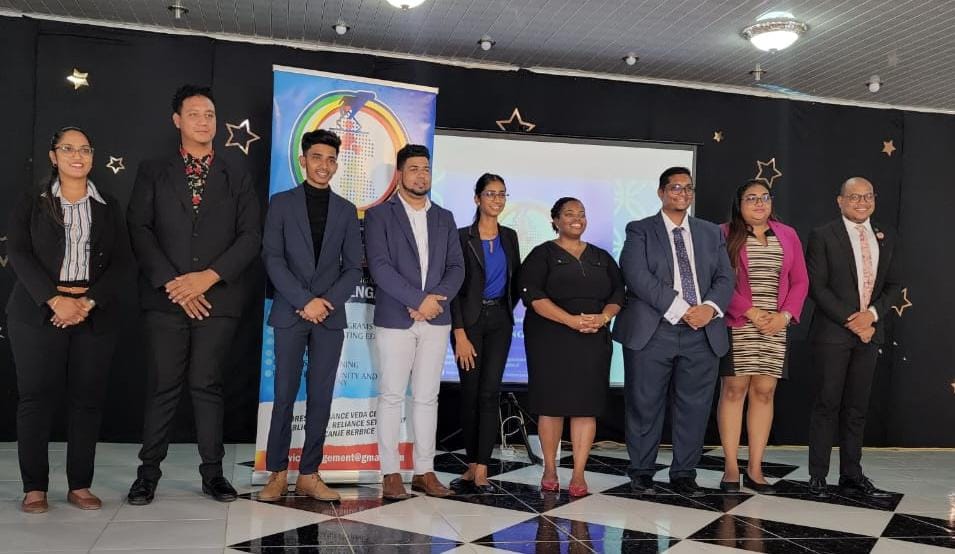 At the launching ceremony, Persaud explained that GyCCE will fill many gaps that currently exists by providing the requisite training needed to ensure youths populate public offices and be given equal access to opportunities, with a view to better themselves and confidently raise their voices to create a better society. He charged the high students to, 'become a generation of leaders that embrace Present also and delivering the feature address was Ms. Kelly Mc Cray, Public Affairs Officer attached to the US Embassy Guyana. She underscored the importance of civic engagement for a country's development and urged active involvement in the topics that will be covered under the leadership training program. She noted that the US Embassy will continue to contribute to building individuals and communities through its various programs. She commended the efforts made in such a short span of time to implement this project, which will impact students' lives positively.
openness, honesty, transparency, and accountability as sacrosanct values. Students were challenged to model the world they want to live in since "What they think, is what they become".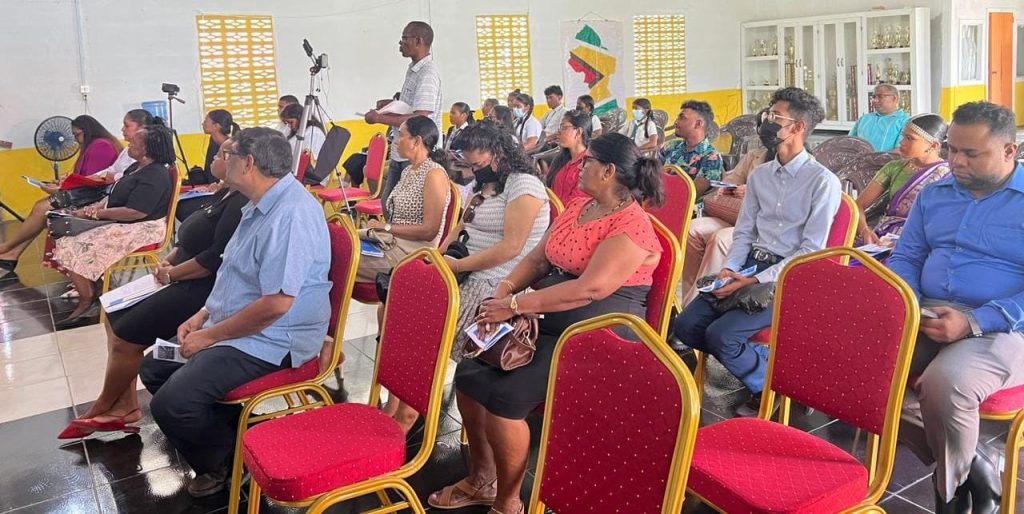 Region 6 Chairman, Mr. David Armogan lauded the initiative and stress on the importance of
fostering a spirit of volunteerism and patriotism. He believes that such a program can create a
culture shift and change in the mindset, with a movement towards being more solutions driven.
Reliance VEDA Center, 1-2 Public Road, Reliance Settlement, East Canje, Berbice | +5926274423 +5926422942 | gycivicengagement@gmail.com
The first program titled, "#YOUthENGAGE592" seeks to train high school students across Guyana. As a pilot project, students from East Berbice high schools will be trained over a 10 hours period in areas of: Civic Engagement, Election/ Voting Education, Ethical Leadership, Conflict Resolution, Importance of Volunteerism and Project Planning.
Participants upon completion are required to form groups and implement a community/ school project. A certificate will be issued thereafter. In the first phase, 120 students will be trained, and six projects will be completed by June, 2023.
GyCCE is committed to preparing high school students to be civically conscious of their roles in society. Some of the organization's future plans and activities include the hosting of:
• Youth Exchange Programs
• Mock Youth Elections
• Regional Mock Parliaments
• President for the Day Initiative
• Regional Debating Competition
• Training in diplomacy, conducting meetings, public speaking.
• Democracy/ Civic Engagement Clubs
• Training in Civic Engagement for Teachers
• Implementing Community Projects through volunteerism
• Distribution of Democracy Kits
• Establish full time office
• Educational Tours
Ms. Surya Mahadeo welcomed the initiative on behalf of Region 6 Education Department. Congratulatory remarks were also issued by Dr. Randell Trammell of Georgia Center for Civic Engagements, the Mayor of New Amsterdam, Her Worship Madame Winifred Haywood, Mrs. Babita Sohan of GUYWID and Ms. Ramona Ramotalli, East Berbice Praant Women's Group.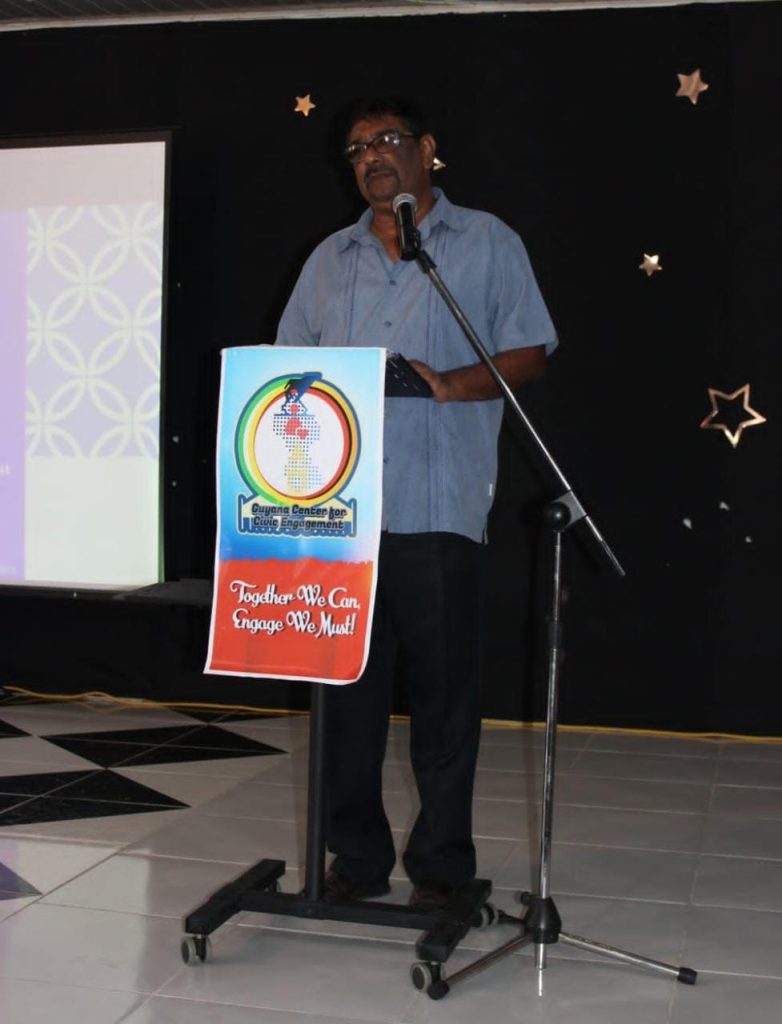 The group is headed by Deodat Persaud; Chandradat Sewpersaud, Vice President; Sherryann Mangru, Secretary; Savitri Ramlochan, Treasurer; Dhanwantri Persaud, Organizing Secretary and supported by members, Lauristan Choy, Nareema Alli, Adrian Watson, Kishan Sugrim, Chris Eliman, Robin Joseph among others.
Present at the launch were students from New Amsterdam Secondary School, Berbice High School, Berbice Education Institute, Tutorial Academy Secondary School and Canje secondary School.
The launching ceremony culminated with a tree planting exercise, the organization's first civic engagement activity.
The organization can be contacted via its facebook page, email: gycivicengagement@gmail.com or via telephone numbers 6274423, 6422942.
Reliance VEDA Center, 1-2 Public Road, Reliance Settlement, East Canje, Berbic