Pandit Ram Hardowar, who was installed on Sunday April 23 at an investiture ceremony as Dharmacharya of the USA Pandits Parishad at a ceremony in Queens, NY, appealed for unity among Hindus America.
Below are his remarks:
Emcee, – Pt. Ganesh, Upa-Dharmacharyas, Executives, Trustees, fellow Pandits,
As I greet you today, I stand on the fundamental pillars of Hindu Dharma, that of Unity, love & mutual respect.
Thanks to all for attending & participating in this inauguration ceremony.
My sincere thanks to the members of the USAPP for electing me as theDharmacharya and I pray that Prabhu Shri Ram grant me the wisdom and strength to execute all my duties in accordance with our Dharma.
At this time I would like to pay homage to all the previous Dharmacharyas and also request their blessings and guidance in the performance of my new role.
As Dharmacharya and member of this esteemed 5-member Acharya Panchayat, we are tasked with the massive responsibility of representing our entire Hindu Community.
Our representation can only be effective if there is internal unity and cooperation among ourselves, our Mandirs and Hindu Organizations.
I, therefore, humbly call upon all my brother Pandits, all representatives of Hindu Mandirs & Organizations and all my Hindu brothers and sisters to come together in the name of our beloved Dharma.
We ask Bhagwan to bless us with the know how & expertise togalvanize our people to function effectively as a cohesive unit where our voices cannot & will not be ignored.
My friends, the Acharyas & I, have identified a few priority items in our early action list. Permit me o share some of those thoughts with you.
1. We are in dire need for a Hindu Cultural Center, specifically for all youths in our community.
2. We urgently need a place of worship next to the waterways in the Far Rockaway to perform our Ganga Mai and other rituals.
3. There are an increasing number of Hindu officers in the NYPD. We, therefore, urgently need Hindu Chaplains within the NYPD.
As a NYPD Clergy Member, I have always supported the Youth programs that teach our children to be leaders, and as such, today, we would like to donate $250 to the NYPD Explorers Club.
4. Religious violence is on the rise throughout our country. Attacks on Christians, Jews, Muslims, Sikhs, Jains, Buddhist and Hindus are common.
What can we, as faith-based leaders, do within our communities to stem this growing wave? Much work has to be done in this area.
In my opinion, Hindu phobia is primarilydue to a lack of understanding of the Hindu Dharma, its culture & practice.
5. Bullying of Hindu children in our schools needs to be addressed.
Imagine the plight of the Hindu child who just completed his Upnayanam Sanskar and has to attend school with his choorkie.
6. Last but not least, we must, must have Diwali as a school holiday in NYC.
We would like to thank AM Jenifer Rajkumar and all others for the progress thus far and to reiterate that we are prepared & ready to do whatever it takes to make this possible.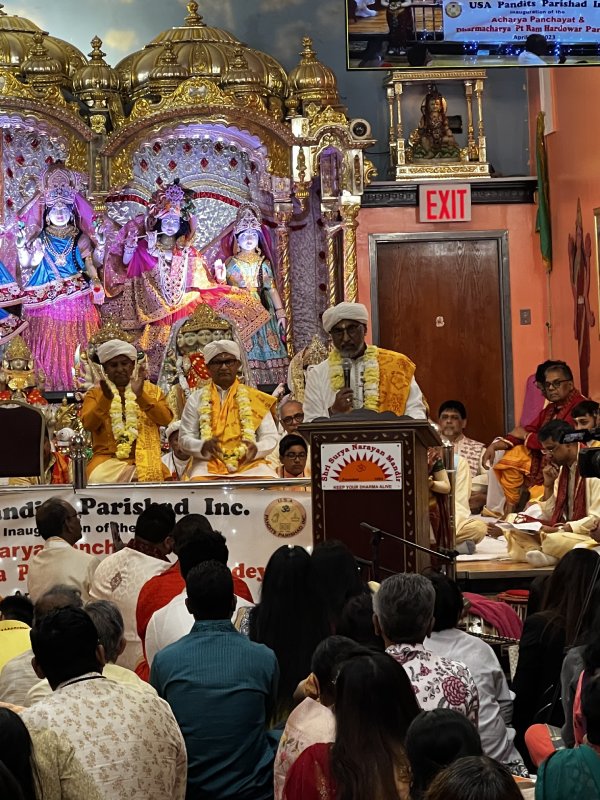 My friends, I understand that this journey will not be easy, we will have disagreements, but we should not let the 1 or 2 areas of differences prevent us from coming together & work on common areas of agreement so that we can make NYC a better place for our families, for our neighbors, for our friends and our children.
My love and regards to all. Jai Shri Ram