In a release to the press on Friday Feb 3, President Irfaan Ali, praised Kanuku Tours and Eco Lodge Resort for its vision to promote eco tourism. The President was to inaugurate the resort on Friday Feb 3 but was pulled away for a more pressing matter. His remarks are below:
• I thank the management of Kanuku Tours Eco Lodge Resort for their kind invitation to attend this launch and for the opportunity to address this special occasion.
• Tourism as an economic growth pole: Tourism is one of the growth poles of our economy and a key element of our plans for economic diversification. Tourism also has the potential to promote inclusion by bringing peoples and culture together, promoting greater understanding and bridging divides.
• Tourism and the economy: Tourism is already impacting positively on our economy. It is a major export earner; prior to the pandemic it was the third largest export earner and accounted for 7.8% of our GDP before petroleum production commenced. Along with travel it employs more than 20,000 persons.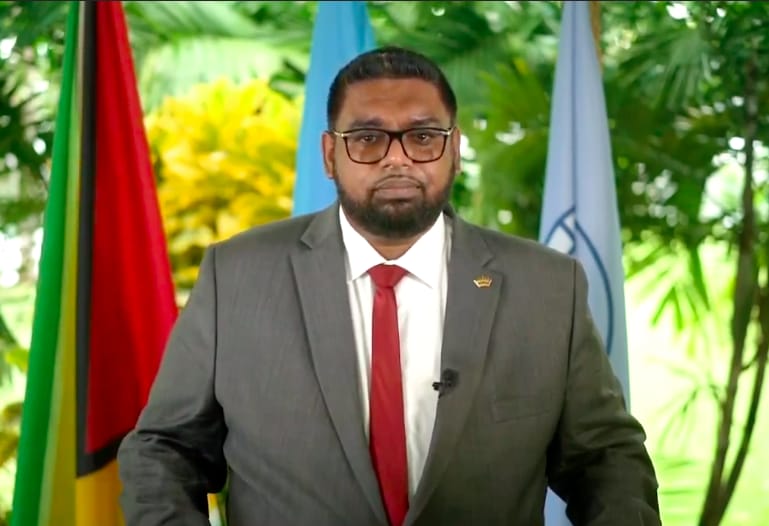 • Tourism product: The United Nations World Tourism Organization (UNWTO) defines a tourism product as "a combination of tangible and intangible elements, such as natural, cultural and man-made resources, attractions, facilities, services and activities …. [which] creates an overall visitor experience including emotional aspects for the potential customers."
National Tourism product
• In this regard, Guyana has a potentially peerless tourism product. The range, the mix and the scale of our tourism offerings is unmatched by most of the countries of the Caribbean.
We have a massive family-based tourism market given the size and dispersion of our Diaspora;
Our multicultural character has provided us with the basis for a unique and world class cultural tourism product including the celebration of vibrant national and religious festivals;
We have a number of heritage buildings, sites and artifacts which attest to our country's historical evolution;
We have the potential to grow adventure and sports tourism;
Our buzzing commercial districts can become a hub for shopping tourism; and
Guyana is going to become a prime destination for conference and other events-based tourism.
• But by far, the Crown Jewel of our national tourism product is eco-tourism. The sheer size of our country, its diverse and intact ecosystems, rich biodiversity and the countless and amazing natural attractions, bequeaths to us the potential to become a world leader in ecotourism services.
Region – Upper Takutu – Upper Essequibo
• One of the most exciting frontiers for eco-tourism development is Region 9 – Guyana's largest Administrative. The area has diverse ecosystems from rivers, savannahs, rainforests, mountain ranges and endemic biodiversity. In fact, all regions of Guyana have the potential to expand the number of eco-tourism products. And this is what makes Guyana truly unique in the Caribbean.
• Region 9 has already begun to emerge as a major hotspot for sustainable tourism. The Region boasts a number of eco-lodges and resorts from the idyllic and to rustic.
• The Region has become a front runner for community-based tourism which allows for community participation and the sharing of benefits in tourism.
How?
• The key question for us however is: How do we develop this wonderful tourism product which our country possesses?
• Investment: The first requirement is investment. The development of eco-lodges requires what I would like to refer to as 'ecological entrepreneurs' – persons and firm who understand the country's wide array of natural attractions and assets and who have the vision, knowledge and access to capital to convert these into profitable and sustainable tourism products. Investment is therefore the key to catalyzing the country's tourism product
• Competitiveness: The second challenge is to create a competitive tourism product. Guyana is not the only country in the world which is pursuing eco-tourism. In fact, we are a newcomer – other countries have had a head start over us and have developed superior experience and expertise.
• The key to competitiveness is the establishment and adherence to high standards of service. If your service is not A-grade, you will become uncompetitive.
• Strengthening human resource developmentin the tourism sector will enhance quality services and competitiveness. This is why my Government is moving to establish a hospitality institute and to provide training for thousands of workers in the sector. By improving human resource development we will help lift the quality of services.
• It is also important therefore that we ensure that we do not overprice our eco-tourism product to the point of making it uncompetitive. I would like to see cheaper tourism packages to destinations such as Kaieteur Falls. I think we can do better than asking for US$250 per person for a round trip to Kaieteur Falls. We also must offer a superior experience to that offered elsewhere and to examine where we have nice advantages.
• Government is supporting the efforts of tourism operators in creating sustainable and competitive tourism products. Accessibility has been a constraint to the development of ecotourism but we are committed to helping operators overcome this constraint.
• One of the ways in which we are supporting the sector is through offering incentives, infrastructure and ICT. We are prepared to offer incentives to help reduce the cost of establishment of eco-tourism resorts, in the same way as we are offering incentives for the establishment of hotels. One of the first steps we took when we assumed office was to remove VAT on hinterland travel.
• Transport infrastructure: Our transformative road transport infrastructural development project will aid the tourism sector. The road to Brazil is no longer a dream – it is work-in-progress. Reliable, efficient and affordable transportation – air, sea and overland, is vital to the development of our local tourist industry. This is just one of the reasons why the government is investing in transformational infrastructure. This is why we are working to bring more airlines, offering direct flights to our country and opening new routes which will bring tourists. We have to be prepared and ready for an influx of tourists when the road link to Brazil and the bridge across the Corentyne River are completed. We are improving hinterland aerodromes in order to allow for larger craft to transport more persons to hinterland eco-resorts. All of these investments will rebound to the benefit of sustainable tourism, including eco- tourist lodges.
• Accommodation infrastructure: The second area of infrastructure relates to accommodation. This is why we are moving apace to increase the number of hotel rooms. By 2025, we shall have more than 8 new internationally branded hotels in Guyana, adding an additional 2,000 rooms to our accommodation stock.
• Information Communications Technology(ICT): We are also expanding ICT reach. Internet connectivity is now an indispensable element of tourism development. We live in an interconnected world and connectivity is a must when developing eco-resorts. We are expanding ICT reach throughout our country with the aim of eventually connecting all areas of our country.
Kanuku Eco Lodge Resort:
• I would like to congratulate the company on this new venture. It is a step in the right direction. I think it will help showcase another dimension of our varied eco-tourism package and bring development to Region 9 and its communities.
• I wish every success to this venture. I thank you.