Most local government politicians in Trinidad and here in Canada too are little known to most people in their area or nationally, but that cannot be said of Parasram Ramoutar of Trinidad and Canada.
His recently released memoir A Call Within a Call reveals what an extraordinary person this humble man has become, successful in a handful of professions no less. It's really four calls within his initial call to serve in local government politics.
The book details his 50-year journey through journalism, local government politics, public relations, public servant and law as a justice of the peace.
Paras has much to boast about, but this memoir is not about blowing his own trumpet but simply retailing the experiences in the humblest manner.
Most interestingly for us in Toronto, the story gets going right here, where the bright student from the remote rural village of Caparo in county Caroni wins a Rotary scholarship to study journalism in Ryerson University starting 1971. He aced that course, won a BA degree, and immediately began writing for the Trinidad Express and several Toronto media serving Caribbean people in Canada.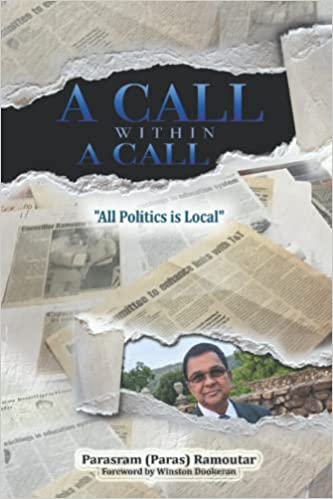 Then came his winning and highly satisfying public servant stint as an outreach activist with the Rent Review Board in Toronto. He could have remained in Canada permanently but the call of Caparo and his family was too strong and he returned to Trinidad in 1979 to take up again the Herculean task of uplifting his much-neglected home village.
Here comes the most awesome part of this memoir, Paras' attempt to uplift his village of 3,000 through local government politics and to my mind the saddest part as well. Caparo had endured decades of absolute neglect through the colonial era and into the self governing and independent era in Trinidad. It was prone to flooding every year, lacked proper electricity and water, roads were bad, telephones absent, bus service pretty much a joke, recreation services few or none, it had nothing and wanted everything.
Paras was determined to change that and he put in decades of activism, organizing, joining the county council, pleading, begging, petitioning the authorities for help. Ultimately, he failed, as Caparo to this day still hasn't got its fair share of resources, but it is a glorious failure. And he hasn't given up on his beloved Caparo to this day.
Would you or I who have migrated to Canada from similar rural villages in Trinidad or Guyana have considered giving up Canada to spend a half century beating against a closed door for our home village? I doubt it.
The rest of this memoir is a more uplifting survey of Paras' movement through journalism in Trinidad working for the two national dailies, working through numerous public relations jobs, more public service with a Youth Training organization, becoming a Justice of the Peace in Caparo, one of the most important positions in the village.
I worked in the Trinidad Express and Trinidad Guardian in the seventies and eighties of the last century and have only a vague memory of Paras Ramoutar as a local activist. He won his first county council election in 1996 by which time I had moved out of Trinidad.
Reading this memoir gives me new respect for the man and his mission, no mamaguy or eye pass as we say in the Caribbean, no flattery as we say in Canada.
It's well worth reading for those who don't know him at all. He deserves the tag of Man of the People of Caparo, maybe man of the people of Caroni, maybe man of the people of Trinidad as well.
A Call Within a Call is available on amazon.com.