Members of the Guru Professor Adesh Sant Samaj of Penal conducted a Havan/Satsangh for Hariji (Haripersad Harikisson) at his residence in Endeavour, Chaguanas, Trinidad last Tuesday January 10, 2023. Other friends of Hariji joined in the Havan/Satsangh including Ramesh Ramsumair of Tableland and Deo Seeratansingh of Rock Road, Penal.
In addition to the Havaan/Satsangh, there was the chanting of verses of the Ramayana and Bhagavad Gita led by well-known cultural artiste, Tensingh Ramlackhan. The Guru Professor Adesh Sant Samaj is led by Ramhit Bhimsingh of Boodoo Trace, Penal who has worked closely with the Penal Hindu Youth Organization, an affiliate of the Hindu Jawaan Sangh, founded by Hariji in 1975. "It was Hariji that inspired us to work for Hindu dharma. When he visited Penal, he inspired us to renew our commitment to serve the Hindu Samaj," said Ramhit.
Deo Seeratansingh said that "all that I am today was due to Hariji." He recalled that he would drop by at Hariji's residence on his way home after work in Port of Spain and that would give me a spiritual boost. "I always felt sheltered and fulfilled in the presence of Hariji."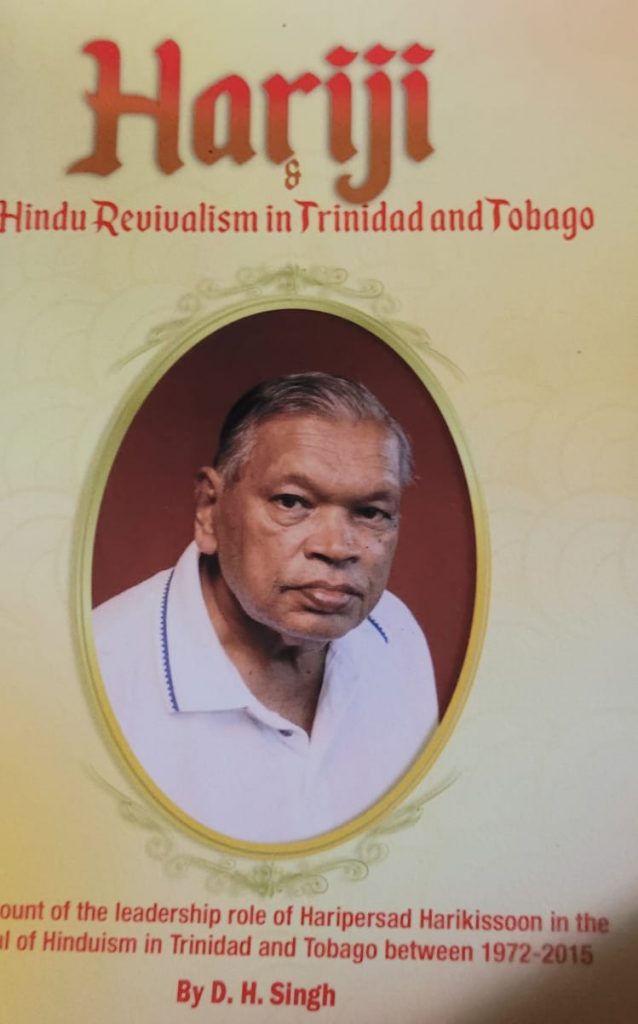 Ramesh Ramsumar said that he was a pupil at the Rio Claro Government Secondary School in the early 1970s when Hariji was a teacher. Ramesh recalled playing in an annual cricket match between the students and the teachers and to his shock Hariji bowled his wicket.
"Hariji motivated me to continue with cricket and I represented the Southeast Zone and was called for trials for Trinidad and Tobago but did not make it. I owe a lot to Hariji. His commitment to service has always inspired me to work for the community."
The Sant Samaj was inspired by Guru Professor H. S. Adesh. Ramhit, Tensingh and the other members have been trained and molded in Hindu culture by the late Guru Professor Adesh who was a representative of the ICCR- Indian Council for Cultural Relation and adopted Trinidad as his home. He founded the Bharatiya Vidya Sansthan (BVS) with its headquarters at Aranguez in 1966. Professor Adesh migrated to Canada in the 1980s where his family settled. His work in Trinidad never suffered as he would return at least twice per year to conduct camps and other activities.
Rendering two bhajans was Vijai Seelal, a past pupil of St Augustine Senior Comprehensive School where Hariji taught from 1975 to 2005 when he retired. Also present in the Satsangh were Pandit Kumar Boodram, Pandit Beesram Seedath, Hemraj Dookie, and Wayne Lalchan, all having served under the leadership of Hariji in the Hindu Seva Sangh (1983- __).
Last year (August 06th) Friends of Hariji collaborated with the late Pandit Rabindranath Maharaj and held a special function on the 77th birth anniversary of Hariji at the Ram Mandir, Rodney Road, Endeavour, Chaguanas. Delivering the feature address was Swami Prakashananda of Chinmaya Mission of Trinidad and Tobago. The highlight of the program was the launch of the book Hariji- Hindu Revivalism in Trinidad and Tobago, an account of the leadership role of Hariji in the revival of Hinduism in Trinidad and Tobago between 1972-2015.
The books also contain twenty-seven (27) tributes to Hariji by several individuals who worked with him in the Jawaan Sangh and Hindu Seva Sangh including Kishore Ramnarine, Dr. Prahalad Sooknanan, Kumar Rambarran, Lalchan Dookie, Dr. Primnath Gooptar, Ramdath Jagessar, Parbatie Babwah, and Varune Persad. The book project was coordinated by Dool Hanomansingh.The Satsangh/Havaan closed with the chanting of the Hanuman Chalisa. Friends of Hariji have promised to meet on the 2nd Monday in the month to conduct Satsangh at Hariji's residence. For further info call Hanoman (353-2885)/Pandit Kumar Boodram (372-9954)/ Pandit Beesram