Dear Editor,
Last Sunday, April 16, 2023, it was a beautiful day to visit the countryside of good, old Guyana and see and admire the beauty of Mother Nature. The day was pampered with brilliant sunshine but also blessed with the cool breeze from the Atlantic Ocean, blowing across the Demerara River. Dr. Tara Singh from New York (former Senior Lecturer at UG), led a bunch of men on a "Men On Mission" project to distribute food hampers in No. 1 Canal, West Bank Demerara, his birth place. Over 50 underprivileged people of all ages and from different ethnicities, including Amerindians and Venezuelans, were the recipients of hampers containing, rice, split peas, salt, sugar, oil, marmite, tofu, chowmein, flour, baking powder and sanitation product. It was overwhelming to meet and greet so many needy families, more so, gratifying to embrace five senior citizens over the age of 90.
This program was well received and the villagers were very thankful and appreciative of the gifts. As sociologist Dr. Singh opinioned, "Preaching about humanitarian service (seva) is all well and good. But, teaching about service to society is better when you can actually reach out to the individuals by visiting them and giving them something for sustenance with your own hands. It leaves an indelible impression on the donor to see the joy and satisfaction on the face of the donee." Such assistance has a far reaching effect as a two way street. Dr. Singh philosophized by telling the beneficiaries, "It is a person's duty to help and assist the needy whenever and wherever possible and not to look forward to anything in return."
While poverty level is projected to decline from 38% to 32% by 2024, this reduction must not obscure the reality that there are several pockets of poverty in Guyana. And poverty reduction is not the responsibility of just government but also individuals and NGOs. In the US for example, the poverty rate is 11%. It is being addressed by both the government and private individuals and NGOs.
The food hamper distribution was organized through the initiative of Dr. Tara Singh and family and ably supported by friends and the following well-wishers from NY, Toronto and Guyana: Arbin, Baby and children, Khublall and family, Halima and family, Anthony Edwards and family, Chandra Bhagoutie and family, Rohan Rai and family, Turks Mohabir and family, Aptee Samaroo and family, Rishiram Persaud, John Amin, Shawn Bacchus, Reuben Yuyudhana, Jai Lall and all the other guys who helped in the preparation and distribution, including one village councilor. Special thanks to Paul Chung, Chairman for the PSC, for his input and appearance and also, Jeewan and family for hosting the party for lunch.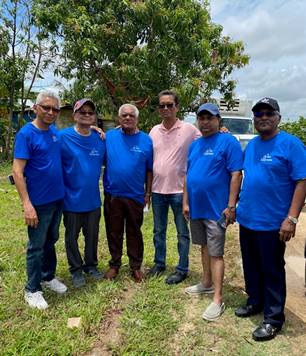 As Toni Edwards, one of the contributors remarked, "Kudos to Dr Tara Singh/New York Guyana Mission-Food Hamper Drive for this great service to humanity. We are thrilled to have supported this organization and it citizenry in which it serves. Through your unselfish donations to NYGM-this Organization was able to accomplish its goals and continue working towards helping those less fortunate in Canal #1. You all truly make the difference and I am extremely grateful to have supported this mission!"
It is anticipated that the next food hamper distribution will be in another four months.
Yours respectfully,
Jai Lall