Growing up in Berbice, I share a vivid childhood memory of the glass-framed black and white picture of Cheddi Jagan, crowned with a tassel-flowered mala, majestically lying adjacent to the picture of Mahatma Gandhi in our living room. Like most Guyanese who grew up in the corridors of "doctor politics" and the powerful charismatic appeals of Cheddi, we were mesmerized and enthralled by his almost God-like presence. His words were gospel, not to be questioned. He was revered, his image perpetually preserved in the annals of our memory. Yes, absolutely, the man who dedicated himself to saving the world from its inherent imperfections was endowed with a certain spiritual gracefulness, a nimbleness and an essence of presence that was intermittently woven into the fabric of his social character.
The issue with some of Jagan's followers, Indians in particular (who knew little of Marxism) and, now, our learned UN diplomat, Bertrand Ramcharan, is an understandable desire to emotionally clutch at the premium placed on Jagan's global humanism. Paradoxically, and simultaneously, they display a very deep-seated unwillingness to critically examine Cheddi's leadership or acknowledge his political recklessness. The essence of Cheddi Jagan must be considered in its totality.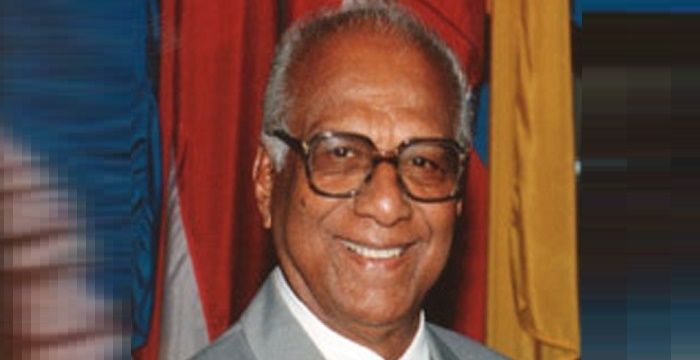 Caught in the crucible of Cold War politics, Cheddi became fixated in a world view dominated by an alien ideology. He was a willing and unapologetic lackey of the former Soviet Union and a thunderous promoter of international proletarianism. This has always been his Achilles' heel – a dogmatic fixation with Marxism established since the late 1940s – a fixation devoid of any real pragmatism or introspection in his political imagination. There were plenty of space for political maneuvering, and Cheddi could have led British Guyana toward political independence. We could have possibly avoided the dreaded "28 years". But he remained undaunted, inflexible in his utopian mission. Jagan's all-encompassing global quest for a New World Order was to be achieved at all costs, even if the welfare of the poor and powerless folks who supported him were held at bay at the sacrificial political alter. The man was human, and like all of us, he had his flaws.
It was never my intention to present an alternative viewpoint on Cheddi. Rather, it is a view that has been concretized in the evidence presented in public records, released from MI5 files and the FRUS documents, now available for public consumption. More importantly, it is a reality that is constructed from testimonies not only from Jagan's accomplices, but from his VERY OWN words. The former UG Chancellor shared a number of emotional references based on his personal interactions with Cheddi ( SN, 29 November, 2021). We all have such cherished memories, but some of us are able to separate the myth of a flawless character from the facts. Dr. Ramcharan is summarily dismissive of Naipaul's observation that Dr. Jagan "conspired against both the interests of his supporters and his own political success" because, according to him, Naipaul lived a "cloistered life in England" devoid of any "struggle for justice for poor people." Then, let the actual protagonists in this political saga, and the diplomatic corps, for whom we assume Dr. Ramcharan shares fraternal respect, speak to the recklessness in question. Since Stabroek News with its limited space is not the forum for lengthy discourse or litigation of our history, I will focus on one specific event – Jagan's meeting with Kennedy in October 1961 – which was perhaps the most significant interaction of his entire political career. But first, I repeat what I said before, regarding the revelations from archival records: "Cheddi could have emerged triumphant. He held the political aces at a crucial turning point in Guyana's turbulent history: Britain had committed to granting independence in 1962, the US was willing to work with Jagan before he met President Kennedy in 1961…and his party possessed the electoral machinery to win elections."
Despite having many enemies during the Cold War, in and out of Guyana, Jagan's political recklessness dates back to 1953. He apparently had learnt nothing from the British suspension of the constitution in October 1953. By January 1961, with the election of a liberal American President, he had shown even greater deference to his recklessness. He seemed to have demonstrated little understanding of the vicissitudes of realpolitik and the historical nature of American political power in its own backyard. Kennedy had taken office a few months before the August 21, 1961 elections in British Guiana. He faced tremendous political backlash for the botched April invasion at the Bay of Pigs off the southern coast of Cuba to remove Castro. So, it is not an understatement to suggest that Kennedy became obsessed with precluding the emergence of "a second Cuba" in the Western Hemisphere. A telegram from the US Secretary of State to the British Foreign Secretary dated August 11, 1961 (ten days before the elections) deemed Jagan's ascension to power "troublesome". But Cheddi still had some influential friends in high places.
His political fate hanging in the balance, much depended on Jagan's interaction with President Kennedy. With the British still sympathetic, and committed to independence by 1962, John Hennings, the Colonial attaché at the British Embassy in Washington prepped Jagan for the Kennedy meeting on October 25, a meeting White House officials deemed "delicate and controversial". On October 24, 1961 (the day before Jagan met Kennedy), in an address to the National Press Club in Washington, Jagan, courting political disaster, presented his political philosophy to the Americans: "I believe that the economic theories of scientific socialism [Marxism-Leninism] hold out the promise of a dynamic social discipline which can transform an underdeveloped country into a developed one in a far faster time than any other system". To the grave disappointment of Hennings, Jagan's presentation was devoid of any circumspection.
On October 25, 1961, Jagan visited the White House for the historic meeting. He would again disregard British counsel advise to walk carefully and avoid putting his Marxist rhetoric on full display. The 90 minutes meeting (quite extensive by any standard) left no doubt in Kennedy's mind that Cheddi was impressed with Marxism, revolutionary leaders, and the Soviet system. Arthur Schlesinger recalled that while Jagan was "personable and fluent", he was "endowed, it seemed to those of us present, with an unconquerable romanticism and naivete". Jagan would later admit to John Hennings that "saying too much was a besetting sin of his".
Lloyd Searwar, the Assistant Head of the Government Information Services, who accompanied Jagan to the White House, also cautioned Jagan about his socialist rhetoric. Reflecting on what turned out to be a disastrous encounter for Jagan, one encouraged by his own doing, Searwar noted: "I was with Cheddi when he met Kennedy in October 1961. Kennedy had with him Pierre Salinger [press secretary] and Arthur Schlesinger [special assistant]…, Arthur Schlesinger and I had to produce some kind of a communique; but we found it hard to agree on a form of words…Cheddi was naïve; he never acquired the sophistication of a statesman. He never really left the plantation". Neither Searwar nor Hennings were able to convince Jagan to temper his socialist rhetoric. It would be revealed by MI5 files that both Cheddi's and Janet's life-long ideological mentor and confidante was Billy Strachan, a Jamaican-born communist who was a leading member of the Communist Party of Great Britain (CPGB). MI5 had intercepted Jagan's correspondences with Strachan, and kept tabs on his personal discussions with the two principal members of the CPGB, R. Palme Dutt and Idris Cox.
Jagan's own words, and actions, revealed his devotion to Marxist fundamentalism. Not unlike Forbes Burnham, he was prepared to eliminate anyone who stood in his way. His Marxist intellectuals defected, the most notable of whom was Harvard-trained Ranji Chandisingh, who after 18 years in the PPP, joined the PNC in 1976, one year after the PPP declared critical support for the PNC, presumably at the urging of Cuban fidelistas. Lloyd Best, the Trinidadian economist who worked with Cheddi from 1962 to 1963 revealed that "Cheddi always saw Guyana in the context of the Cold War. All his references would be drawn from outside Guyana. You cannot understand Cheddi's errors and stubbornness unless you understand that. He saw the world in two camps, and he was in one camp [the Soviet or communist]. There was nothing you could do to get him to adopt another perspective'…Jagan was rigid. There was no intellectual life in the Party. It was all tired dogma." As Kwayana observed, had Cheddi been more grounded in his Hindu/Indian heritage, he might have been less persuaded to accept the "fundamental truths" that he discovered in Marxism as gospel. Marxism, which became the wellspring that filled the void in his fragile cultural identity, was the agent of his salvation.
I have no reason to doubt that Dr. Ramcharan, given his extensive diplomatic experience, which he liberally shares with us, is driven by a genuine desire to seek out the best for our country. By questioning the existence of a "tribal curse" in Guyana, he raises a puzzling curiosity. In his copious writings in Stabroek News during this year, he never failed to make reference to Guyana's racial dilemma. For example, on May 12, 2021 under the caption "Historical diagnoses of Guyana's predicament" he noted that "Guyana urgently needs historical study and analysis of its ethnic predicament" to help the country "deal with its central problem". Perhaps Dr. Ramcharan, who spends his time travelling "between Geneva and New York", may need to be more fully grounded in the Guyanese political culture. I leave the good diplomat with this quote from George Orwell: "The most effective way to destroy people is to deny and obliterate their own understanding of their history".
Sincerely,
Baytoram Ramharack