From the arrival of our fist indentured Indian immigrants to British Guiana to this auspicious day May 5, 1838, many generations numbering hundreds of thousands made us today proud citizens of our country Guyana and our heritage.
On this sacred spot at HIBURY, they landed here with determination and expectations which all of us have inherited.
Many generations have contributed significantly to the changes in this country for the benefit of all Guyanese.
Persons of Guyanese Indian origin numbering over one million are now living here in Guyana as well as in almost every country in the world.
Wherever we are we have made outstanding contribution towards our existence and prosperity.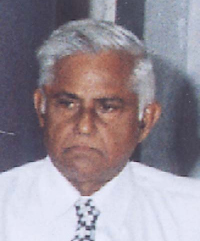 It is also well known that all generations also suffered immensely in their pursuit of their ambition and identity. History recorded their sufferings and exploitation.
Our proud achievements are well known in every aspect of what was achieved in creating wealth in all economic activities, in education, in the professions, sports, religion, culture, family life which are the foundation for the bright future for generations to come.

About 40 years ago with a dedicated group of over 12 persons, we came to this spot and had our first May the 5 celebration.
We were dedicated. We fetched old sugar factor iron from the dump site at Rose Hall estate and diligently advocated the recognition of this day.
We called for national recognition and for a public holiday. Later our message was well received with a tremendous effort of the Indian Guyanese residents in New York and in the diaspora.
Today only three of us of the original team are alive who are Ryle Sookraj of Adelphi Canje, Dooraj of Palmyra and myself with roots from Rose Hall sugar estate.
We are now living in a modern age with many who are very prosperous and many who have acute needs.
For us and generations to come I am now advocating a monumental project to establish the following
A cultural Centre with architecture to make the structure of the Taj Mahal type architecture
To develop a 10-acre Berbice park along the lines of a Kashmir Garden
To build a museum and research facility to reflect all of history from the beginning in 1838
To establish a business project that will earn money to pay the costs of self sufficiency for the project and to provide education, cultural skills and our identity for the present and future generations in Guyana and in the diaspora
The location selected for this project in between Palmyra and Fyrish Turn-on the Corentyne highway.
In my advocacy, I have the vision that this multimillion dollars project is feasible and can be done.

Yes, you and I and others local and foreign can make this a reality.
As a founding member today's event, I do congratulate all those who have contributed over the many years to make this event so successful.
Best regards to you all and May divine guidance be our guide and inspiration for the future.
By Dr. Fred Sukhdeo
Retired University Professor