Dear Editor,
It is refreshing to read of a positive, upbeat news report on the achievement of one of our own in our midst, Dr. Vishnu Bisram who was honored in India.
A personal friend and professional colleague on the Indo-Indentureship historic mission, I wish to publicly congratulate Dr. Bisram on his recent achievement in India of being conferred Bharatvaashi Gaurav Samman award for his service to the Indo-Indentured diaspora. It is long overdue for he has dedicated some five decades in bridging community services between India and the People of Indian Origin (PIO) communities in Guyana, Suriname, Trinidad & Tobago, Fiji, USA, and elsewhere. I know too he has also been very active in Trinidad. He is perhaps the only person I know who has been culturally, politically, and socially active and community minded in all of these countries and more.
I have known Dr. Bisram for many years over which he has demonstrated dedication and commitment to selflessly serve his community. He volunteered his time to help others, to improve society, to give back generously, to participate in symposiums geared to ending poverty in India and the Caribbean, and to write voluminously (gratis) on the diaspora issues. I always enjoy his reports and columns in community newspapers and in the media in Trinidad and Guyana. He has the courage to touch on topics and write what others shy away from. He speaks his mind without fear. I wish to see others emerge in the community as dedicated and passionate about writing and serving the diaspora as he has.
On global Indo-Indentured historic work, I had the good fortune to travel to India on several occasions and encountered Vishnu as keynote at conferences speaking on issues relevant to his Girmitya ancestors historic preservation and the Indian Indenture Diaspora at-large. He co-organized diaspora conferences globally and traveled and participated on his own token. Service to community is his guiding lights.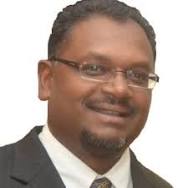 On international development, I worked with Dr. Bisram to implement a plan I conceived (Vihara Project) to bring development to areas where the Girmits came from in India (Bihar and UP). He was very supportive. Once, at Columbia University, he gave up this speaker role to me to highlight the Vihara Poverty Project, citing the higher importance of poverty alleviation over discussions of Caribbean politics.
On policy and economic matters, I also worked with Dr. Bisram on a plan that sought an apology and creative economic reparation for indentureship from the late Majesty Queen Elizabeth. This was aimed to develop Girmit communities in India and the Commonwealth that confront poverty and underdevelopment.
We try to uplift lives with limited resources and with virtually no assistance from status quo critics. I know Vishnu is kind at heart and has the best interests of his people in mind. His recognition is a great motivator for others to volunteer their time to help others in need, to engage in philanthropy and kindness rather than in neutrality and non-progressiveness.
I commend Dr. Bisram for his hard work and his achievements. His recognition, success, and glorification is also mine. I thank him for his great work.
Yours truly,
Dennis Ramdahin, MSc.
Founder & CEO, Vihara Foundation