Dave Narine, proprietor of DAVE West Indian goods in America has once again sponsored the West Indies O50s Masters team that will participate in the Over 50s Cricket World Cup that would take place in Cape Town, South Africa. The tournament will feature 14 countries and starts on March 6.
Dave Narine has been a major sponsor of cricket in New York, Guyana, and other territories in the West Indies at all levels and of all age groups. He has grocery related businesses in NY, Washington DC area, and other locations. Dave West Indian Supermarket is the premier grocery outlet in North America for all the major Guyanese and West Indian delicacies includes all types of Caribbean seafood, spices, fruits, vegetables, coconut water, peppers, sauces allowing you not to miss your homeland when in North America.
The Guyanese born businessman has been a fond sports enthusiast since his youth days growing up on the Corentyne. He is very knowledgeable and passionate about the game in the West Indies and follows all formats in the region as well as internationally. In addition to sponsoring tournaments in Guyana and USA, Dave has assisted several ambitious youngsters, senior and masters cricketers to fulfill their dreams and aspirations to represent Clubs, Counties, national and regional teams and has consistently lent a helping hand to promote such programs and activities.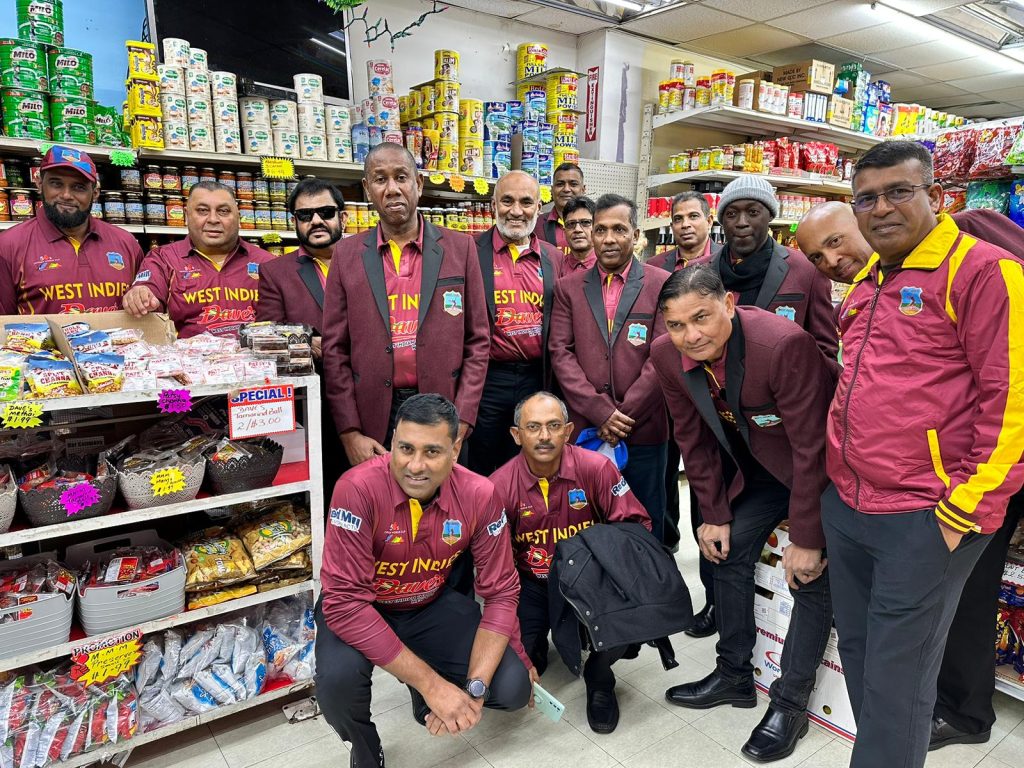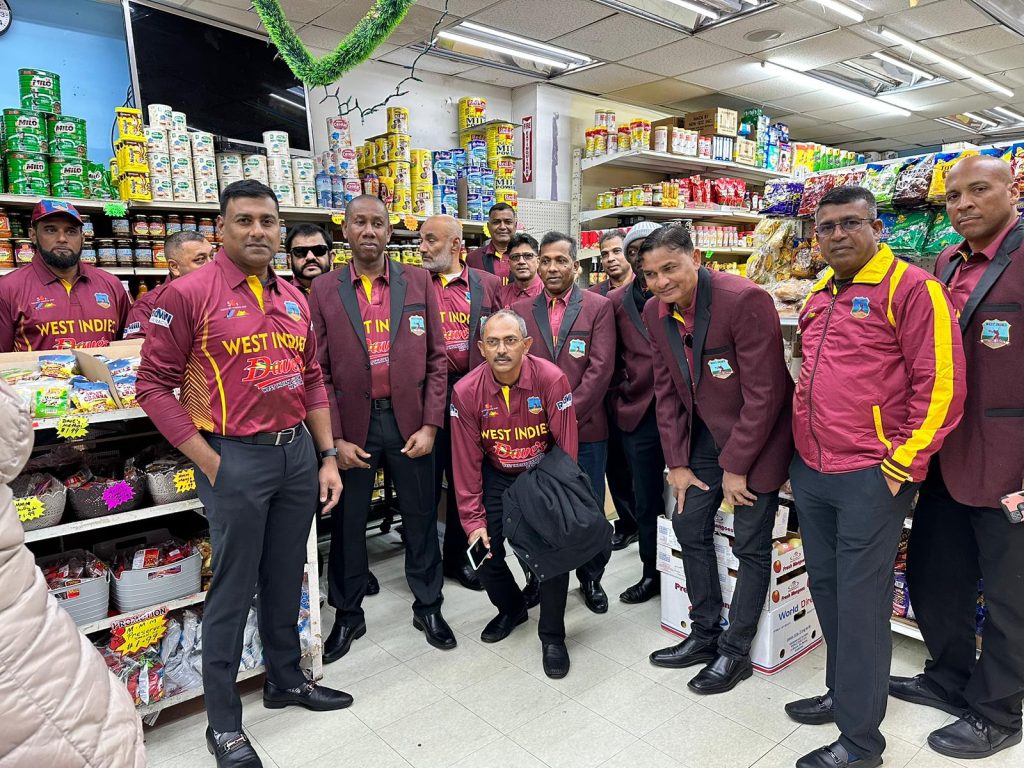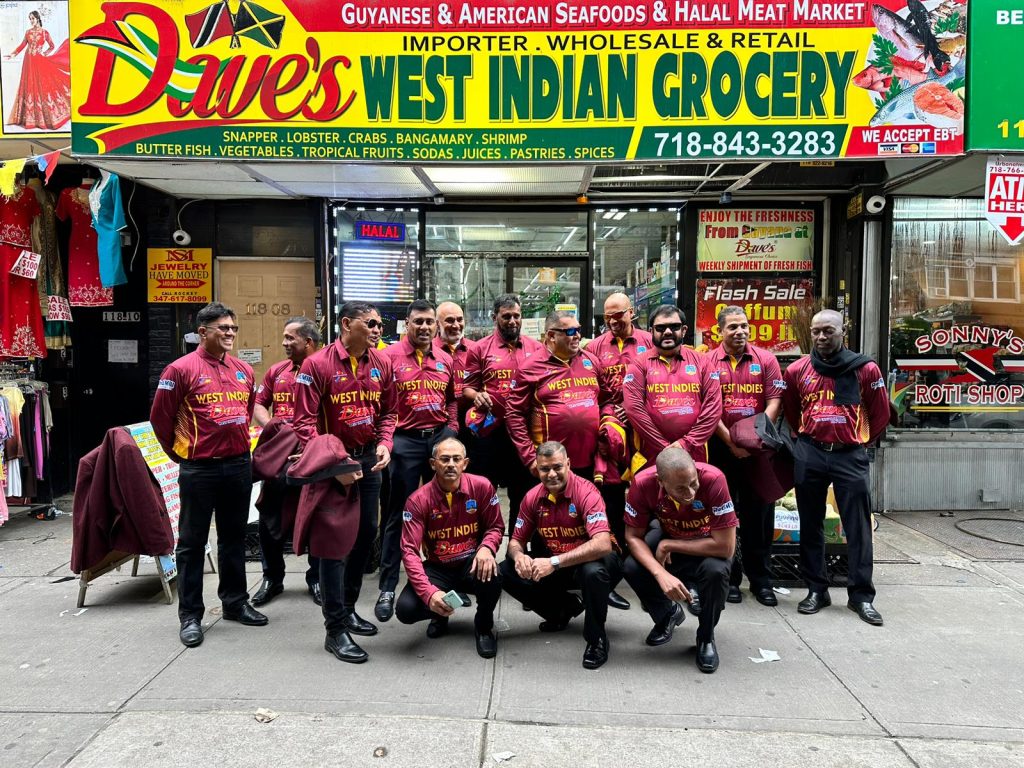 He said he was approached by the Commercial Affairs Committee of the Cricket West Indies Masters Association (CWIMA) to sponsor the team. "I readily agreed to be the sponsor of uniforms and kits, outfitting them all with a brand new design of the maroon colors. In appreciation of his generosity, the entire squad braved the unkind weather in NY and paid a courtesy visit to Dave's retail outlet on Liberty Avenue where they mingled with the management and staff of the company.
The full 18-man West Indies squad is:
1. Zamin Amin – Captain, 2. Narine Bidhesi, 3 Sudesh Dhaniram, 4. Sunil Dhaniram
5. Rajendra Dilraj, 6. Ian Drakes, 7. Kenny Girdharry 8. Fareed Hosein, 9. William Lashley, 10. Ishwar Maraj, 11. Delroy Morgan. 12. Azad Mohammed, 13. Basil Persaud
14. Richard Ramrekha, 15. Anthony Sahadeo, 16. Vejai Seonarine, 17. Balwant Roy Singh, 18. Chanderpaul Singh
Coach – Allison Johnson; Managers – Raj Singh & Dave Narine.
The Windies squad were then hosted to a sumptuous lunch courtesy of Rockaway Roti Shop on Rockaway Blvd.  Hafiz Ali, CEO of the roti shop, welcomed the squad and mingled wished them all the best in their quest to place their collective hands on the World Cup. Mr Ali had also assisted a few of the players financially to ensure their participation in this World Cup.