The University of West Indies (UWI) Five Islands signed a landmark Memorandum of Understanding with Shri Ramswaroop Memorial University, India fir collaboration on research and for studies in undergraduate, post graduate, and the doctorate level.
The High Commission of India, Georgetown, issued a release on the MOU. The releases states:
On Monday, November 21, 2022, The University of the West Indies Five Islands Campus (UWI FIC) signed a landmark Memorandum of Understanding (MoU) with the Shri Ramswaroop Memorial University, India (SRMU). The MoU was signed during a virtual signing ceremony, which was attended by officials from both universities and High Commisioner of India Dr K J Srinivasa along with members of the diplomatic corps.
The MoU was signed by the Pro Vice-Chancellor and Campus Principal of The UWI Five Islands Campus, Professor Densil A. Williams, and the Vice-Chancellor of the Shri Ramswaroop Memorial University, India, Professor Devendra Kumar Sharma.
The MOU will see the institutions collaborate on programmes in new and emerging areas at the undergraduate, postgraduate, and doctoral levels, as well as faculty and student exchanges. Also, both institutions will be carrying out joint research projects in areas of local and global interest, along with organising joint international conferences, seminars, workshops, and webinars.
Speaking at Monday's signing ceremony, Principal of The UWI Five Islands Campus, Professor Densil Williams, noted that a partnership like this benefits both institutions. "We bring to the table significant value as our partners in India as well, and that is why I am very confident that a university partnership like this is only going to do well for our institutions." He stated that collaborations like these will be critical for the advancement of young institutions like the Five Islands Campus and SRMU which are on the path to finding practical and relevant solutions to global problems.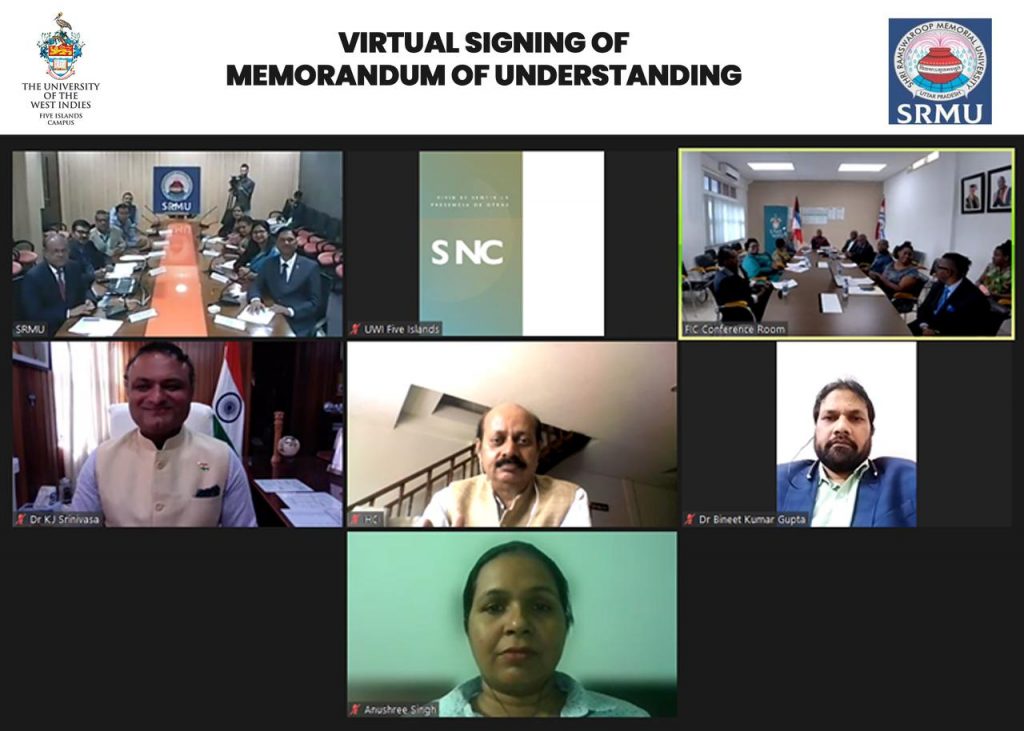 Vice-Chancellor of the Shri Ramswaroop Memorial University, India (SRMU), Professor Devendra Kumar Sharma stated that SRMU is excited to collaborate with The UWI on areas of mutual interest such as information technology, management, and education. "We look forward to exploring the areas that are of benefit through our collaborative activities, research collaborations, joint degree programmes designing teaching materials, and other scientific and technological literature."
The collaboration was initiated by the High Commissioner of India to Antigua and Barbuda based in Guyana, His Excellency Dr. K.J. Srinivasa, following his visit to the campus in 2021. In his remarks to the virtual ceremony, Dr. Srinivasa expressed his satisfaction with the result achieved from deliberations through The UWI and SRMU. "We believe that international collaboration in science and technology is crucial when it comes to addressing pressing global challenges, and this is a great example." He spoke about how Indian Education system being the world's third largest Higher Education System with 907 universities, 43,000 colleges has a capacity of enrolling more than 30 million students. Higher Education Institutions in India offer courses/degrees that are competitive in the world market in terms of quality but are delivered at one-fourth the cost. It offers a vibrant and diverse education system which offers from modern and cutting edge to the traditional – exposure to the latest advancements of science and technology like Virtual and Augmented Reality, Artificial Intelligence and Cognitive Computing to Yoga, Ayurveda, Sanskrit and languages. Dr Srinivasa also reminisced of how, many of the leading tech leaders like Satya Nadella of Microsoft, Sundar Pichai of Google along with world leaders and diplomats have graduated from Indian colleges and universities including former Presidents of Afghanistan Hamid Karzai, Ghana's William Akufo, Nigerian Olusegun Obasanjo, former PM of Tanzania John Samuel Malecela and current President of Guyana HE Dr Mohamed Irfaan Ali.
Dr. Srinivasa also spoke about how majority of the GOAL scholarships in Guyana have Guyanese citizens studying in Indian Universities currently. He thanked the Honorary Consul of India to Antigua and Barbuda, Mr. Vijay Tewani, as well as the leadership of both universities along with the staff of the High Commission for their work on the proposal to bring the two institutions together.
This agreement with SRMU is one of several MoUs signed by The UWI Five Islands Campus with international institutions, including agreements with Harvard Business School and the University of Maryland, Baltimore County.