At the invitation of the US Government, President Irfaan Ali and a delegation have been in Washington DC since Monday morning to meet officials and private influential figures in business and policy organizations to discuss a range of issues to further deepen bilateral relations between Guyana and the United States. Guyana is of strategic importance to the US because of geo-political location and its status as a rising hydro carbon producing nation.
The Head of State and his delegation, including Vice President Dr Bharrat Jagdeo, Minister of Foreign Affairs Hugh Todd, and Foreign Secretary Robert Persaud, have been in Washington for a series of high-level engagements with US government officials and to engage the press and very powerful organizations that influence policymakers. At the engagements were the US Ambassador to Guyana Sarah Lynch and Guyana's Ambassador to the US Sam Hinds.
Ali demonstrated very good communicative style. He did not stumble. His pronouncements of words were perfect. He was cool. It was an impressive performance on display by the head of state, the like of which not seen before by him or his immediate predecessor. His engagements (the tone of delivery of remarks) were pleasant, calm, and persuasive. He came across as someone with good knowledge and grasp of issues. His diction, elocution, verbal and gestural styles were all good, demonstrating that he is someone in command. He spoke with confidence. He spoke fluently and extemporaneously. He used key concepts and terms that would resonate with Washington: such as the US becoming a strong partner, leadership in food security and climate change, as well as energy security and defending territorial integrity.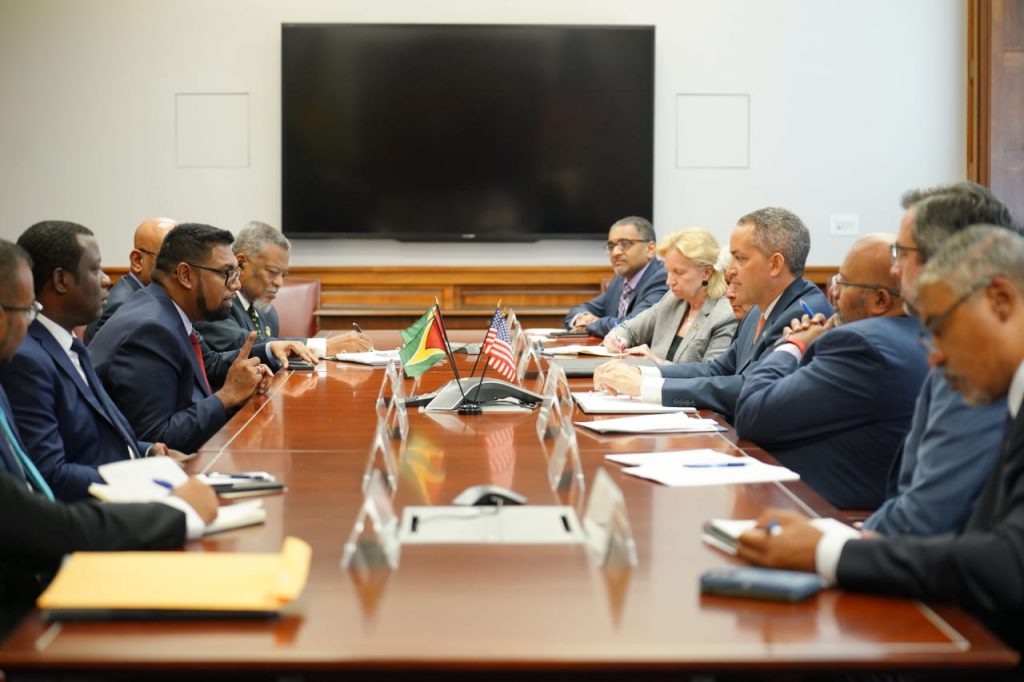 In public glare, President Irfaan Ali and entourage were accorded a warm welcome at all of his engagements. No sign (from body language and use of spoken language) of friction or tension appeared between US officials and the visiting delegation. Blinken was warm and praised Irfaan. He was friendly and attentive as Irfaan spoke. And the President himself appeared to be at ease in engagements. He did not show signs of nervousness or tension. He spoke fluently. He didn't read from prepared notes when addressing the Secretary of State or at other functions. He spoke extemporaneously in the exchange and elsewhere. The public is not privy to what was discussed behind the scenes away from the camera.
President Ali was given very laudatory introduction at all of his meetings. He and Secretary Anthony Blinken expressed pleasantries and spoke of the importance of the relationship between the US and Guyana. The engagement in Washington, Blinken pointed out, is a continuation of the dialogue that began in Los Angeles at the Summit of the Americas with Caricom. Blinken praised Guyana for providing leadership in Caricom and protecting the environment while noting that Guyana is the seat of Caricom.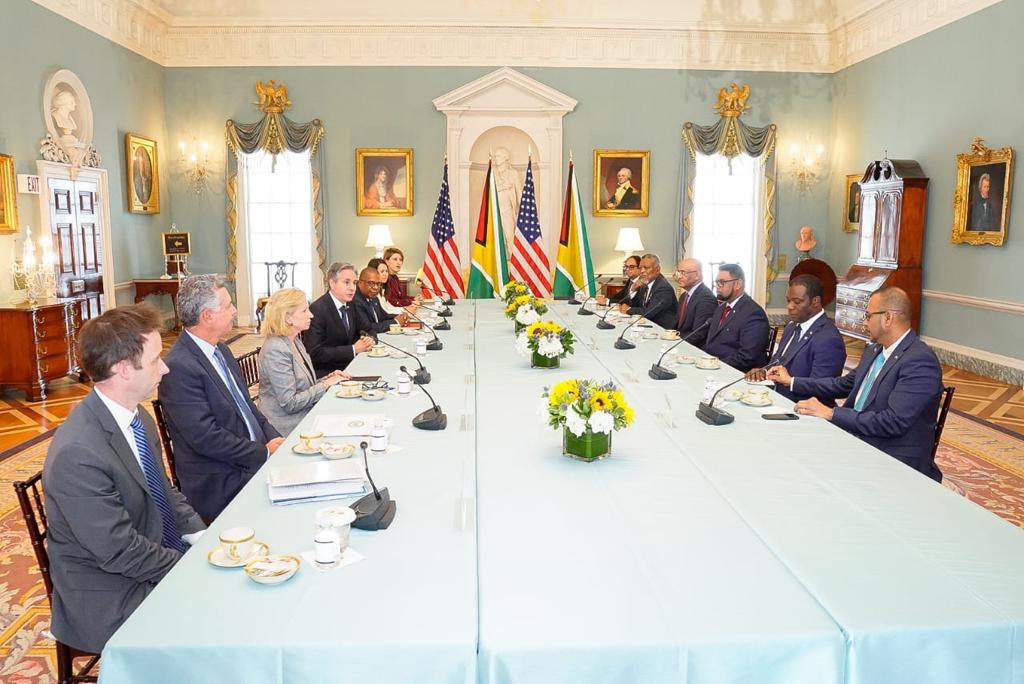 Ali expressed gratitude for the meeting with the Secretary of State, who is number three in line of succession to the Presidency. Ali's remarks were crisp, direct, powerful, and diplomatic. He spoke with confidence. He told the Secretary that he is pleased to engage with him and the US Administration in the US capital as it is an important time in the development of Guyana and the world. He noted the critical issues facing Caricom as a whole as well as developing nations — financing for climate change, food security, and energy security. And he focused on development issues. President Ali said he is willing to work closely and jointly on issues of financing development, and debt crisis facing Caricom. He said his government wishes to strengthen relations with US and wants Guyana to be a strategic partner with America.
The delegation and US Deputy Secretary of Commerce, Don Graves held fruitful discussions. Graves committed support to the Government of Guyana in the areas of banking, finance, and tourism as well as US private sector investment into Guyana. The President has committed to working closely with the Department of Commerce and other US agencies to facilitate US private sector investment in Guyana. All of the engagements went exceedingly well. Ali performed brilliantly at the Atlantic Council and the Woodrow Wilson Center. At the Atlantic Council engagement, he was asked several questions and provided appropriate answers.
Ali highlighted significant points on economic development that is people centered, and he stressed the importance of addressing climate change, food security, territorial integrity, and energy security. These policies are converging towards a One Guyana concept of which he was asked to explain. He noted that it is a one value system to unite a divided nation, bring people together, eradicate poverty, combat crime, etc. He told the Atlantic Council that Guyana wishes to have a balance in its hydro carbon development natural resource and the environment. The government will pursue sustainable development to protect the environment. Ali told the Atlantic Council in Washington, D.C that while Guyana is an emerging hydrocarbon market, our economy will not be hydrocarbon-based.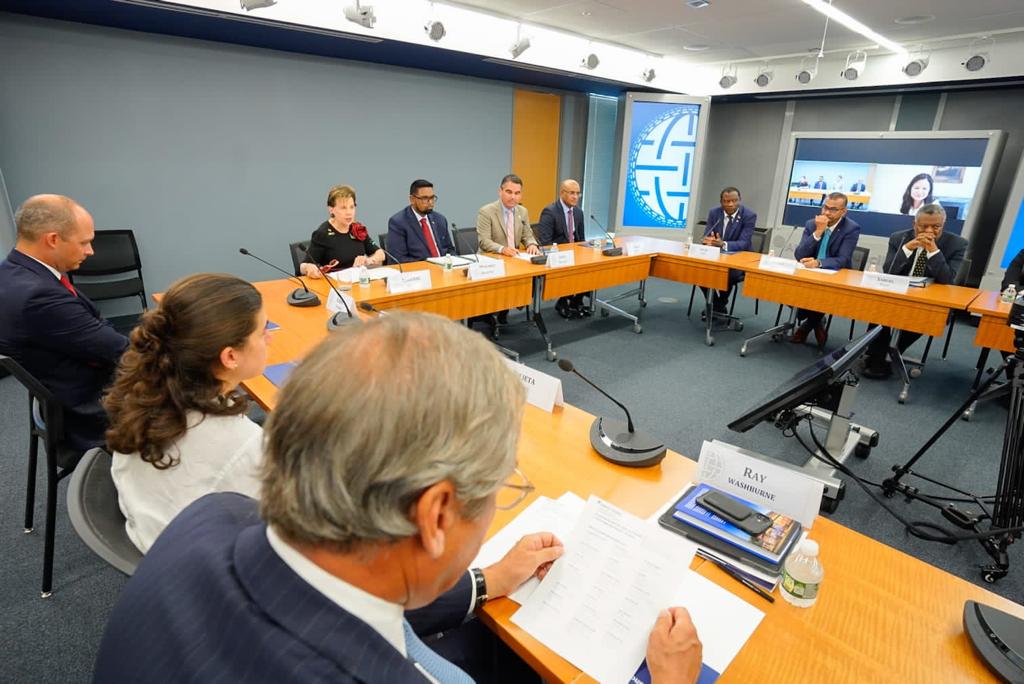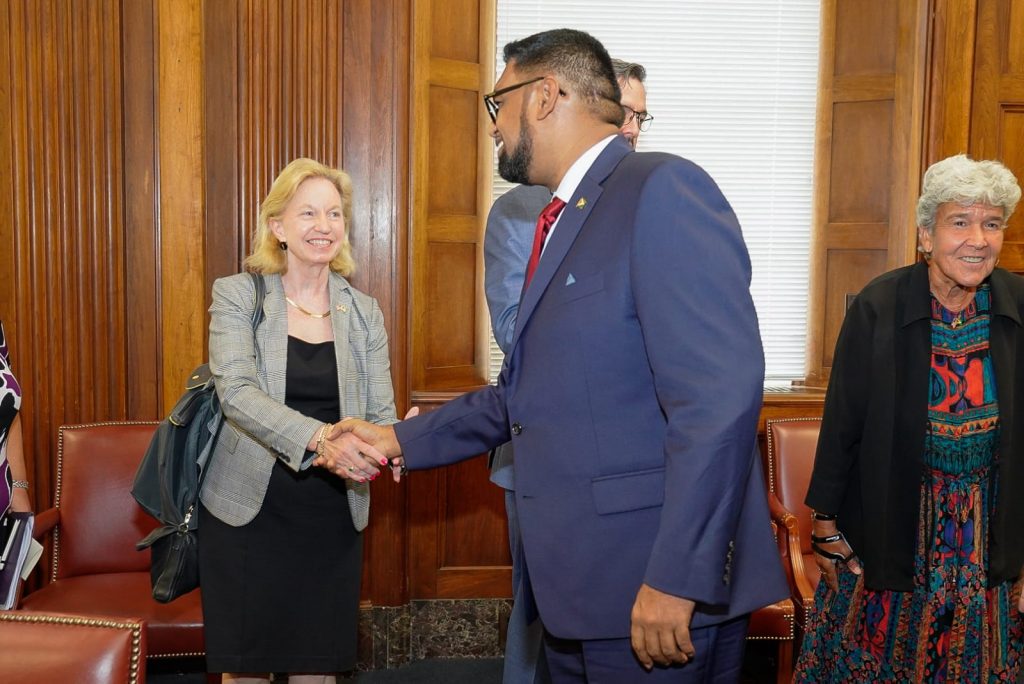 At the Atlantic Council and in exchanges with business leaders and at the Wilson Center, Ali said Guyana plans to use its newfound oil and gas wealth to fund investments in other sectors that will reduce its dependence on hydrocarbons. The government plans to pump funds into mining, tourism, agriculture and other sectors. The funds will be used to build roads and infrastructure to open up other areas of the economy, including its gold, diamond, bauxite and copper mines.
Ali was pressed on accountability and transparency especially over the use of oil revenues. He noted that the oil revenues would provide funding to diversify the economy. He highlighted what the government has done with the NRF fund and oversight policy. He said there is an Advisory Board overseeing how the money is used. He also noted that there are sanctions for violations of laws. Oil funds can only be spent when approved by parliament.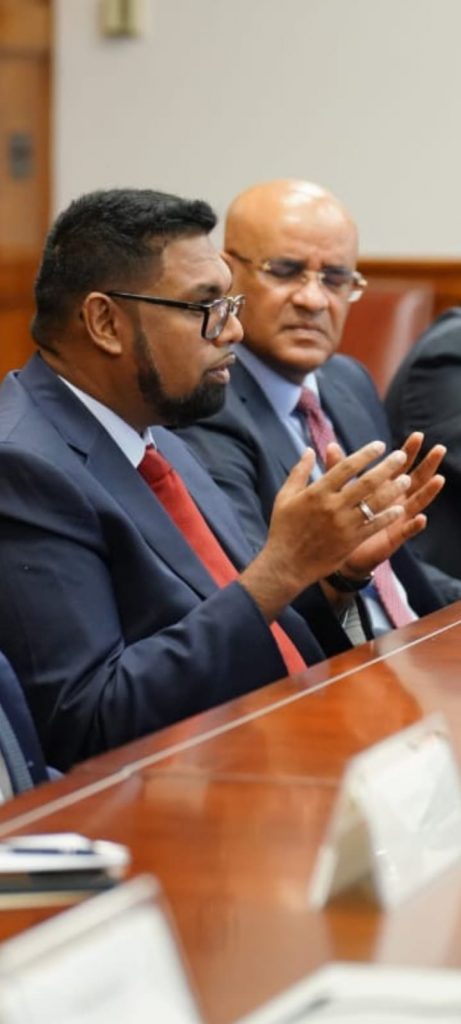 It was by far the best public display of diplomacy and deliverance of message by Ali since he assumed power on August 2, 2020. He has risen to the international stage at the right time when Guyana is trying to assert itself in a leadership role in food security and climate change in Latin America and Caribbean. Because of his presentations in and reception accorded in the US capital, policy analysts and think tank groups will have a better appreciation of the work and policies of the PPPC government of Guyana.