Community advocate Ashook Ramsaran playing a most critical role in shepherding a request to honor Pandit Laldharry Seeratan of Jamaica, Queens. This writer approached Pandit Seeratan, the son of Laldharry, to co-name the street where their mandir is located, 173rd Street. The son and the family preferred to co-name the block after the founder of the mandir. The writer advised that they seek the guidance and assistance of Ashook Ramsaran who had played leading roles in co-naming several streets. The same advice was given to Dr Satish Prakash, Balram Rambrich, Pandit Ram Hardowar and others to co name streets where their Mandirs are located. Mandirs and individuals have played leading roles in their communities and streets should reflect the names of those entities. Dr Satish and Pandit Seeratan accepted and followed the advice, contacting Ashook who guided the process for the co-naming of the streets. This writer also penned recommendation accordingly.
Ashook Ramsaran is an expert in the process and successfully shepherded the petition which was taken up by Council Member of the district, Ms Natasha Williams. She spoke at the ceremony on Saturday September 17 to unveil the name of the street. Ashook Ramsaran delivered remarks and introduced Natasha. The Seeratan family is grateful for the assistance rendered in the process in co-naming tge block. Any group or individual seeking to co-name streets is recommended to seek his guidance and assistance.
Below are his remarks:
Unveiling of Dharmacharya Seerattan Way 9-17-22
We are honoring the life and legacy of Dharmacharya Laldharry Seerattan, an outstanding humanitarian and community advocate. This celebration brings enormous pride and joy to his family, congregation, his community, his peers and all those who knew him.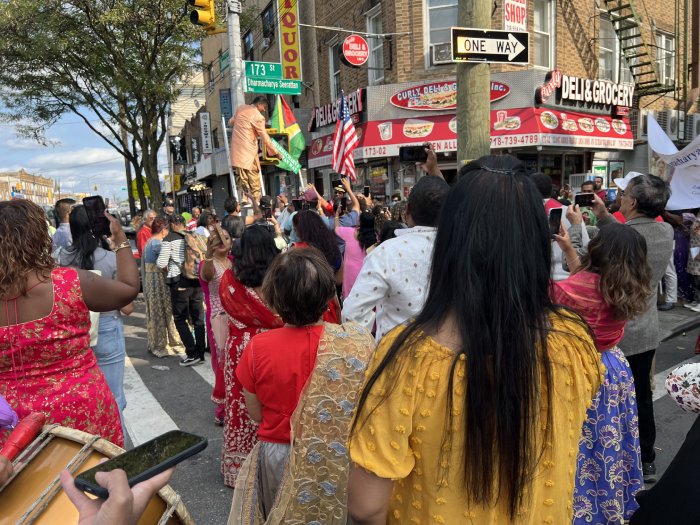 I am privileged to have been requested to lead a well-organized committee to apply for this street co-naming and work through the long and tedious process to a successful achievement – which we are witnessing today. Thanks to my team members: Pt Tillackdharry Seerattan; Seelochni Seerattan; Shyam Ramlall; Pat Jordan-Langford; Dr. Dhanpaul Narine (birthday tomorrow); Naro Balli; Judge Karen Gopee. Their zeal, enthusiasm, focus and commitment enabled me to coordinate their superb efforts to get this done. It was a long process but certainly worth the effort.
I am especially grateful to City Council Member Natasha Williams, who believed in this from the onset and championed the application through all the City Council hearings to finally become law. Her hard working staff have been so supportive: Ashley, Rasha, Kathleen, Everton, Anne-Marie: Their regular updates, follow-ups, prompt responses, friendliness and helpful attitude – thank you all.
It's a day of celebration and remembrance. Best wishes to Shri Devi Mandir, Global Humanitarian Foundation, Pt Tillackdharry Seerattan and family for continuing the dreams and aspirations of Dharmacharya Laldharry Seerattan.
The Street or the block is now DHARMACHARYA SEERATTAN WAY.
It's a privilege to welcome and introduce City Council Member Natasha Williams, an energetic, rising star among elected politicians in NYC, one who can be counted on to serve her constituency with passion and consistency.