A seven session Bhagwatam (katha or Hindu service) was held nightly in memory of the late Sunrani (Aunty Edith) Badri at the Tulsi Mandir (in Richmond Hill, Queens) from August 1 thru 6 concluding Sunday morning on August 7. Pandit Kesh presided over the katha. The Bhagwatam was packed to capacity at every session. Pandit Kesh Sookdeo, her son, who was trained in India as a pandit and in Hindi and Sanskrit, conducted the service and was ably assisted by Pandit Ravin Sharma (main Vyas who narrated the discourse for four of the seven sessions) and pandit Narinder Salick (who officiated over two of the seven sessions) reading from the holy pages of the Ramayana and also drawing excerpts from other holy Hindu texts (Shrimad Bhagwatam) to explain and clarify the messages of the lord as exemplified by Lords Rama, Krishna, Hanooman, and Shiva and Goddesses Sita, Durga, Saraswati, and others. He is very knowledgeable about the scriptures.
The following family members came for the yagya: Vedo Naidoo from Canada, Deo Sukhdeo, Gewan Sookdeo, Hemrai Sookdeo, Indra Balgobin, Shamo Sookdeo, Dillip Sookdeo, Nato Sookdeo, Suraj Sookdeo, Mala Sookdeo, Sanjai Sookdeo, along with Pt. Kesh Sookdeo. The family and the congregation said they were very pleased with the service.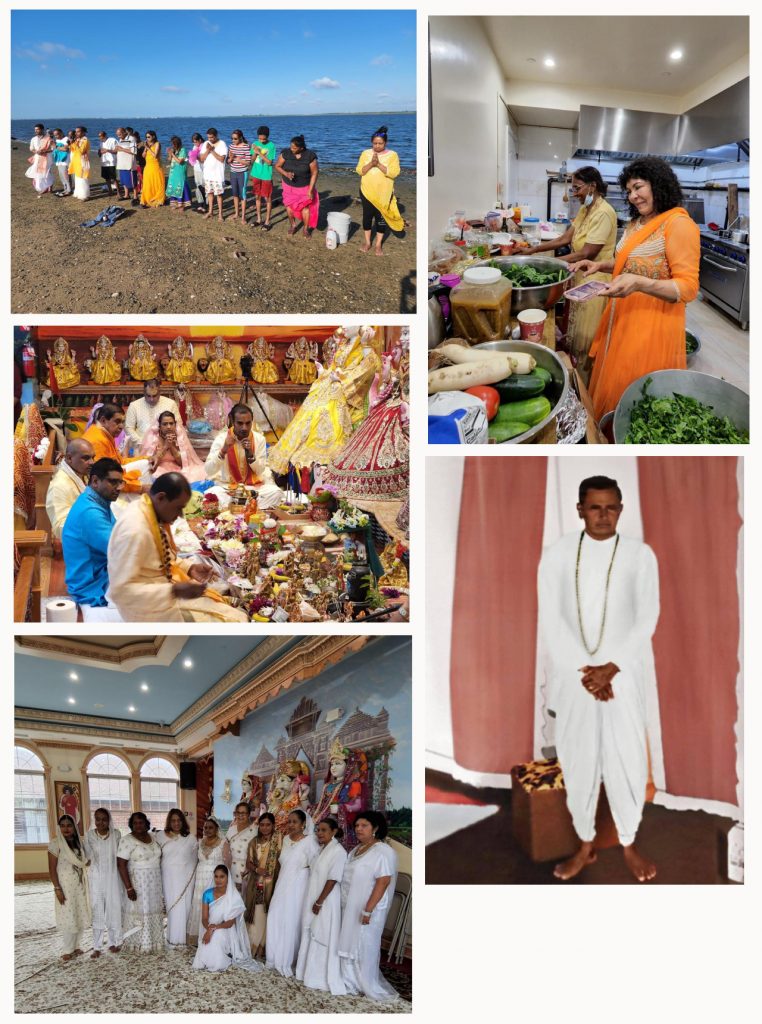 Aunty Edith, originally from Overwinning outside of New Amsterdam, was the wife of the late Pandit Sookdeo Badri lived in greater Richmond Hill. Overwinning used to be part of Providence Estate, a farm rich agricultural area where thousands of Indian girmityas were indentured. The girmityas and descendants enriched the British plantation owners Pandit Sookdeo Badri was from Mara, East Bank Berbice, Guyana.
Pandit Kesh, their son, explained that when someone in the family died, it has been a tradition to do a Bhagwatam. He said after she got married, she was very supportive of her husband, the family, and the community in Hindu religious affairs. Their families come from panditai tradition back in India. They brought this religious practice of bhagwatam and panditai when their ancestors came from India as indentured laborers and it has continued till this day. Pandit Kesh continues the family tradition in New York after his training in India.
"My mother was supportive of Panditai and religious activities. She was extremely religious. She trained, schooled, encouraged and motivated her children to be religious and follow the path of righteousness and the lord. She was an inspiration. She was a great mother, a very devout person, one who was proud of her faith. She was like the 'Marajin' in the family. She guided and oversaw preparation of puja, making sure it was done right. The family was proud of her. The community admired her". She had to have been popular because people flocked to the mandir for the nightly service in her memory.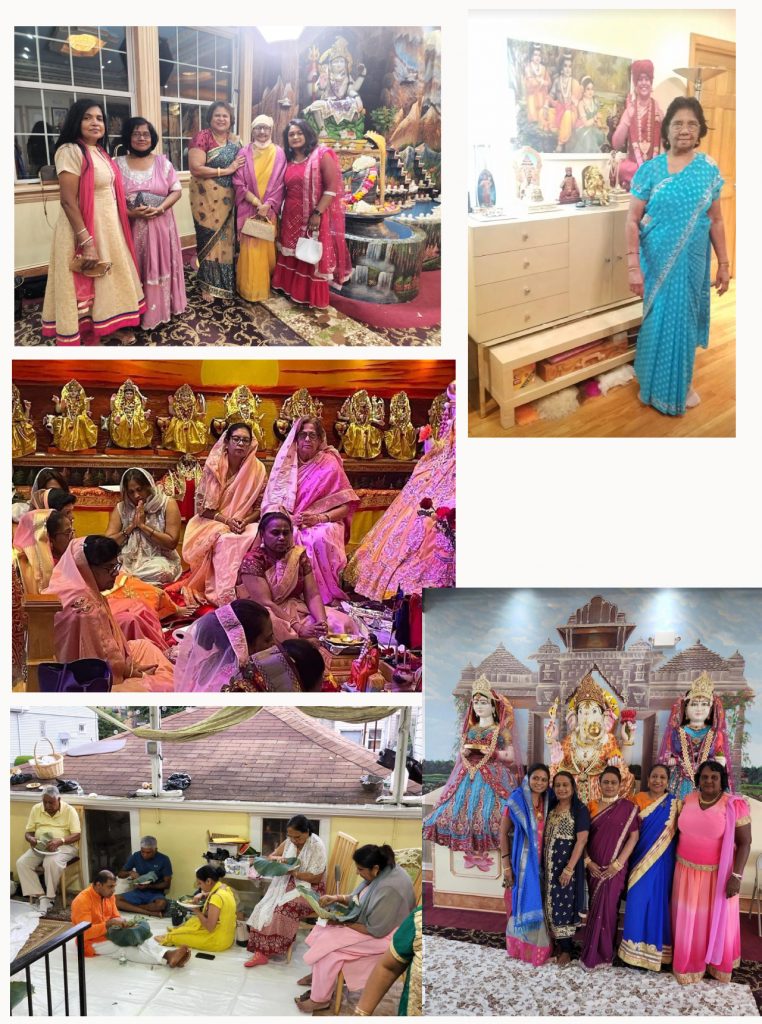 One week before she died a year ago, she told one of her sons that "she would go". "She advised and demanded that they did every single ritual, no short cut", said pandit Kesh.
Pandit Kesh related that Aunty Edith had a dream in November 2020 on birthday, in which her father told she had only six weeks to live. She died six weeks after birthday. Pandit Kesh also narrated that when Aunty Edith went to India in 2020, she told family members on February 17th that she did not have long more time to live. She was 84. "She died exactly one year later even though she was healthy and had no medical issue", asserted Pandit Kesh. "It was like she had a premonition of death coming".
Pandit Kesh stated: Three months before she died, she played Sai bhajans and other devotional songs every single day and night. It was like she realized and knew she was going. For those three months, she went no where in the evening. She visited no one, did not stay over at her children's home. She wanted to be at her own residence. She played bhajans every evening".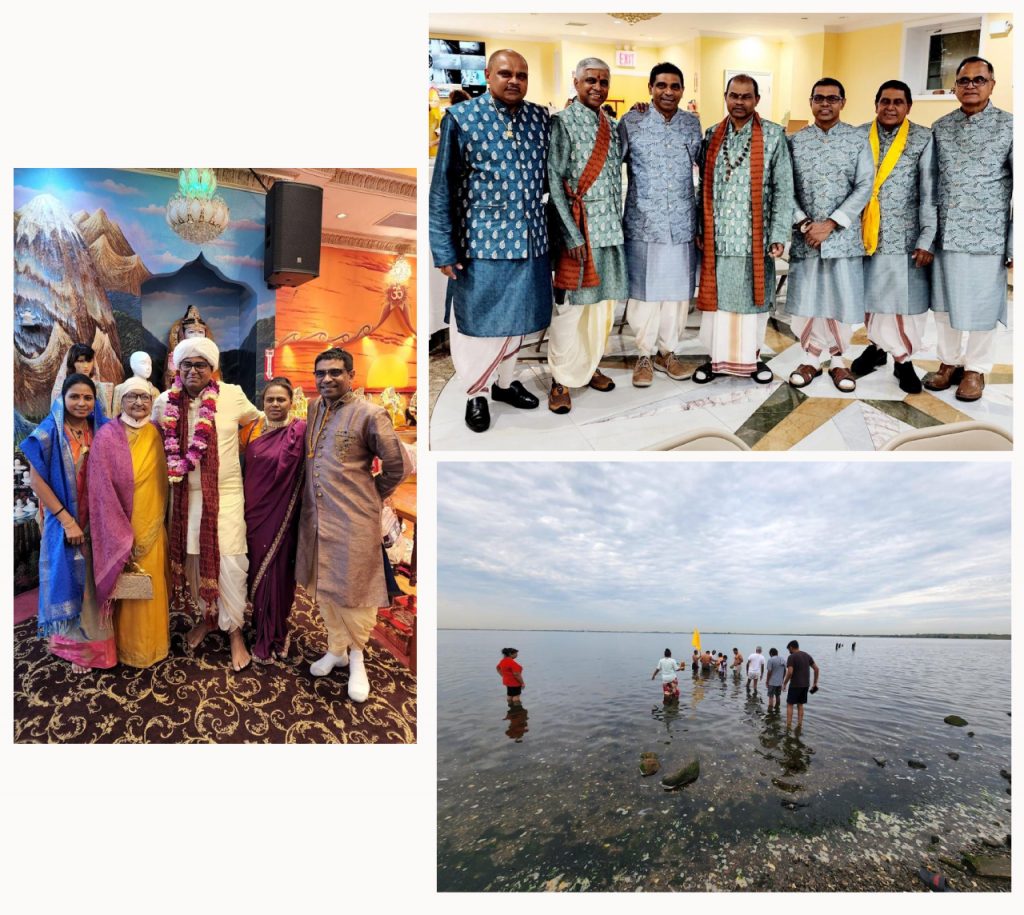 And even though she saw death, "She was fearless", said Pandit Kesh, adding "there were no fears and concerns. She welcomed death, was ready for it, and making preparations to meet her maker. She was a great woman and devotee of the lord. She lived a very good, decent life".
Her karma would have taken her to heavenly abode.