Doolarchan Hanomansingh (D.H.Singh) has recently registered his second publication on Amazon-Man of Action: A Biography of Pandit Baya in e-book and paperback versions.
Pandit Baya (Narayan Latchana) is a story of grit and determination. It tells the story of Pandit Baya from Yakusari Village in Black Bush Polder, Berbice, Guyana overcoming odds to educate himself in the field of Hinduism and to emerge as a leading pandit in the entire Black Bush and Upper Corentyne region of Guyana.
The hardships and challenges of rice farming did not derail his focus to promote Hinduism when many pandits were migrating in the 1980s and 1990s. Pandit Baya formed alliances with several pandits and other community workers to promote Divali Motorcade, Chowtaal Sammelan, Youth Development Camps across Guyana and to rebuild the Yakusari Mandir that was nearing collapse because of structural deficiencies. Baya's genius was demonstrated in his trips to the USA and Canada where he successfully raised funds, returned to Yakusari and rebuilt the temple.
Man of Action tells of Pandit Bay's efforts to promote dharma after his migration to the USA. His weekly TV show that promotes the talents of the youths is a hit. Not forgetting his native Guyana, Baya along with other villagers of Black Bush built the Cultural Training Center that is now a beehive of social and cultural activities for the entire Upper Corentyne.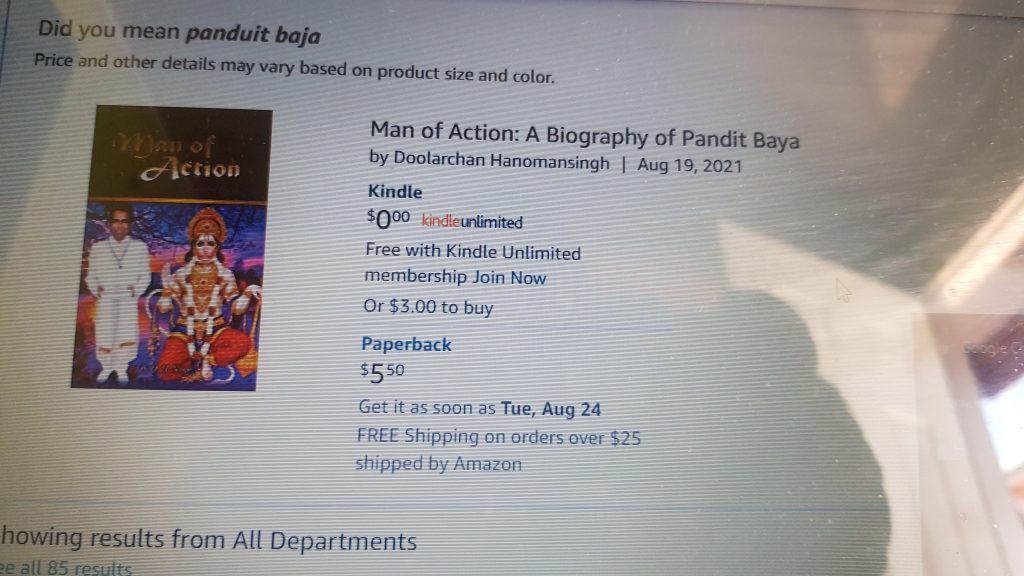 The author shared his interviews with people who know Baya and also incorporated more than a dozen people who give their views under the heading-Tributes to Pandit Baya.
The pictures of his family, activities and social activists are distributed into three parts throughout the texts and reinforces the authenticity of the contents in the text.
What I find interesting is the Conclusion of the book. The author did not conclude the book as such but chooses to present newly established on-going projects and major plans that are on the drawing board like the building of a Hindu primary and secondary school, the first of its kind in the USA; and his social outreach program to Yakusari through the Humanitarian Group.
With a foreword by Dr. Vindhya Persaud, head of the Dharmic Sabha of Guyana and an introduction by Dr. Vishnu Bishram, this book is a guide and an inspiration to all social and cultural activists, writers and historians of the Indian diaspora. The book highlights the struggles and triumph of a young man to preserve Sanatan Dharma, a bright light in this dark night of fundamentalism, fanaticism and terrorism parading as divine revelation.
Dool Hanomansingh has successfully weaved this biography using simple prose for the average person without compromising on quality. No stranger to biographies Dool Hanomansingh has written the biographies of Doon Pandit (2006) and Abracadabra (2020), an account of the life of renowned magician and ventriloquist, Deoraj Seunarine of South Trinidad.
Man of Action: A Biography of Pandit Baya is a must read for all social activists in the diaspora. I highly recommend it to you without reservation.