Diwali was celebrated globally by members of India and Indian Guyanese diaspora as well as by Indian diasporas of several countries. It was also celebrated by Hindus in their home countries of Guyana, Surinam, Trinidad and Tobago, and several other countries. Public celebrations were organized and or patronized by Guyanese and other Indo-Caribbeans in Queens, Manhattan (both in NYC), and other parts of the USA as well as in Trinidad, Canada, Guyana, and other locations. Guyanese and others displayed traditional Indian Guyanese and Caribbean culture to other Americans. The celebrations in various parts of USA attracted a large following.
In October 2022, this writer took part in Diwali celebrations in New York City, Trinidad, and Guyana. These were joyous, traditional, spectacular, magnificent, decent, spiritually oriented, family celebrations. People turned out in huge numbers to be a part of this great cultural festival in NYC. These festivals were transplanted from India to Guyana and the Caribbean and thence to North America, and Europe. Guyanese have played a significant role in institutionalizing Indian culture in America. The descendants of indentured laborers also transplanted Diwali and other Indian festivals in Australia, New Zealand, Africa, etc.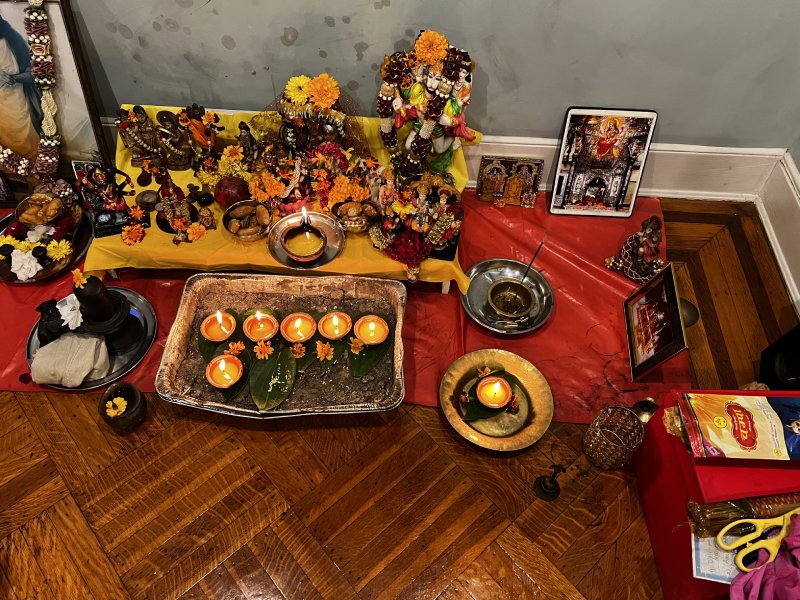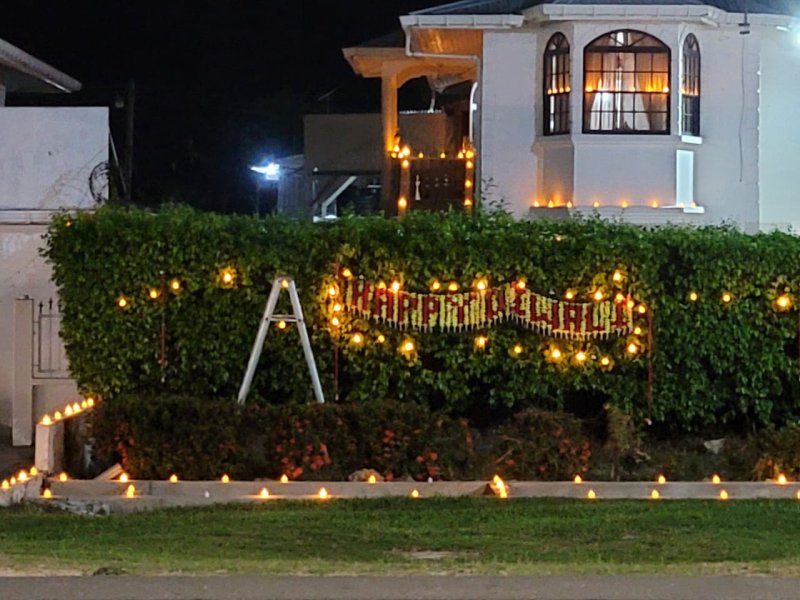 In the US and Canada, Diwali and other forms of acculturation of festivals have spread across vast areas of the country especially where Hindu communities have been established as in New York, New Jersey, Florida, parts of Minnesota, Georgia, Chicago, and elsewhere. These cultural practices have been brought to the USA by Guyanese and others. Hindus, including Guyanese and Trinis, are one of the fastest growing minority populations in the United States numbering over three million. The Indian population in the USA is almost 4.5M. Indian Guyanese and Trinis have planted their culture in the USA as they have also done in Canada and UK. Hindus, including Guyanese and Trinis, have the highest income group in the USA, with family incomes exceeding US$120,000 (Indians from India in particular) annually and they also have highest educational achievements of all ethnic groups. Politicians court them (Indians from India) for campaign donations and votes. Thus, politicians host Diwali celebrations all over the country to court and woo them and Guyanese are in the thick of the celebrations in various parts of the USA.
Diwali Celebrations in NY were held at South Street Seaport by nationals from India that included participants from the diaspora including Guyanese and Trinis. Hundreds of Guyanese patronized the annual South Street celebrations that included various activities, food festival, dignified cultural variety Bollywood style concert, arts and crafts, a dinner banquet for special invitees and officials, and fireworks. This annual downtown Manhattan celebrations has been ongoing for some 30 years.
Diwali celebration was also held in attractive Times Square, the center of the City and perhaps the globe. It was organized by nationals from India, attracting tens of thousands of patrons including hundreds of Guyanese, Trinis, and American politicians of all stripes jostling for pix to win votes in the November 8 elections. There was a Diwali celebration held at the same time in Richmond Hill, Queens, attracting thousands of Indo-Caribbeans and others. All the celebrations brought diverse people together similar to celebrations (motorcades) in Guyana and Trinidad. Celebrations in Manhattan and South Street were more Bollywood oriented as opposed to those in among Indo-Caribbeans in Queens and in Guyana, Trinidad, and Surinam. Indo-Caribbeans uphold the traditional and spiritual aspects of the festival in the diaspora and in their home countries.
The Trinidad Diwali Nagar started on October 15 and concluded on October 23. Prior to that, there was a nine nights Ramayana Yagya which this writer patronized one night. Hundreds, if not thousands, of Guyanese patronized the nightly lit Diwali Nagar in Central Trinidad at the NCIC headquarter. The Ramayana and the Nagar program was carried live on TV and social media. Traditional deyas were lit up all over the NCIC compound alongside brilliantly illuminated multi-colored electronic lightings. Lit deyas were also positioned on flexible designs of bamboos. It was a spectacular display of lights, not seen anywhere else, not even in NYC. The Nagar was a magnificent exposition and showcase of Hindu culture as practiced in the Caribbean and in the Hindu diaspora.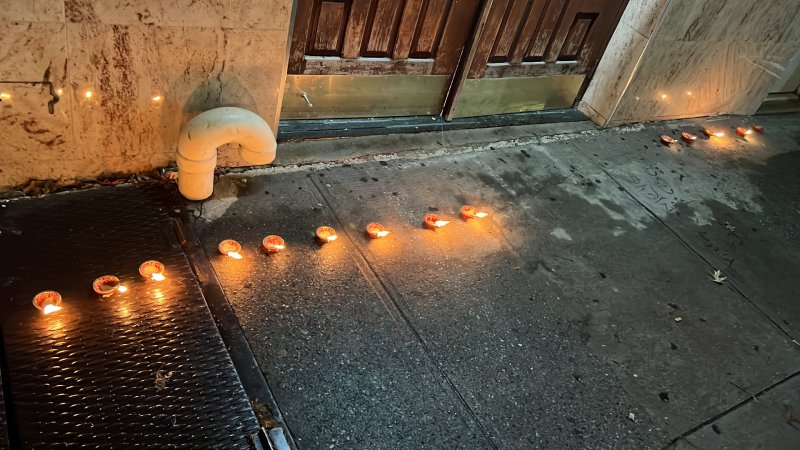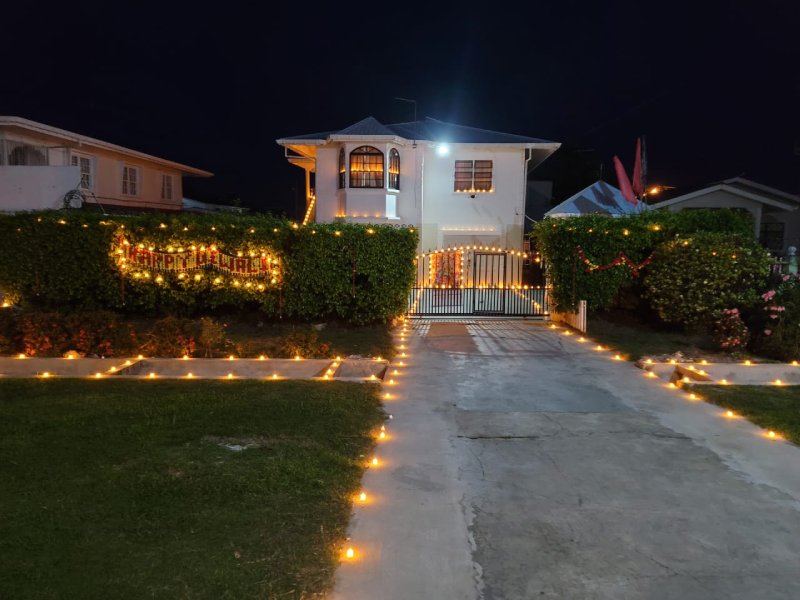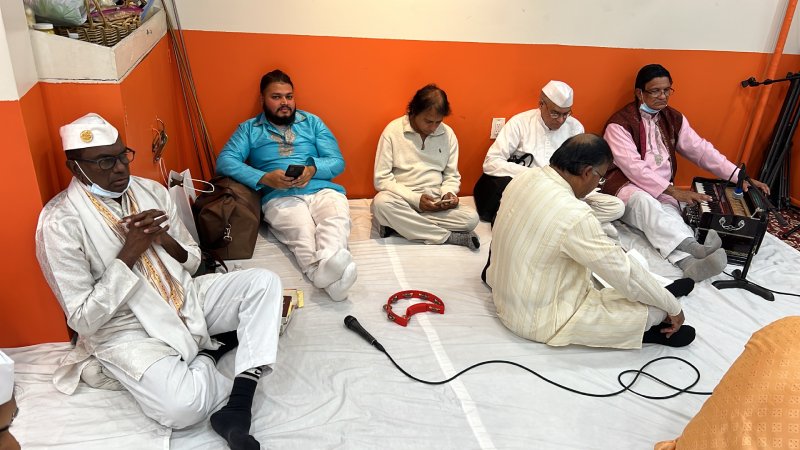 Also, in Trinidad, government offices, the President and the Prime Minister, as well as MPs and Ministers of government hosted Diwali celebrations in their offices or in their constituencies. The Opposition Leader hosted celebration in her office and also patronized the Nagar which was also visited by several Ministers of Government. Also, workplaces across Trinidad were the scenes of celebrations with lit deyas and electronic lights. Staff of different ethnicities was distressed in traditional Indian or Hindu attire several workdays before the festival. The airport (at Piarco) was well festooned with appropriate Diwali festival decorations. In Trinidad, government and private buildings had their lobbies decorated with bright lights and hanging ornaments related to Diwali. There are Diwali skits at the Piarco airport and at state offices similar to that at Timehri and at offices in Guyana.
In Guyana, the Diwali motorcade on the West Coast and East Coast and in Georgetown brought out thousands on onlookers who cheered the floats. They were impressive sites to behold, far more beautiful and creative with magnificent lighting – far more attractive than the motorcades in New York and the concert celebrations in Manhattan or the Nagar in Trinidad. No other country has such brilliant displays of illuminated floats and tableaux. Commendations go out to the Dharmic Sabha and all others who planned and organized the motorcades in Guyana and who also staged celebrations to lighten up the country during this period.