The High Commission of India and Swami Vivekananda Cultural Centre (SVCC) in Georgetown, Guyana, celebrated Diwali on 29th October 2022 with a grand program of lights and cultural performances. The event was graced by Hon. Mr. Manzoor Nadir – Speaker of the National Assembly of Guyana, several Cabinet Ministers of Government of Guyana including Hon. Dr. Vindhya Vasini Persaud, Minister of Human Services and Social Security and Hon. Hugh Todd, Minister of Foreign Affairs and International Cooperation along with various dignitaries, other officials of the Government of Guyana, members of the Diplomatic Corps, nationals of India, members of the Indo-Guyanese Diaspora, friends & well wishers of India.
The High Commission issued a press release:
"The event started with lighting of ceremonial lamp by the Speaker, Ministers of the Cabinet, and His Excellency Dr. Srinivasa. It was followed by a medley of mesmerizing music and dance performances by the Swami Vivekananda Cultural Center Kathak Dance Teacher Ms. Varsha J. Chaudhari and her students; National Dance Company of Guyana; and students of Texila University. The performances were a mix of classical, including Kathak and Kuchipudi, fusion and popular Bollywood items, thoroughly enjoyed and appreciated by the audience.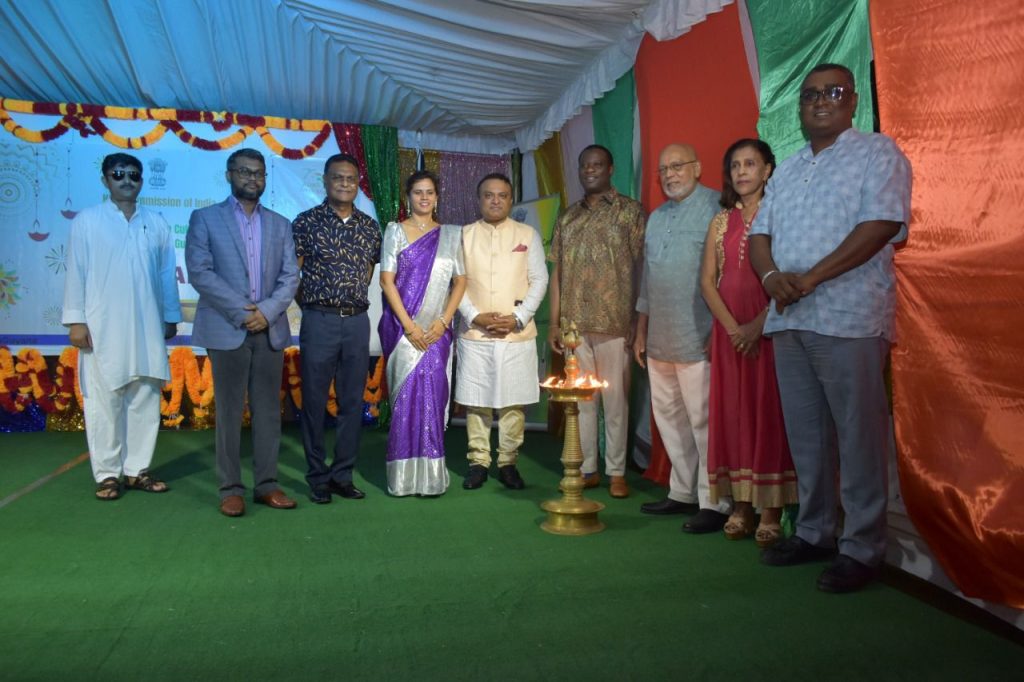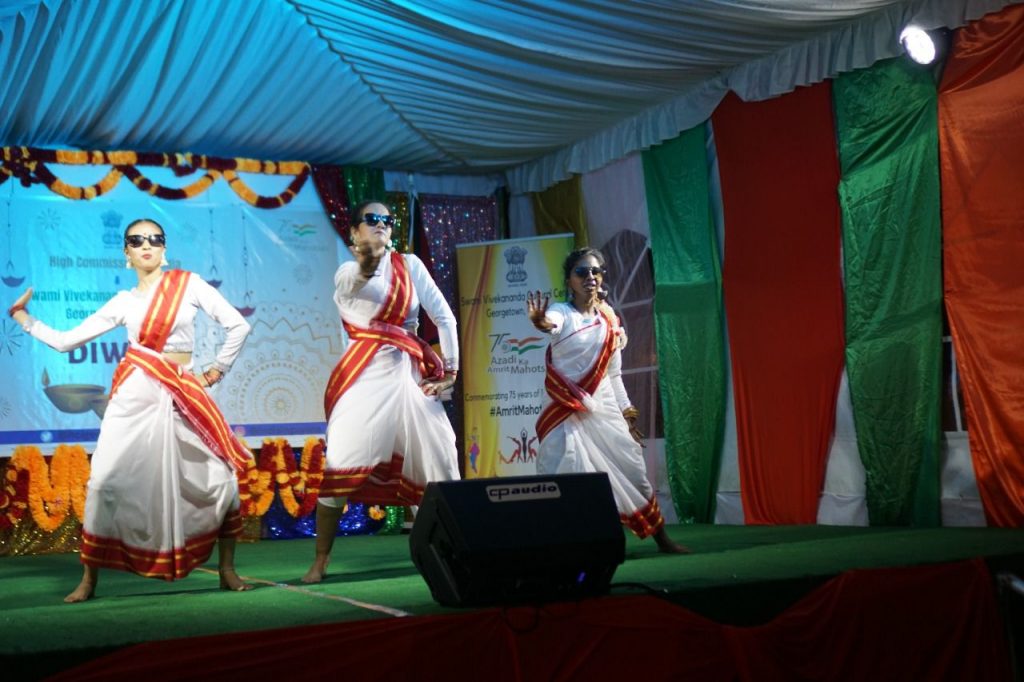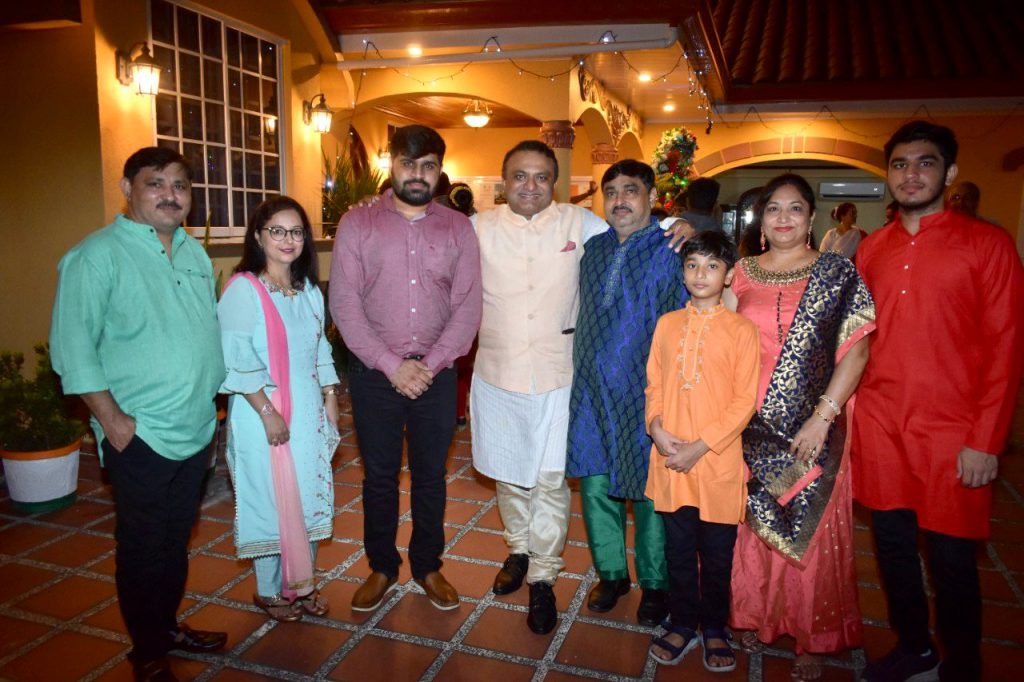 High Commissioner H.E. Dr. K. J. Srinivasa stated that Diwali was being celebrated in Guyana at a large level after two years due to Covid-19 pandemic. He also mentioned about the resumption of Diwali Motorcade in a grand way this year organized by Guyana Hindu Dharmic Sabha. He further highlighted the importance of the religious festival celebrated all over the world by Hindus, Jains, Sikhs and Buddhists – some of the worlds oldest religions. It is the day when Lord Ram returned to Ayodhya after defeating Ravana. It is also the day celebrated as the day of the birth and marriage of Goddess Lakshmi. In south India we celebrate the home coming of legendary King Bali. Most importantly, Diwali is a festival celebrating victory of good over evil, celebrating goodness. Lighting the lamp – the diya – is a chance to remember, even in the midst of darkness, that light will ultimately prevail. Diwali is also a time for prayer, reflection and contemplation, to reflect on our obligations to help our fellow human beings, particularly the less fortunate. And as we light the diya – the lamp – we recommit ourselves to the triumph of light over darkness, of good over evil. Guyana's harmonious co existence of its multi cultural and multi religious society has been displayed in the slogan of One Guyana.
Hon. Hugh Todd, Minister of Foreign Affairs and International Cooperation, representing the President of Guyana, acknowledged the huge influence of Indian culture, including Diwali and Phagwa, on the moulding of the Guyanese culture. He noted how it had contributed in making Guyana a culturally strong nation with so much diversity. He also wished a stronger India-Guyana relationship based on shared values of democracy, accountability and religious tolerance.
Hon. Dr. Vindhya Vasini Persaud, Minister of Human Services and Social Security, spoke on the importance of the festival of Diwali, how lighting of Diya symbolizes lighting of the inner self of a person, removing darkness and bringing hope. She also explained how goddess Laxmi is associated with the festival and her worship on the occasion brings about happiness and Prosperity. She also recounted that after a two year absence the Diwali Motorcade, a symbol of vibrant Indian culture in Guyanese society, has returned in a grand way. She wished that Diwali would continue to kindle the hearts of people and help in unifying them.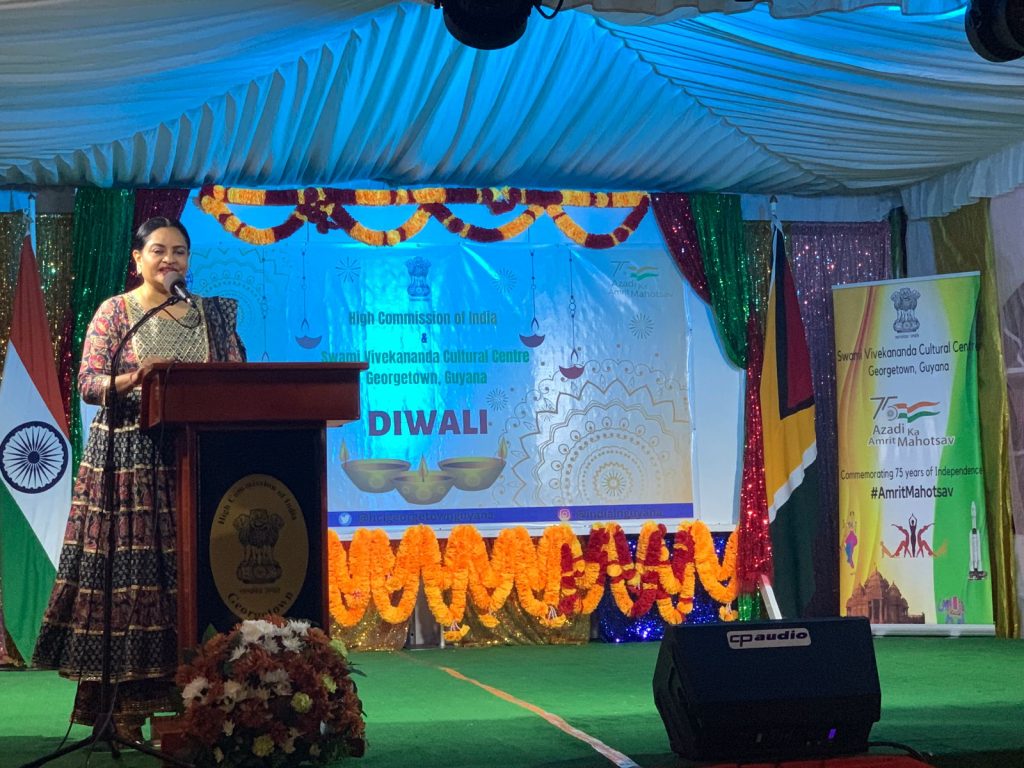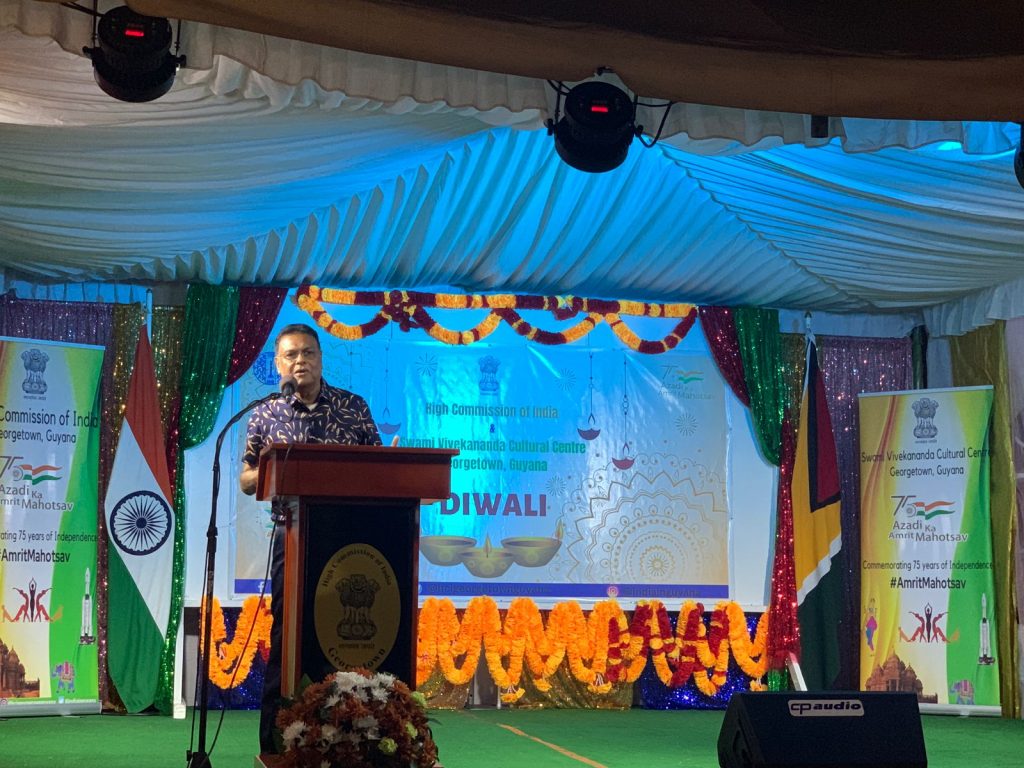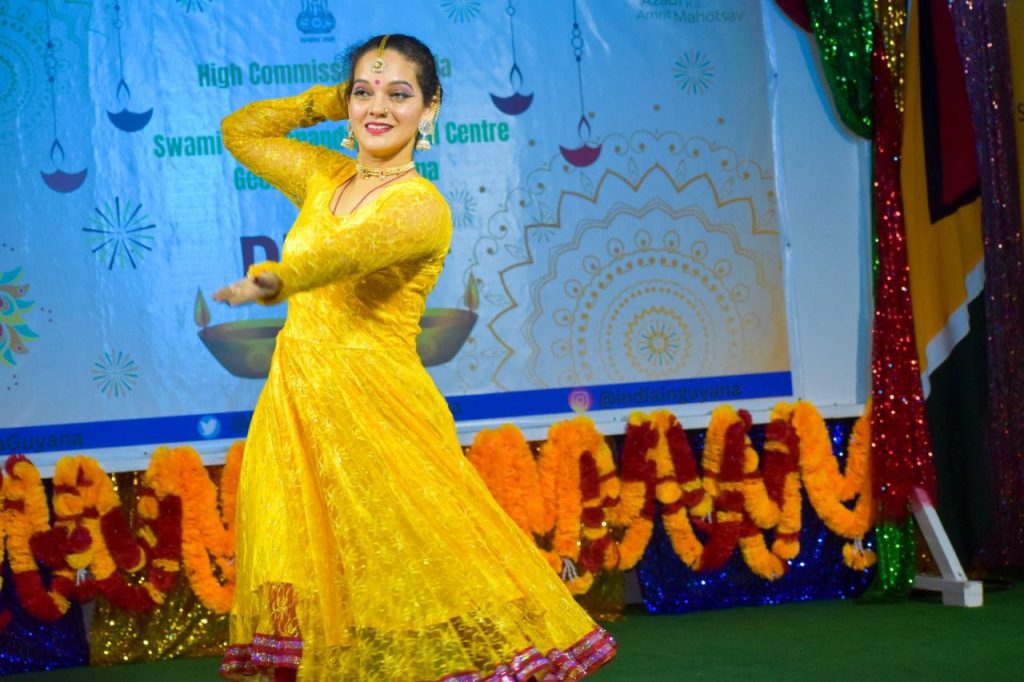 Speaker of the National Assembly of Guyana, Hon. Manzoor Nadir related the importance of Hindu culture on Guyanese society. He remembered his visits to various religious places in India and the purifying effect he felt on his personal life. He recalled his younger days when earthen Diyas were used to light up homes and streets in Guyana. He paid homage to the thousands of the people who lost their lives to Covid-19 Pandemic and wished that the vibrant Guyanese festivals would now return with all glory and prosperity. The celebrations included traditional Indian food and savories which added to the eclectic mix.