New York City Mayor Eric Adams on Wednesday afternoon August 24 addressed a press conference cum rally of local politicians, community leaders, and the public at the spot in front of the Indian Caribbean Shri Tulsi Mandir where Gandhi's statue was destroyed on the wee hours of August 16. There were people of all ages at the event giving solidarity to the mandir and the community.
The Mayor and other public figures, as well as community leaders, uttered statements of condemnations of the brazen attack on Gandhi statue, a global icon of peace and non-violence and the father of free India. Muslim, Christian, Jewish, Jain, and Sikh leaders, in an incredible show of solidarity, joined in the condemnation. The Mayor vowed to give his full support to the Hindu-American community, saying he would marshal all the resources at his disposal to locate and arrest the perpetrators.
The statue stood for over six years in front of the door of the mandir where mostly Guyanese and Trinidadians worship in Little Guyana, Richmond Hill, Queens. The area is home to over a dozen Guyanese and Trinidadian mandirs and half a dozen Sikh Gurudwaras. The press conference was called by state Assemblymember Jenifer Rajkumar, the first and only Hindu and Indian-American woman elected to Albany. She was joined by community leaders and other politicians.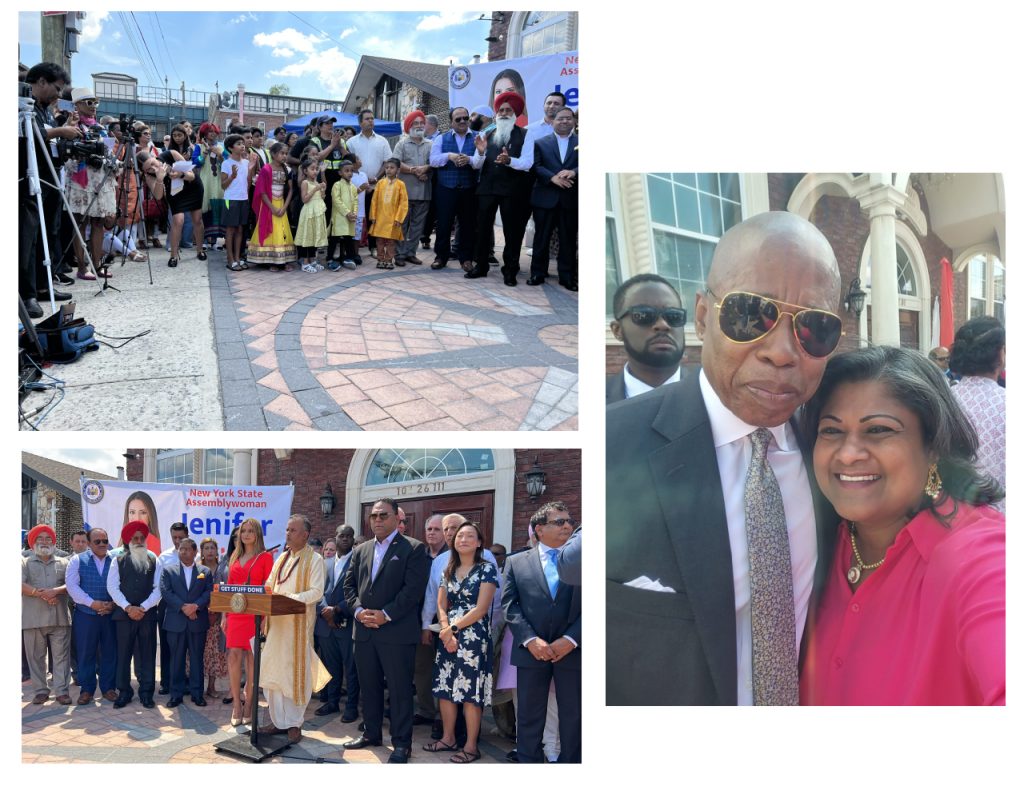 On the morning of August 16 right after India's independence, six men, one with a sledgehammer, were seen walking towards the statue. In addition to destroying the statue, the thugs spray-painted derogatory remarks on the broken body and on the temple grounds. The police department's Hate Crimes Task Force described the attack as a hate crime and is investigating it. A similar incident happened a week earlier where three Hispanics were seen in a video toppling the statue and breaking its arms. There has been a pattern of attacks on Hindus, including Guyanese, and other Asians in New York and across the US. There is no motif for the latest attack but the police have posters of the faces of the vandals and are looking for them.
Before the Mayor spoke, Rajkumar, who is the elected rep for the area, remarked that since the targeting of the Gandhi statue and the mandir, community leaders have re-doubled efforts to combat anti-Hindu hate in communities. Rajkumar, the first Hindu member of New York State Assembly, and other politicians as well as leaders of Hindu organizations specifically decried animosity toward Hindus. She said: "Hate crimes against Hindus have gone up by more than 100% over the last couple years. We are at a time of crisis as hate crimes are up 125%. Hate Crimes against Asian Americans are up 100%, and that includes anti-Hindu hate". She noted that members of the Sikh, Muslim, and Hindu community that have been attacked for their faith in her district. "This kind of hate will not happen in my district, not in my backyard, and not on my watch. Gandhi always said that love will overcome hate. With the outpouring of support today from leaders across the city and nation, I know that Gandhi is right."
Rajkumar thanked Mayor Adams and NYPD Commissioner Keechant Sewell for "investigating these recent anti-Hindu crimes as hate crimes." Commanding Officer Andrew Arias of the NYPD Hate Crimes Task Force told the gathering that NYPD is working together with its public and private partners to ensure justice is achieved in the strongest prosecution possible. "Seasoned investigators are analyzing all of the evidence, developing leads and utilizing technology to steer the investigation to successful closure".
Richmond Hill resident Romeo Hitlall, described as 'the Hanooman of the community' by Rajkumar and Pandit Lakram, speaking on behalf of Federation of Hindu Mandirs, said they have received "extraordinary love" from faith leaders in the Sikh, Jewish and Muslim communities. "Hindus are inclusive, peaceful and loving. The Gandhi statue may be gone but we will carry Gandhi's message of peace, love and hope to our city, state and our country. We are Hindu and we are proud Americans. Today, our community glows in the spotlight and the sky's the limit for the Hindu community and our children."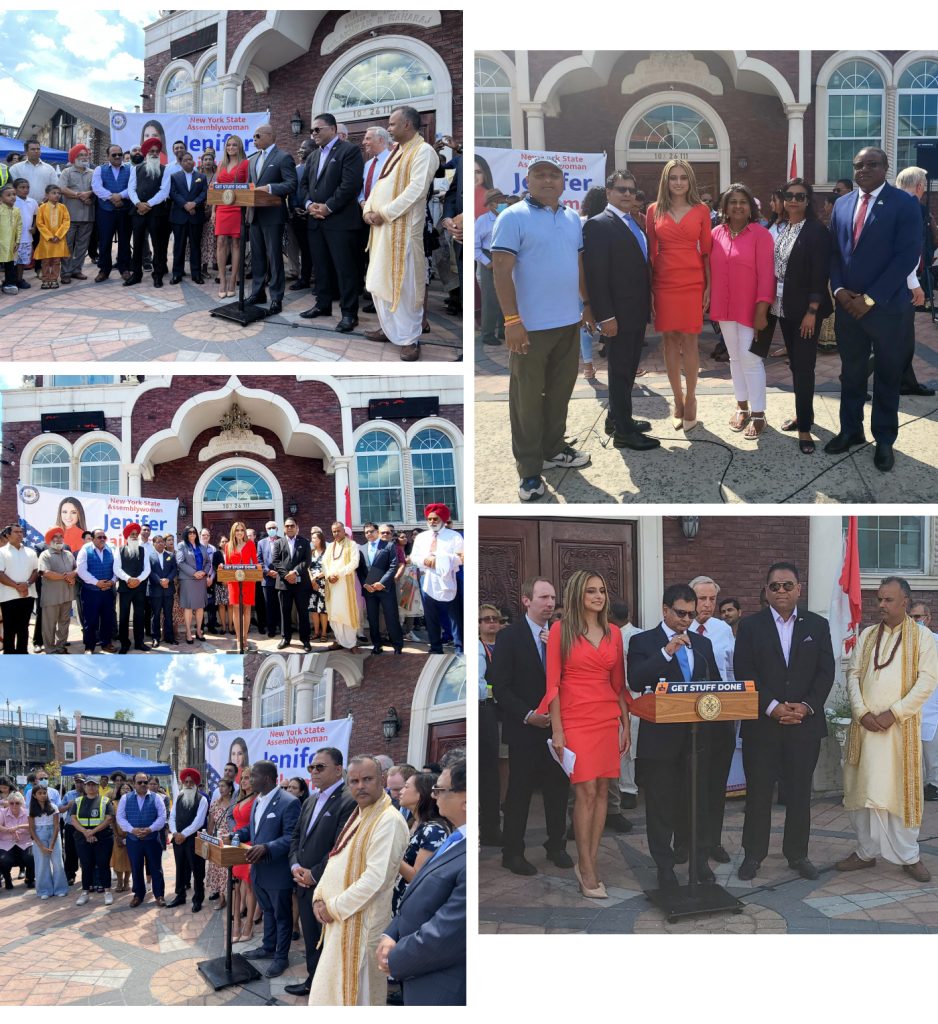 Pandit Lakhram Maharaj, formerly of Canje, East Berbice, founder of Shri Tulsi Mandir and spiritual leader, thanked everyone locally and abroad for their outpouring of support following the desecration of the mandir. "Our skin color might be different, but the blood that runs through our veins is the same," Maharaj said. "Our religion may be different but we are worshiping the same God. Hate does not have any role in this community, and in this country. Mahatma Gandhi teaches us that if you want to have change within this universe, you should be the change that you want to see onto everyone."
Lakhram Maraj, said the 106th Precinct has ramped up security following the attack, comforting regular temple goers afraid to return to worship. Maraj added that as he performed prayers, he peeked out the side window of the temple and saw officers on the sidewalk in the evening during services. The mandir held services for many nights during the months of July and August.
The Mayor told the gathering that he wouldn't tolerate hate aimed at religious establishments, or hurting people based on their "way of life", highlighting hatred aimed at the Asian American and Pacific Islander, Muslims, and Jewish communities. The mayor urged the city to embrace Gandhi's beliefs of love, tolerance, peace, and non-violence.
"Hate has no place in Richmond Hill. Hate has no place in New York City. Hate has no place in our country. We are not going to stand back and allow attacks on our houses of worship. They play a crucial role in closing the gap between government and the needs of people. We will not allow an individual to participate in this hate going un-apprehended". He said the city will also follow another road that goes far beyond the law enforcement arm. The goal is not only responding to hate but preventing hate. We're going to zero in on classes in schools. We are going to encourage you to participate in our 'Breaking Bread, Building Bonds' one thousand dinners across the city with people coming from a different background, talking to each other, sharing who we are, why we do what we do."
The Mayor said he visited India years ago and visited the last steps where Gandhi walked before he was fatally shot. He said: "The bullet that took his life – it is continuing the emotional path of attempting to rip apart our communities. Today, we stand together as Jews, Christians, members of Sikh communities, Hindus, and all the other communities that are a part of us to say that bullet is not going to continue to rip us apart".
An elected Korean American City Councillor reported "a surge in hate crimes against Asians. Hate crimes against Asians have gone up by some 300% in recent years".
Queens District Attorney Melinda Katz said Queens District Attorney Melinda Katz reiterated that there is zero tolerance for hate in the 'World's Borough.' "My office would hold people accountable when they criminally hurt others because of their national origin or religion. You spew hate, we come together as a community to say that we will not tolerate it. You act in a criminal behavior because of where someone hails from or because of their religion, I hold them accountable. If you commit a hate crime, the community will stand together no matter who it's against. We stand together as one in Queens County."
State Assemblyman David Weprin said, "vandalism, threats, or intimidation against any of our places of worship will never be tolerated. I do not come from a Hindu background, but I view this vandalism as if it were an attack on my own Synagogue. Mahatma Gandhi was a dedicated servant of peace in the face of violence – we must embody his values and stand in solidarity with the attendees of Tulsi Mandir and our neighbors in the Hindu community".
Nikunj Trivedi, president of the Coalition of Hindus of North America, said there is a surge in "Hinduphobia and anti-Hindu hate crimes, including the desecration of Gandhi statues and attacks on Hindu public officials in multiple places."
Joe Yussuf, representative of the Guyana Consulate in New York, uttered a message from Guyana President Irfaan Ali condemning the attack and offering the government of Guyana solidarity with the temple, its executive, and the community.
Local elected officials such as City Council Member Joann Ariola, Senator James Sanders Jr. and Assemblyman Khaleel Anderson also delivered remarks at the press conference denouncing hate crimes and this attack. Ariola said: "When you come and you desecrate a symbol of faith, it doesn't cause people to stop praying. It makes people pray more. It doesn't cause us to have fear, it makes us stronger. It doesn't cause us to separate, it makes us bind together. So your mission is a failure. And it will be further a failure when you are caught, arrested, prosecuted, and incarcerated. I have been blessed at this Temple. And no matter what, I will stand with you – in front of you, in back of you, on either side of you – fighting hatred. Because hatred can only be fought with love, and that's what we see here".
Several other politicians including Council Speaker Adrienne Adams, the rep for the area, sent messages of condemnation of the heinous crime. She said she is horrified about the attack, the second in two weeks. Adrienne message read in part: "I join my colleagues, community, and faith leaders to unequivocally denounce these troubling acts of hate. As a city, we must root out hate with love and acceptance. The Council will continue to invest in preventing hate crimes and supporting the communities, like mine, that too often experience it. We will continue working together in unity for the safer communities we all want".
Queens Borough President Donovan Richards said: "Hate has no place in Queens. "Hateful acts like the disgraceful vandalism that took place at the Shri Tulsi Mandir will not be tolerated here. Queens is called the 'World's Borough' because we respect the many different cultures of our residents. So when an act of hate is committed against one group, our entire borough stands together as one community in denouncing the hate".
The Consulate General of India to NYC, Shri Randhir Jaiswal, was also present for the program condemning the attack that came on the night after India's 75th independence anniversary. There were dozens of Guyanese and Trini Hindu leaders from the community including Pandit Latchana (Baya) Narine of Black Bush. Indian nationals Ragbir Singh, Harpreet Tour, and Dr. Nita Jain, Mohammed Ali of Bangladesh community, Mohamed Khan a community patrol cop, and Jewish scholar Abni Poznik were also among the many others who appeared in person to give remarks condemning the attack on Gandhi.
The temple is fundraising to replace the seven-foot statue with a new one that will stand 12 to 15 feet high.
Several individuals and organizations have pledged contributions. Berbician American Ashook Ramsaran, President of the Indian Diaspora Council, said his organization pledges a contribution.