The Indo-Caribbean Hindu diaspora in New York and other Hindus celebrated Lord Krishna's birth, called Janamashtmi, on Thursday evening and Friday morning with fasting and prayers in mandirs and homes. Other Hindus from all nationalities in the greater New York region and across America also celebrated the birth of Krishna. One is inspired by the diaspora of nationalities coming together to celebrate the festival as they did in Guyana or Trinidad or Suriname or elsewhere. People crowded mandirs although it was a work week.
In the many mandirs, the festival was celebrated in great pomp, splendor, and full glory just like in the home countries. Lord Krishna Murthi stood up, well decked up with colors. Mandirs held congregational worshipping and kirtan singing.
Devotees observed Janamashtmi with devotion and veneration. Mandirs were dressed and lit up with a variety of colors. Devotees were clad in colorful traditional clothing. Offerings were made and delicious sweets and delectable dishes served.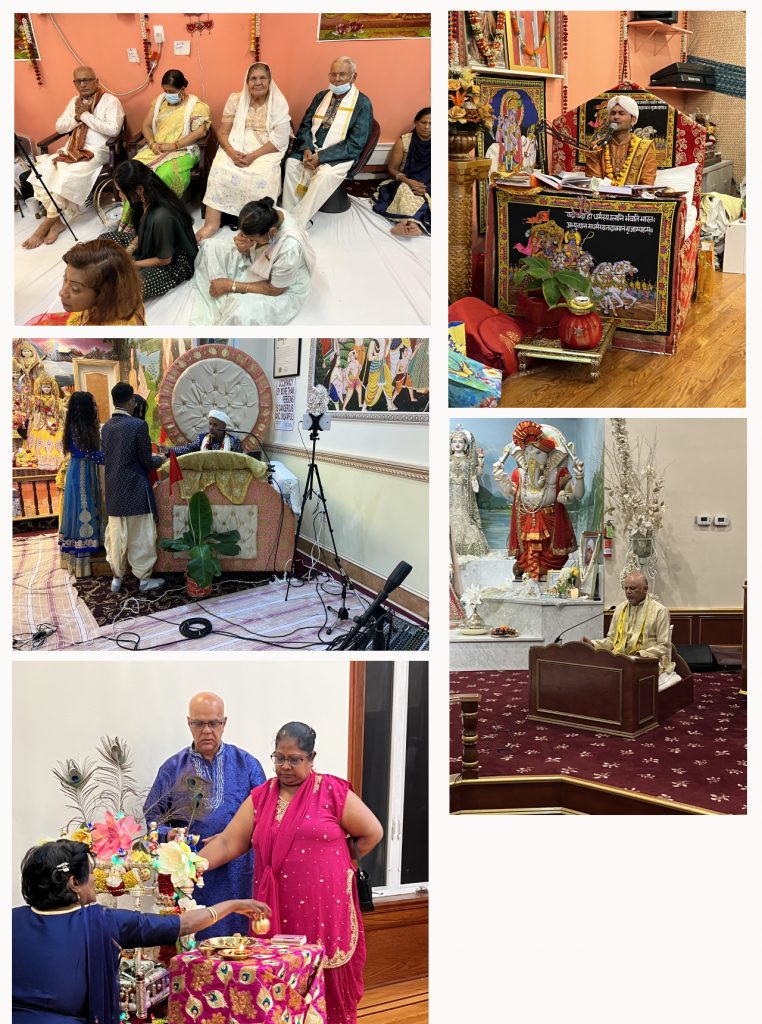 Lord Krishna appeared in Mathura and Vrindavan, India some 5200 hundred years ago. He is known as an avatar of Lord Vishnu, the protector of human. Lord Krishna, born to Vasudev and Devaki and held prisoner by the evil ruler Kansha in Mathura, guided humanity on the path of truth, justice, and immortality. His life is recorded in the Bhagavad Gita and his name is associated with the famous Mahabharata War that saw the Pandavas and Kauravas, two sets of families, engage in battle with each other. Krishna Janmastami is celebrated to cherish his good deeds so one may have a blessed and prosperous life.
Janmashtami is celebrated on the eighth day of the dark fortnight in the Hindu month of Bhadrapada, which generally falls in mid-August. Devotees observed a fast (avoiding food or avoiding non-veg) for the whole day and night, worshipping Lord Krishna and or keeping vigil through the night while listening to his tales and exploits, reciting hymns from the Holy Gita, singing devotional songs, and chanting mantras. There were elaborate ceremonies including oblations and offerings and rocking of a hammock with a murthi of Lord Krishna.
After service, there was aartee for Lord Krishna, distribution of prasad, followed by bhojan or meals. Some devotees, especially women, spent Thursday night chanting, praying, and engaging in devotional singing.
Pix show observances at various mandirs on Thursday evening.