Sanskar Celebrations is a youthful vibrant online business run by a young Hindu American entrepreneur of Guyanese descent, Melanie Balmick. Sanskar Celebrations can be found on Facebook and the site's main page at the end of this article. Melanie makes unique items for her customers with an inimitable Hindu flavor. These include couture handcrafted items that she ships across the world for Divali, Raksha Bandhan, Navraatri and a few other Hindu festivals that can be enjoyed by all customers alike.
However, one of the things that makes her work stand out is not only the amazing products she carries but her dedication to doing all of it the Dharmic way. Melanie, while being a highly qualified university graduate took an exceptional interest in Hinduism. She was the treasurer for many years and a founding member of her college's first Hindu Club dedicated to bringing an understanding of Hinduism to the greater public of New York City as well as young Hindus through celebration of Hindus festivals on campus and the many information-driven activities that took place. She also decided to combine her Indo-Caribbean ancestral background for a fondness of business with an unapologetic approach to serving Hinduism by including its vibrancy, belief and momentous occasions in her start up. I am very much impressed by Melanie's approach since personally I have seen a lot of Hindus shy away from Hinduism especially when it comes to their business.
If you follow Sanskar Celebrations online she does a lot of free giveaways from time to time. This year she has decided to do a free toy giveaway for Divali. Participants are able to collect it but only with a prior registration. A flyer has been attached with details. Melanie wants to encourage the dharmic spirit of Divali and inspire young Hindus to celebrate our traditions with the same pomp and flare as they do most others but with an added appreciation of Hindu belief which is why she has also included a Divali Guide for customers and kids. The guide contains useful information on the Hindu religion, Lord Rama, the Ramayana, the five days of Divali and other tidbits. She has even given free Lord Rama commemoration stickers in support of the Ram Janmabhumi Temple being built at his birthplace.
ICDN Writer Nisha Ramracha interviewed Melanie:
What is the Importance of Sanskar Celebration's Free Toy Event?

I grew up being more excited about Christmas than Diwali. We decorated and I got gifts for Christmas but on Diwali we didn't even get a new outfit. It wasn't a failure on my parent's part; for them it was also the same in Guyana. Diwali was a regular day when they went to work but on Christmas they got to eat fancy things like cheese and apples. We only need to extrapolate a few more generations into the future to see our diluted culture being replaced permanently. I wanted to get kids excited for Diwali so I reached out to family members who generously donated toys for me to share. I am working to build up the excitement on Social Media so parents can mark their calendars, and children wait anxiously. By rewarding a child on Diwali they become conditioned with awareness, which is the first step. Awareness will spread over time and soon everyone will have adopted a way to celebrate Diwali, even for gift-giving. What I haven't really advertised strongly is the Diwali Guide that will be handed out with each toy. Force feeding information doesn't usually go well. When I first began to feed my baby solid foods, I noticed that if I put the spoon to her mouth, sometimes she would choose not to eat. But if I discreetly left the food in her peripheral vision, she always entertained it. I'm applying this psychology to the Diwali guide. If I instruct the parent to read it to their child, they might not do it. But if I don't say anything, they might decide to do just that. I also am not an expert on Diwali or Hinduism (I still have learning to do too) so I don't want to advertise myself as a teacher either.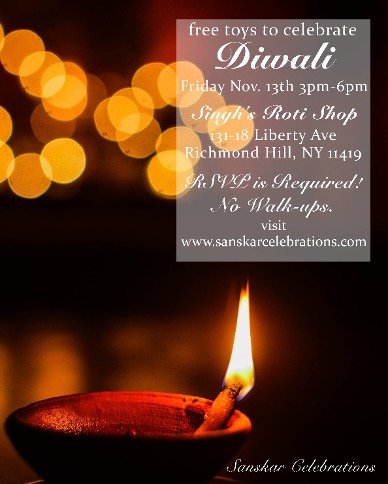 What is your Divali Box about?
Being ancestrally Indian (displaced from India twice) without any real viable connection to India has made me aware of how displaced many Hindus are from their culture. The idea behind the Divali box is that it included just about everything for a young Hindu (a child, or teen) to have an active role in devotion and build an interest in their culture. The kit contains a deeya, ghee, a pure untouched spoon to scoop the ghee, and floating wicks all to be used for the lighting process. It also has a paper flower that can be used for beautification of space or stand in place of a real flower if flowers are unavailable for prayer. It has an action sticker of Lord Rama, the warrior prince. Its presence in the box speaks to a child's desire to collect dolls/stickers of their superheroes. The box has a piece of jewelry (necklace) that was designed with the intention to mirror the truth of our nature – we have light too just like the lamps. We need to replenish within us, the thing which allows our light to continue burning and my jewelry does that, symbolically. Finally, it has a Diwali greeting card that will be personalized with your custom message so that you can share the joy of Diwali with someone else (or gift them the entire box).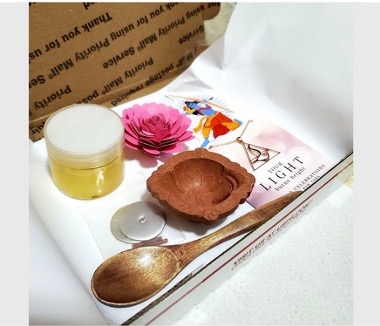 Tell us more about the Free Lord Rama Stickers?
We celebrate milestones for just about everything. It's Christmas? Why we must get an ornament for the tree with '2020' written on it. A new store opened down the block? Why we must check out the geo-filter available on Snapchat and mark the event with a selfie. But most people don't even know about Ram Janambhoomi and consequently will never even think to seek out a historical sentimental keepsake. I wanted to educate people about the importance of this event for Hindus and give them something they would hold onto, and serve as a reminder of this special turn in history. The most economical thing I could create to commemorate the event was a sticker.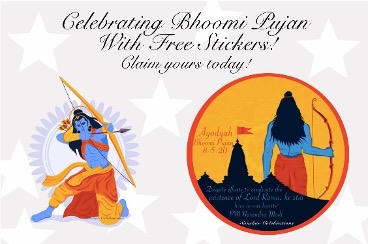 What makes your business unique to the customer looking for Dharmic Goods?

Shopping for puja items or sacred gifts isn't without ethical issues. When Hindus prepare for a puja they take extra care to make sure everything is as pure as possible. I have never met a vendor who could promise that their manufacturing standards were pure, or Sattvic [meeting Hindu religious standards for consumption]. I consider my jewelry to be sacred, so it only gets handled by me. I have maintained a strict vegetarian diet for over 8 years and my products are housed in the most sacred place in my home (before shipping): my altar, where it is away from impurities.
What are you trying to do with Sanskar Celebrations? Why should people shop here?

Shopping habits, shopping tastes and the shoppers themselves have evolved over the years but the vendors whom we Hindus purchase from, have not. Let's face it, Amazon doesn't have everything we need. Where else can we go to for free priority shipping for a pristine item? Anyone who has ordered directly from India knows that it takes a long time, it is expensive and the packaging is poor; something is always broken or squished. I offer free shipping, a 2 day max processing time and everything is always gift wrapped to perfection.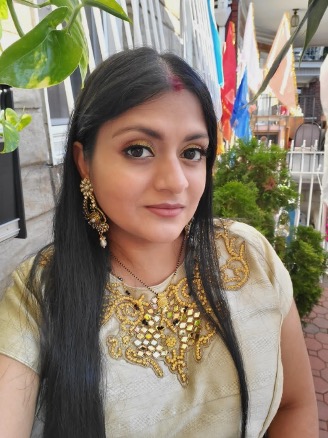 Melanie's interview for ICDN about Sanskar Celebrations was revitalizing to say the least about the thoughtfulness, effort, determination and sincere contemplation concerning Dharmic ideals that goes into her handcrafted profession. I was most amazed about how unconscious we Hindus are in searching for items made with Sattvic value. Her endeavor to include Hinduism unapologetically is refreshing especially within the Hindu business community. However, her phrase "condition with awareness" really caught my attention as many Hindus are simply unaware of general historical and social aspects of the religion. Her genuine endeavor to highlight Hinduism in her everyday life makes Sanskar Celebrations worth checking out. If you would like to support Sanskar Celebrations check her out on Facebook. The Divali toy giveaway will be held at Singh's Roti Shop 131-18 Liberty Avenue Richmond Hill, NY 11419 on Friday November 13th at 3-6pm. Please register online at the page website www.sanskarcelebrations.com Only RSVP allowed no walk-ups.
Sita Ram